May 08, 2013 -
Joel Corry
A potential solution for Doug Free's situation
The Dallas Cowboys want offensive tackle Doug Free, who is scheduled to make $7 million in 2013, to take a substantial pay cut. Since Free hasn't been receptive to the pay cut, the Cowboys have contemplated releasing him.
Free signed a six-year, $48 million contract ($17 million guaranteed) in 2011 as a left tackle to anchor Dallas' offensive line. The last two contract years worth $16 million automatically void if he is on the roster 23 days before the 2015 League Year begins. After struggling with premier pass rushers at left tackle in 2011, Free was moved to right tackle in 2012 but didn't fare any better. Dallas started rotating in Jeremy Parnell at right tackle during the final four games of the season, with Free taking a majority of the snaps.
A March 2012 contract restructuring created $3.84 million of immediate cap room for the Cowboys while Free's 2013 cap number increased to $10.02 million from $9.06 million. The Cowboys could have already gained $2.88 million of 2013 cap room by releasing Free if the 2012 restructure hadn't taken place.
Free's $10.02 million 2013 cap number is the same as his cap charge if he's not on the roster unless he's given post-June 1 treatment. Dallas has the option of releasing Free by designating him as a post-June 1 release. Teams can release two players each year prior to June 2 that will be treated under the cap as if they were released after June 1. The player's entire cap charge is carried until June 2 and the proration from the remaining contract years doesn't accelerate until the next year. The Cowboys could create $7 million of 2013 cap space by giving Free a post-June 1 designation or waiting until after June 1 to release him, but there would be a $7 million cap hit for Free in 2014.
Dallas reportedly is hesitant about having the $7 million cap charge for Free in 2014 from releasing him. It is curious that the Cowboys could potentially have such 2014 cap concerns after operating with so little regard towards 2014 cap consequences. Dallas has an NFL high $145.9 million in 2014 cap obligations partially due to creating slightly over $28 million of 2013 cap room by restructuring the contracts of several players in February and March.
Dallas lost a potential option to replace Free when Tyson Clabo signed a one-year, $3.5 million contract, including $1.5 million fully guaranteed, with the Miami Dolphins earlier in the week. Eric Winston has been on the Cowboys' radar for awhile. Winston Justice is also an option in addition to starting Parnell at right tackle.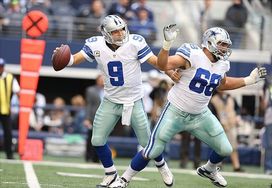 Free surrendered seven sacks last season while jumping offsides a career-high eight times.
Free needs to seriously consider his alternatives to accepting a pay cut with the Cowboys. His best case scenario on the open market is finding a starting job with another team on a one year deal comparable to Clabo's. The longer Free's situation remains unresolved, the harder it could be for him to find another starting job because unsigned tackles, such as Winston and Justice, could fill those positions. Free's realistic worst case scenario is becoming a backup at his $715,000 league minimum.
The best situation for everyone may be finding some sort of middle ground on a pay cut. It could be Free's best option financially and possibly the best opportunity to remain as a starter. The Cowboys' could maintain some semblance of offensive line continuity by retaining Free.
Jordan Gross' pay cut with the Carolina Panthers could be used as a guide with Free. He was scheduled to make $8.7 million in 2013, the fifth year of a six-year contract signed in 2009 averaging $9.4 million per year. Gross took a 36.8% pay cut by reducing his salary to $5.5 million. He also had a provision added to his deal in which the remainder of his contract voids on the fifth day of the 2014 league year's waiver period (February 7).
Free would be making a fully guaranteed $4.425 million in 2013 by accepting a similar salary percentage pay cut as Gross. Such a pay cut would be $925,000 more than Clabo's 2013 compensation and would create $2.575 million of cap relief for the Cowboys. A pay cut to this level could be characterized as generous especially considering Free's underwhelming 2012 performance and the average salary for starting tackles in 2012 was approximately $3.5 million. Free could also be given an opportunity to earn the majority of the money back through incentives. Any 2013 incentives with higher thresholds than Free's 2012 individual statistical achievements would be classified as not likely to be earned (NLTBE) and wouldn't count towards the 2013 cap.
Unfortunately for Free, they are very few allowable statistical categories in the Collective Bargaining Agreement that are applicable to offensive linemen. Playtime would be the most logical one, except Free played 92.82% of Dallas' offensive snaps in 2012. A playtime incentive at a lower threshold than 93% will only be classified as NLTBE for Free provided that it is coupled with an allowable team incentive. For example, Free could start earning back some of the $2.575 million given up at 75% playtime and at least nine wins for the Cowboys in 2013, where there are other financial thresholds at additional 5% playtime increments and the same team requirement. Making the playoffs or improving in sacks allowed (Dallas gave up 36 sacks in 2012) could also be the team incentive.
The Cowboys are likely just delaying the inevitable even if Free accepts a pay cut. Free is scheduled to make $8 million in 2014 with an $11.02 million cap number. Dallas won't keep him at those numbers next year unless he plays in 2013 at the level that enabled him to command a contract worth $8 million per year.
Follow me on Twitter: @corryjoel
Joel Corry is a former sports agent who helped found Premier Sports & Entertainment, a sports management firm that represents professional athletes and coaches. Prior to his tenure at Premier, Joel worked for Management Plus Enterprises, which represented Shaquille O'Neal, Hakeem Olajuwon and Ronnie Lott. You can email Joel at jccorry@gmail.com