February 15, 2013 -
Joel Corry
A tale of three quarterbacks
Although most of the attention will focus on Joe Flacco's negotiations, there are three other quarterbacks (Tony Romo, Matt Ryan and Matthew Stafford) represented by Creative Artists Agency that could have a dramatic effect on the quarterback salary landscape during the offseason.
Tom Condon, who is one of the NFL's most prominent agents, probably understands the top of the quarterback market better than NFL teams because he represents Drew Brees, Eli Manning and Peyton Manning. Ryan and Stafford are also his clients. Another relatively inexperienced CAA agent is listed as Romo's representative, but his negotiations should also have the benefit of Condon's expertise. Here's a look at each of the three situations.
Matthew Stafford-Detroit Lions: General Manager Martin Mayhew has engaged in preliminary discussions with Condon on a new contract for Stafford. The 2009 first overall pick's $20.82 million 2013 salary cap number is the third-highest in the NFL. It is the product of Stafford earning a majority of the salary escalators in his six-year rookie contract (worth up to $78 million with $41.7 million fully guaranteed) and contract restructures for cap purposes in each of the last two years.
The Lions are approximately $2 million under the 2013 cap, which is expected to be $121.1 million. Since Detroit intends to be active in free agency, decreasing Stafford's cap number is a necessity.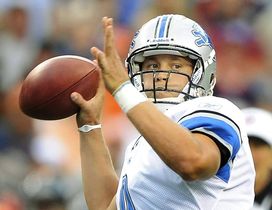 Although Stafford's numbers took a hit in 2012, he's still going to strike it big at the bank.
The Lions were in a similar situation last season with Calvin Johnson. He capitalized on Detroit's need to lower his $21,081,946 cap number by signing a seven-year, $113.45 million (with $53.25 million in guarantees) contract extension, which is the richest deal for a non-quarterback.
Unlike Johnson, Stafford isn't coming off of a career year when engaging in contract negotiations. His 2012 season didn't measure up to the 2011 campaign in which he threw for 5,038 yards and 41 touchdown passes. Stafford set an NFL record with 727 pass attempts and was second in the NFL with 4,967 passing yards, but only threw 20 touchdown passes in 2012. His passer rating also dropped from 97.2 (fifth in the NFL) to 79.8 (22nd in the NFL) and his completion percentage declined to 59.8% from a career-high 63.4%. Additionally, the Lions posted a 4-12 record with 21 of 22 starters returning from a 2011 playoff team.
Nonetheless, Condon will insist that Johnson's $16,207,143 average yearly salary and $53.25 million in guarantees are starting points for serious negotiations. Stafford can afford to be patient because he is scheduled to make $12.5 million and $11 million during the 2013 and 2014 seasons after earning over $50.5 million during his four-year NFL career.
Tony Romo-Dallas Cowboys: The Cowboys have been interested in extending Romo's contract since early in the 2012 season but he put talks on hold to concentrate on the season. Despite Romo's untimely interceptions and mediocre play during the season finale against the Washington Redskins with a playoff berth on the line, he is viewed as the key piece to success by Dallas ownership.
Romo has a tremendous amount of leverage in negotiations with the Cowboys because of his 2011 contract restructure and the team's cap problems. Dallas must clear slightly over $21 million of cap room in order to be cap compliant when the 2013 league year starts on March 12. The 2011 contract restructure added three easily voidable contract years covering the 2014 though 2016 seasons to help with the cap, which increased Romo's 2013 cap number to $16,818,835. His cap number is the highest on the team and the NFL's eighth-largest quarterback figure. The Cowboys can't afford for Romo to play out his contract because they will have an $8.181 million cap charge during 2014 if those years void and it will be virtually impossible to use a franchise tag on him. Romo's franchise tag number in 2014 will be $20.183 million, which is 120% of his 2013 cap number. The Cowboys will have over $29 million in cap expenses relating to Romo if they franchise him next season.
CAA will make their discussions on Stafford's new deal a part of Romo's negotiations. They will attempt to leverage those talks into a better contract for Romo. CAA did the same thing in 2007 with Condon client Marc Bulger's six-year, $65.5 million (with $23.55 million guaranteed) contract extension that was signed a couple months before Romo received his six-year, $67.5 million (with $28.5 million guaranteed) contract extension. Romo's new deal should eclipse the four-year, $62 million contract extension Matt Schaub signed with the Houston Texans right before the start of the 2012 regular season unless Romo directs his agent to take a home team discount, so the Cowboys will have a better chance at retaining key free agents, such as Anthony Spencer.
Matt Ryan-Atlanta Falcons: Ryan is entering the final year of the six-year rookie contract (worth up to $72 million with $34.75 million guaranteed) he signed in 2008. He took a big step towards being considered as an elite QB with his 2012 regular season performance. The 2008 third-overall pick was named to his second Pro Bowl, led the NFL in completion percentage (68.6%) and threw for a franchise record and career best 4,719 yards (fifth in the NFL). He was ranked in the NFL's top-five with 32 touchdown passes and a 99.1 passing rating. Ryan finally started silencing critics by winning his first playoff game and leading the Falcons to the NFC Championship game.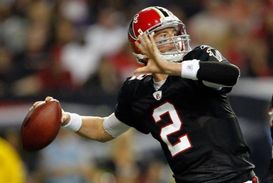 Ryan got the playoff monkey off his back with a big win over the Seahawks in January.
The Falcons have reportedly expressed interest in extending Ryan's contract, but Condon probably doesn't have a sense of urgency since Joe Flacco could become the NFL's highest paid player once he signs his new contract. After a stellar 2012 regular season, Condon was probably already looking for Ryan to surpass the five-year, $100 million contract (with $60.5 million in guarantees) that he negotiated for Drew Brees before Flacco's extraordinary postseason performance.
Fortunately for Ryan winning the Super Bowl isn't a prerequisite for becoming the NFL's highest paid player. In 2004, Condon negotiated a seven-year deal for Peyton Manning averaging $14 million (with a $34.5 million signing bonus) that made him the NFL's highest paid player. At the time, Manning was 2-4 in playoff games and had taken the Indianapolis Colts to one AFC Championship game.
Carson Palmer became the NFL's salary leader towards the end of the 2005 regular season by signing a six-year contract extension with the Cincinnati Bengals averaging $16,166,167 per year ($45.75 million in the first three years). He hadn't made a playoff appearance when he signed his extension. Additionally, the Falcons aren't strangers to paying quarterbacks towards the top of the market. Michael Vick signed a nine-year, $120.6 million (with a then-record $37 million in guarantees) contract extension near the end of the 2004 regular season. Vick had a 1-1 playoff record at his contract's signing.
If Ryan becomes the NFL's highest-paid player, he will only be setting the table for Aaron Rodgers, who should get a new deal before he enters his contract year in 2014.
Follow me on Twitter: @corryjoel
Joel Corry is a former sports agent who helped found Premier Sports & Entertainment, a sports management firm that represents professional athletes and coaches. Prior to his tenure at Premier, Joel worked for Management Plus Enterprises, which represented Shaquille O'Neal, Hakeem Olajuwon and Ronnie Lott. You can email Joel at jccorry@gmail.com