March 31, 2014 -
Jeff Fedotin
A Texans draft lesson
The St. Louis Post-Dispatch called it the "dumbest move in the history of the NFL draft," and The Arizona Republic deemed it "a colossal mistake."
"The decision boggles the mind," wrote ESPN.com's Gene Wojciechowski. "(Houston) got sloppy drunk on 'measureables' and potential rather than actual production."
Even the team's hometown paper, the Houston Chronicle ran an editorial cartoon depicting owner Bob McNair, head coach Gary Kubiak and senior vice president/general manager Charley Casserly as dumb, dumber and dumbest.
When the Texans last had the No. 1 overall pick in 2006, they chose fairly obscure North Carolina State defensive end Mario Williams over Reggie Bush, the dynamic Heisman Trophy-winning running back, and Vince Young, the hometown hero who had just quarterbacked Texas to the national title in one of the most thrilling championship games of all time.
Fans in attendance at the 2006 NFL Draft booed Williams as he stood on the Radio City Music Hall podium. Others chanted, "over-rated."
Almost a decade later and with the Texans selecting No. 1 overall again, does Casserly, having clearly selected the right guy despite the vehement objections from fans and media alike, now feel vindicated?
"We don't even think about things like that, to be honest with you. You make a decision and move onto your next one. You never look back," Casserly said. "It's the old line that if, 'you're listening to the fans, you're going to be sitting with them pretty soon.'"
Casserly deflected praise, but he has reason to crow. His choice was far and away the correct one.
Williams, a three-time Pro Bowler, has 76.5 career sacks in eight seasons. Bush has only surpassed 1,000 rushing yards twice and never made a Pro Bowl, and Young, who was rumored to be suicidal and bankrupt at various times, has not played in an NFL game since 2011.
For Casserly and the Texans, the decision of who to spend $9 million on came down to Williams and Bush, a less complete player despite his prodigious talent.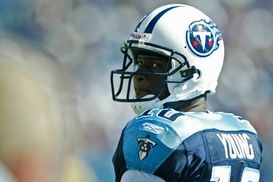 ICONDespite what the fans wanted, Vince Young was never in the discussion back in 2006.
"I thought (Bush) was a part-time role player — but good at what he would do," said Casserly, now an NFL Network analyst. "I didn't see him as a guy who would be a starting running back, 60 plays a game."
Young was never a serious candidate to be drafted first overall. The Texans' reluctance did not involve concerns over his character but his ability to thrive as a dropback passer in a pro-style NFL offense.
"Vince Young was never in the discussion," Casserly said. "I just didn't feel Young was going to be an NFL quarterback."
Instead Williams, a 6-7, 295-pounder who ran a 4.7. 40, graded out as the best defensive end — along with Julius Peppers — Casserly scouted in the last 10 to 15 years. A good citizen without health issues, Williams could stuff the run or rush the passer.
"Mario Williams was a complete player," Casserly said.
Jadeveon Clowney has more natural talent than Williams, according to Casserly, but lacks his consistency, work habits and commitment to football.
Despite Clowney having the "best NFL potential" of the 2014 prospects available for the Texans, Casserly said questions also remain on how the defensive star would fit into Houston's 3-4 scheme, where he would have to play as a stand-up linebacker.
For the No. 1 overall pick in 2014, Casserly also lauded offensive tackle Greg Robinson and linebacker Khalil Mack but said that Blake Bortles would be the best passer for Houston.
He praised Bortles' smarts, size and strong arm, noting that Teddy Bridgewater is more consistent right now while Bortles has more upside and ability to make plays.
But as an overall draft strategy, Casserly suggests the Texans select the best player overall regardless of their depth chart and, of course, ignore what is said on the outside just as he did in 2006.
"If you force a need, you probably will regret it at some point," he said. "Public pressure should mean nothing to you."
The media didn't rattle Casserly, who only read the clippings the Texans distributed. He was too busy to scour the Internet, listen to talk radio or watch sports shows.
"If you're doing all those things," Casserly said, "you're not doing your job."
Ignoring the many naysayers, he shrewdly executed his duties and made the correct call by choosing Williams instead of Bush or Young.
"Ultimately it was my responsibility to get it right," Casserly said. "But I can't emphasize this enough — it was a collaborative effort."
Follow Jeff on Twitter: @JFedotin
Jeff Fedotin has written for Packers.com, Pro Football Weekly, ESPN The Magazine, the Lawrence (Kan.) Journal-World and Rivals.com. After graduating from Northwestern University, he interned for the Buffalo Bills. During his football playing days at Pembroke Hill (Mo.) School, Fedotin was known for his bad knees and even worse blocking.