March 20, 2012 -
Dion Caputi
A Tim Tebow trade is looming
Tim Tebow has quickly become one of the most openly discussed players in the sporting world today, and despite Peyton Manning -- one of the most sought-after free agents of all time -- choosing his new team on Monday, most are still talking about the former Florida Gator.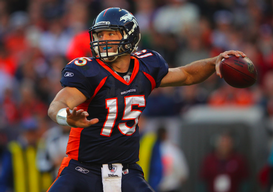 Will Tim Tebow be a starting quarterback in the NFL next season?
The 2007 Heisman Trophy award winner took the league by storm in 2011 and--with the help of a strong defense--Tebow rejuvenated the Denver Broncos, leading the team multiple comeback victories and finishing the season with a 7-4 record as the starter en route to spot in the postseason. The buzz only continued following a dramatic overtime victory over the Pittsburgh Steelers in the AFC wildcard round.
From then on, the story has been anything but 'happily ever after' for Tebow. The season ended abruptly a week after the emotional victory over Pittsburgh, as the New England Patriots defeated Denver in crushing 45-10 fashion. Fast forward a couple months, a few phones calls and a plane ride to Raleigh, North Carolina, and the organization found itself a new passer. Theoretically, a new quarterback more in the mold of what Broncos' executive John Elway had envisioned his quarterback to be when joining the Denver brass.
Immediately after Peyton Manning chose to sign with the Denver Broncos, reports followed that newly incumbent quarterback Tim Tebow was headed for the trade block.
According to ESPN's Adam Schefter, a trade "will happen," and listed the Jacksonville Jaguars, Green Bay Packers, and Miami Dolphins as teams who could make a move for the unconventional passer, while noting the long-shot New York Jets have also discussed the possibility. NFL Network's Jason La Canfora included the Buffalo Bills and New England Patriots as teams he will keep an eye on in the process.
Regarding the price tag, La Canfora suggested that the former first-round draft choice may not fetch Denver anything higher than a fifth-round selection.
While there is no real indication which destination seems most likely for Tebow, it is sure to be followed by optimism on his part, combined with questions and controversy on the part of the organization's fan base.
Follow me on Twitter: @NFLDraftUpdate