August 23, 2012 -
Dion Caputi
Adrian Peterson coming along nicely
Shortly after Adrian Peterson tore his ACL and MCL in late December, Minnesota Vikings head coach Leslie Frazier conceded his running back's recovery would need to go "perfectly" in order for him to play in the team's 2012 regular season opener. Although we remain a couple weeks away from finding out whether No. 28 will see action in Week 1, it appears as though the odds are getting better by the day.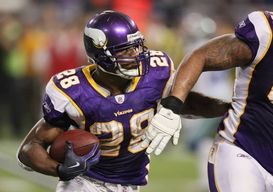 ICONAP could be ready to go for Minnesota's Week 1 showdown with Jacksonville.
According to Jeremy Fowler of the St. Paul Pioneer Press, Peterson has experienced no swelling in his surgically-repaired left knee the morning after practices.
This is especially good news, as it's not uncommon for players to feel discomfort or soreness while the injured knee is in the process of healing.
"Good sign for player tunnel-visioned for Sept. 9," noted Fowler, via Twitter.
The Vikings host the Jacksonville Jaguars at Mall of America Field on September 9, the season opener for both teams.
Peterson completed an 18-carry workload in practice on Monday with good response from the knee. The Vikings are now "in the early stages" of working Peterson into upper-body contact in practice, but will refrain from lower-body contact, says Fowler.
There is no hard timeline for AP's return, as the organization will continue to evaluate its franchise player on a daily basis, but right now, it's all good news.
Follow me on Twitter: @NFLDraftUpdate