September 13, 2012 -
Dion Caputi
Adrian Peterson feels 95%
For multiple weeks leading into the 2012 regular season opener, Adrian Peterson's chances of being active against the Jacksonville Jaguars were in doubt . What's more is his workload, if active, was surrounded by even more doubt. "Purple Jesus" put each and every doubt to rest and then some by rushing for 84 yards and two scores on 17 carries last Sunday.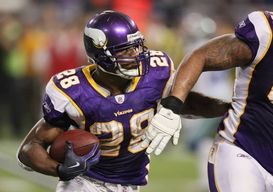 ICONAP found the end zone twice in Week 1 despite playing at less than 100%.
Via ESPN 1500 Twin Cities, the four time All-Pro said he feels he's achieved 95% strength, and despite some expected soreness, he said he felt "pretty good" on Thursday.
Peterson, a player always fond of offering percentages, also noted the remaining five percent will be significant. "Like day and night, seriously," he said.
Offensive coordinator Bill Musgrave noted that the former Oklahoma Sooner has "a ways to go," but the team is positive about its star player moving forward.
"We'll continue to gauge it, gauge his progress a little bit like we did during the game on Sunday...We'll hope that he continues to heal and becomes more confident on that left knee," said Musgrave.
All signs indicate a strong follow-up performance for the 2008 rushing champion in Week 2, as the Minnesota Vikings offense will be opposed by an Indianapolis Colts run defense that ranked 29th in the NFL last season.
Follow me on Twitter: @NFLDraftUpdate