December 07, 2011 -
Barry Dorey
Adrian Peterson says he's at 70 percent
Minnesota running back Adrian Peterson seemingly avoided significant injury when he suffered a sprained left ankle in the Vikings' Week 11 loss to the Oakland Raiders, but there's still uncertainty over his Week 14 status.
Peterson spoke with Dan Barreiro and ex-Vikings great Chuck Foreman on Tuesday, where he gave an update on his ankle injury.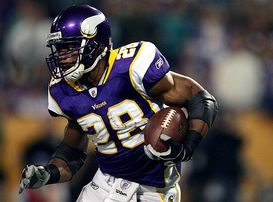 Fantasy owners everywhere are hoping All Day can make it back for Week 14.
"God willing I'll be out there (this week)," said the All-Pro runner. "I'm like 70 percent."
The highly competitive Oklahoma alum is unsurprisingly eager to play this week against the Detroit Lions, but Minnesota is expected to be cautious with him as, at 2-10, there's nothing of significance to play for.
As expected, Peterson did not practice Wednesday, but said he will test his cutting ability and speed on Friday before making a final decision on his Week 14 status.
"To be honest with you, it's been my decision," said Peterson. "And I've played. I've been out there on the field before at 80 percent and did pretty good."
Follow me on Twitter: @NFLDraftUpdate