December 25, 2013 -
Erik Oehler
All-time football gifts power rankings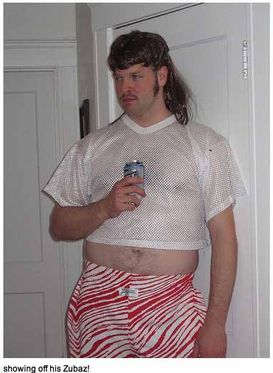 No one is messing with you in these bad boys.
10. Zubaz (1988-1996, 2006-present)
Words cannot begin to describe the swagger you'd have in a new pair of Zubaz. You instanly doubled your street cred in every school in America in 1990. The rise of the brand was surreal. It transcended team loyalty. I owned Raiders' Zubaz. I hated the Raiders. I owned Bills' Zubaz. I owned a Bills' Zubaz hat. I even owned the Bills' generic zubaz they sold at Sears.
They were one of the first socially acceptable versions of pajamas you could wear in public.
The brand went bankrupt at 1996, but resurfaced in 2006. This is a direct quote from their website.
"We've decided what the world needs now is another pair of Zubaz and this is the only place to get them. Zubaz pants are available in a variety of colors and sizes with the same great quality, comfort and fit that they were famous for 20 years ago. These pants are the same pants that were worn by pro athletes, rock stars, kings and queens, and anybody who Dared to be Different."
9. Starting Lineup Figures (1988-2001)
These were kind of ridiculous in retrospect. They were plastic, barely moved, and weren't even suitable for simulated action like G.I. Joes. It just wasn't believeable that Emmitt Smith would line up, stiff arm already extended. They make the list because even once you opened them, making them worthless from a collector's standpoint, they felt like real memorabilia. It was as though you had a three-dimensional card. The potential was limitless if they'd just built in a few extra joints.
8. Nerf Turbo Football (1989-?)
This commercial will speak for itself.
"Go long! Real long!" -every 10-year-old in America at least once in 1990
Look how far he threw that thing! All the PEDs in the world aren't going to help me half as much as this football. I must have it. Watch out, Jim Kelly! It didn't matter that every dog in every neighboorhood was drawn to these things more than meat bones, or that they were on borrowed time once you left them out in the rain overnight. These were great. They made even the most incompetently thrown spiral look like it came out of the hand of a Manning.
7. Electric Football (1947-?)
This is before my time, but I respect it's impact, and played several versions of it in the pre-nintendo days. It just looked like chaos. I had no idea the intricicies involved.
From the electric football wikipedia page:
"The game is played on a small metal field, with plastic players placed on the field in formations, just as in real football. The ball is a football-shaped small piece of foam or felt. When the players are set up, a switch is activated that turns on a small electric motor which causes the field to vibrate, and moves the players around the field. Players then shift around the board in a predictable manner.
Each player is attached to a base, with prongs on the bottom that allow the player to move. Rookie bases are not adjustable and the player hopefully runs forward. Pro bases have a dial that can be turned to have players turn to the right or left.
A special player called the Triple Threat Quarterback (TTQ) allows players to pass, punt or kick field goals. The ball has a slit that lets the game player place it on the TTQ's arm. The arm is pulled back and released to pass the ball. Use of this figure is a very difficult skill to master and was the primary form of advancing the ball."
Though a lot like Mouse Trap, I'm sure most people never bothered figuring out the actual way to play the game. It was just fun to turn it on and hope.
6. Receiver Gloves
These were very divisive among my friends. You'd probably get made fun of, at first. But when get 43 catches on 44 targets, you silence the haters pretty quickly. If you didn't get receiver gloves, batting gloves were a good substitute. Combine them with #2 further later in the list, and you were Megatron.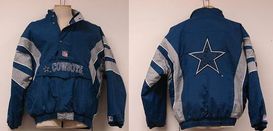 Hey kid! Gimme your jacket!
5. Starter Jackets (1980s-1990s)
These were expensive. I literally knew kids (plural) who were beaten up and had their starter jackets ripped from their person. It was one of the reasons I wasn't allowed to get one. That, and the $100 price tag. This was in a middle class suburb of Buffalo, so I have to imagine the fallout was similar or worse nationwide. Still, in the fickle social structure of middle school, these meant you were somebody. You had made it.
4. Deion Sanders' Shoes (1994)
I didn't own these, and they weren't huge in Buffalo, but I have it on good authority that these were gamechangers. They had this commercial with Dennis Hopper, so they had to be pretty good.
There are about 1,000 of these in a Western NY landfill somewhere if you want them.
3. Cards
It didn't matter if Topps, Pro Set, or Upper Deck was your poison of choice. There is an undeniable magic that comes with unwrapping a fresh pack and furiously sorting through the contents, discarding your fourth copy of Neil Smith, and hoping for a big payoff. Sorry Neil, but I swear you were disproportionately distributed in Buffalo-area Pro Set packs in 1991, and I'm taking it out on you.
2. Hutch Mini-Footballs (1991-?)
Okay, so the Nerf Turbo football wasn't that practical in anything more than 10 MPH winds, and it didn't quite have the durability you'd like for a parking lot football. Hutch to the rescue! About the same size as the Turbo, but with a little more weight to them, made of rubber, with your team of choice branded on them, and half the price, these were the go-to for almost every pickup game in my youth, and even make regular appearances at Bills' tailgating in my thirties. Why? Because you can throw them 1,000 yards, make one-handed catches, and they can take a beating. I've seen these get overthrown into traffic, get run over, and come out fine. They weren't even something that you had to ask if you needed to bring to someone's house. It was assumed they had one.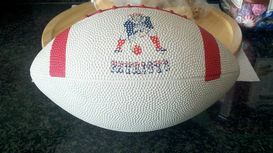 This football was probably put through a wood chipper. Looks almost new.
1. Tecmo Super Bowl (1991)
I know for anyone born in 1987-ish onward, this list is going to enrage you at this point. I told myself I'd limit the list to one video game, and for that, I apologize to the Madden fans out there, but TSB was revolutionary in so many ways. It was the first Nintendo family game to be licensed by the NFLPA, meaning I didn't have to play as the blue Buffalo team anymore. I could play as the Bills. With the exception of a few players (I 39;m looking at you, Cunningham), you actually played with real players! You would spend hours looking through actual stat leaders, playoff scenarios, the Pro Bowl! I actually looked forward to the Pro Bowl!
It also turned players with otherwise average careers into legends. Watch Christian Okoye annhialate the Colts for an entire quarter on ONE PLAY:
There isn't a single thing you can do in Madden 25 that compares to the thrill of watching your best friend, sitting next to you, smash the reset button in anger when you tell him you're running a sweep to Bo Jackson, he picks it, and still can't stop you.
Happy holidays, everyone!
DISCLAIMER: This list is heavily influenced by the author being born in 1980.
Follow me on twitter @erikoehler