July 29, 2013 -
Joel Corry
An eventful offseason
With training camps underway around the league, here's a look at the major salary cap and contract developments that occurred during the offseason.
The Changing Quarterback Salary Landscape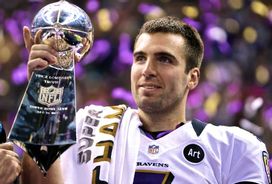 Joe Flacco cashed in big after a postseason run for the ages.
Drew Brees became the NFL's first $20 million per year player by signing a five-year, $100 million contract last July. Three quarterbacks have topped the $20 million per year mark in 2013. Joe Flacco took advantage of a stellar postseason in which he led the Baltimore Ravens to a Super Bowl XLVIII win by signing a six-year, $120.6 million contract (with $52 million in guarantees) in March. His $20.1 million average yearly salary briefly made Flacco the NFL's highest-paid player until the Green Bay Packers signed Aaron Rodgers to a five-year, $110 million contract extension (including $54 million in guarantees). Matt Ryan signed a five-year, $103.75 million contract extension (including $59 million in guarantees) with the Atlanta Falcons when the team opened training camp last week. Ryan's $63 million in the first three years of his deal is the best three year cash flow in the NFL. Additionally, Tony Romo joined the $100 million club by signing a six-year, $108 million contract extension (including $55 million in guarantees) with the Dallas Cowboys.
Aaron Hernandez Murder Charge
The New England Patriots promptly released tight end Aaron Hernandez after he was arrested for Odin Lloyd's murder last month. Hernandez's quick exit from the Patriots was due to the franchise's image being more important than financial considerations and salary cap implications. The Patriots compromised their ability to recover money from the five-year, $37.5 million contract extension (worth up to a maximum of $40 million through Pro Bowl incentives) Hernandez signed last August, which contained $16 million in guarantees (including a $12.5 million signing bonus), by cutting ties with him so quickly after his arrest. Since signing bonuses can be forfeited and recouped under the Collective Bargaining Agreement when a player breaches his contract, the Patriots should have at least waited until Hernandez missed training camp practices or preseason games before releasing him if recouping money had been the primary concern. Typically, a breach occurs when a player is suspended or withholds his services from a team once training camp starts.
The remaining $2.96 million in salary guarantees in Hernandez's deal voided because he violated his NFL contract with his alleged involvement in a murder. New England will have a $7.5 million cap charge in 2014 relating to Hernandez. The acceleration of the remaining signing bonus proration in Hernandez's contract (from his 2014 through 2016 contract years) is delayed until next year because he was released after June 1. The Patriots still owe Hernandez $3.332 million. His $82,000 workout bonus is payable on August 1 and $3.25 million of his signing bonus is due next August.
New England is expected to withhold Hernandez's payments regardless of whether they believe they are entitled to recoup money from him. Hernandez would be required to file an action under the CBA in order to collect the money. It would be up to the System Arbitrator to resolve the dispute.
Darrelle Revis Trade
The Darrelle Revis saga came to close when the New York Jets traded the Pro Bowl cornerback to the Tampa Bay Buccaneers for their 2013 first round and 2014 fourth round picks (becomes a third round pick if Revis is on Tampa Bay's roster on the third day of the 2014 league year) a few days before the NFL draft. Revis signed a six-year, $96 million contract that didn't contain any guaranteed money as a part of the transaction. However, he is getting $11 million more this season with the new deal than he was scheduled to make under his Jets' contract.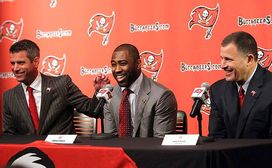 How long until Revis finds an issue with his new contract?
Revis having a contract without any guaranteed money could be problematic as soon as the 2013 season ends if he plays well in his comeback from anterior crucriate ligament surgery. Security will be more of an issue than money since there aren't a lot of defensive players that can realistically eclipse his deal within the next couple of years. The Buccaneers didn't get holdout protection in Revis' contract, like the Jets, but have the right to convert a portion of Revis' base salaries into a roster bonus and also guarantee a portion of his base salaries and roster bonuses.
It could be a wise move for the Buccaneers to either fully or conditionally guarantee Revis' 2014 and 2015 base salaries next year provided that he has consistently performed at a high level during the 2013 season. Otherwise, it won't be a surprise if the contract drama that plagued the Jets during Revis' tenure in New York continues in Tampa.
Miami Spending Spree
The Miami Dolphins made a splash when the free agency signing period opened. During the first wave of free agency, Miami signed wide receiver Mike Wallace to a five-year, $60 million contract (with $30 million in guarantees) that made him the NFL's third-highest paid wide receiver. The Dolphins revamped their linebacking unit by signing Dannell Ellerbe and Philip Wheeler to five-year, $35 million (including $17 million in guarantees) and five-year, $26 million (including $13 million in guarantees) deals. Karlos Dansby and Kevin Burnett were released to make room for Ellerbe and Wheeler in the starting lineup. Tight end Dustin Keller ($3.25 million) and cornerback Brent Grimes ($5.5 million) were among the players receiving one-year deals.
Prior to the start of free agency, wide receiver Brian Hartline and backup quarterback Matt Moore were re-signed. Hartline received a five-year, $30.775 million deal (with $12 million guaranteed). Miami's multi-year deals have low 2013 cap numbers. Wallace's $3.25 million cap number is the largest.
The Philadelphia Eagles and Tampa Bay Buccaneers didn't make the playoffs after going on spending sprees during the last two free agent signing periods. General manager Jeff Ireland could be out of job after the season if the Dolphins aren't playoff contenders this year.
Soft Free Agent Market
There have been accusations of collusion because teams exercised more fiscal restraint than in the past during free agency. Mike Wallace was the only free agent that signed a deal in excess of $10 million per year. Five free agents (Brandon Carr, Cortland Finnegan, Vincent Jackson, Peyton Manning and Mario Williams) hit the $10 million per year mark last year.
Cliff Avril signed in Seattle for far less than he was expecting entering the free agent period.
The bottom fell out of the cornerback market. Sean Smith's three-year, $16.5 million contract (with $10.915 million in guarantees and an additional $1.5 million in escalators and incentives) from the Kansas City Chiefs and the three-year, $17 million contract ($10.5 million in guarantees and an additional $2 million in escalators and incentives) Cary Williams received from the Philadelphia Eagles paced the cornerback market.
Pass rushers are usually at a premium in free agency, but Paul Kruger's five-year, $40.5 million contract (including $20 million guaranteed) with the Cleveland Browns was the top pass rusher deal. Cliff Avril lost $6.395 million by turning down the Detroit Lions' three-year, $30 million contract offer to sign his $10.605 million franchise tag last season. He only got a two-year, $13 million deal (with an additional $2.1 million in sack escalators and incentives) from the Seattle Seahawks. Avril needed to sign a two-year, $19.395 million deal in order to break even. Chris Long should be thankful he signed a four-year, $48.2 million contract extension (including $36.76 million in guarantees) with the St. Louis Rams as training camp opened last season. It's hard to imagine him getting a similar deal as an unrestricted free agent under this year's market conditions.
Oakland Raiders Salary Cap Cleanup
Reggie McKenzie has been handcuffed by the salary cap mess he inherited when he became Oakland's general manager in January 2012. He has made several roster moves during the offseason, including trading Carson Palmer to the Arizona Cardinals and releasing Al Davis first round picks Darrius Heyward-Bey, Michael Huff and Rolando McClain. McKenzie's moves have given the Raiders over $49 million of dead money (cap charges for players no longer on the roster) in 2013. Oakland currently has $62.28 million of cap obligations in 2014 and could have over $60 million of cap room heading into 2014 free agency, which should be the most in the NFL.
Franchise Player Deals
Teams were more judicious with franchise tags this year. Just eight teams used the franchise tag after a record 21 teams placed the designation on players in 2012. 12 of those 21 players signed long term deals.
Ryan Clady was the only one of the eight players with a franchise tag this year that got a multi-year contract before the July 15 deadline for franchise players signing long term deals. He signed a five-year, $52.5 million contract (includes $33 million in guarantees and an additional $5 million in base salary escalators) with the Denver Broncos. The other seven guys can't sign long term deals until the end of the regular season.
Jairus Byrd, who has a $6.916 million franchise tender, is the only unsigned franchise player. He can only play on a one-year deal because the deadline has passed, but he can negotiate his one year salary and other conditions relating to his franchise player status. The Buffalo Bills could also trade him. Byrd didn't report for the start of Buffalo's training camp. Since Byrd isn't under contract, he isn't subject to fines up to $30,000 for each day of training camp missed. He could be seeking a clause that would prohibit the Bills from using a franchise or transition tag on him in 2014 in order to end the contract dispute. No franchise player has missed regular season games because of a contract dispute since the 2006 Collective Bargaining Agreement implemented the July multi-year deal deadline. Dunta Robinson came closest when he signed his tender four days before the Houston Texans' regular season opener.
Agent Mistakes
Elvis Dumervil became a free agent on March 15th because of a paperwork snafu on his renegotiated contract with the Denver Broncos that reduced his 2013 salary from $12 million to $8 million led to his release. Agent Marty Magid was fired over the contract fiasco. Dumervil hired industry heavyweights Tom Condon and Ben Dogra to replace Magid. He received $500,000 more that he was scheduled to make in 2013 from the Broncos renegotiation in the five-year, $26 million deal (includes $11 million in guarantees) he subsequently signed with the Baltimore Ravens. The contract is worth up to $35 million because it contains $7 million in base salary escalators and $2 million in not likely to be earned incentives.
Tarrell Brown reportedly found out on Twitter that he didn't earn a $2 million base salary for this year because he didn't participate in the San Francisco 49ers' offseason workout program. Instead, he worked out on his own in Texas. Brown promptly fired Brian Overstreet, his agent, because he felt it was Overstreet's responsibility to explain to him the consequences of missing the workout program. It remains to be seen how the lost $2 million will affect Brown if the 49ers don't attempt to remedy his mistake in some capacity, which they are under no obligation to do.
Follow me on Twitter: @corryjoel
Joel Corry is a former sports agent who helped found Premier Sports & Entertainment, a sports management firm that represents professional athletes and coaches. Prior to his tenure at Premier, Joel worked for Management Plus Enterprises, which represented Shaquille O'Neal, Hakeem Olajuwon and Ronnie Lott. You can email Joel at jccorry@gmail.com.