November 08, 2013 -
Joel Corry
And down the stretch they come
With the 2013 NFL campaign just past the midway point, here are five things to watch for the rest of the season:
Are the Kansas City Chiefs For real?
The Kansas Chiefs have a lot of skeptics for a team with a 9-0 record. Doubters are quick to point out that the Chiefs have been aided by a weak schedule, with Kansas City's nine opponents combining to post a 27-49 record through nine weeks. They have also been fortunate in facing four backup quarterbacks during their nine games.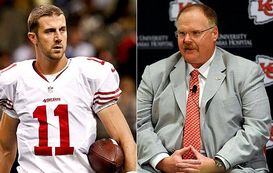 The Andy Reid-Alex Smith union has produced a perfect 9-0 record through nine weeks.
The Chiefs have an elite defense, but the same cannot be said regarding the offense. The defense has held the opposition to 17 points or less in each game, which hasn't happened to start a season since the 1977 Atlanta Falcons accomplished the feat. The Chiefs are allowing a league-best 12.3 points per game this season. They are also leading the NFL with 36 sacks and in turnover margin (plus 15). Quarterback Alex Smith doesn't turn the ball over much with his conservative approach, but doesn't produce big plays. Kansas City is 29th in passing and 31st in net yards per pass attempt. The offense is too reliant on running back Jamaal Charles, who leads the NFL with 1,114 yards from scrimmage and accounts for 39 percent of the offense's total yardage.
With four divisional games left against the Denver Broncos and San Diego Chargers, it will become readily apparent in a hurry whether the Chiefs are contenders or pretenders.
Green Bay's playoff hopes
The Green Bay Packers are in a three-way tie for first place in the NFC North with a 5-3 record, but must overcome some significant offensive injuries. All-Pro quarterback Aaron Rodgers, who broke his left collarbone early in Monday night's loss to the Chicago Bears, is expected to miss four to six weeks. Tight end Jermichael Finley has been put on season-ending injured reserve because of a bruised spinal cord. Wide receiver Randall Cobb is out until at least December 15 with a broken leg. Left tackle Bryan Bulaga is missing the entire season due to a torn ACL.
Backup quarterback Seneca Wallace, who was out of football in 2012, has a 6-15 record as starter in eight NFL seasons. The Packers should rely heavily on their newfound running game during Rodgers' absence. Rookie Eddie Lacy has 596 rushing yards in seven games and is on pace to break Green Bay's rookie rushing record of 1,105 yards, which was set by John Brockington in 1971.
The Packers are catching a break with a favorable schedule. Their next three opponents (Philadelphia Eagles, New York Giants and Minnesota Vikings) have a combined 7-18 record on the season. However, the possibility now exists that Green Bay may miss the playoffs for the first time since 2008—when they finished 6-10—if Rodgers isn't a quick healer.
Peyton Manning's chase of the record book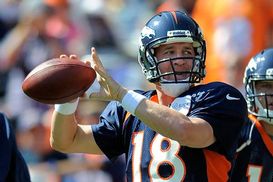 Manning is making a run at 6,000 passing yards and 60 touchdowns.
Peyton Manning has 2,919 passing yards and 29 touchdowns while completing 71.2 percent of his passes at the halfway point of the season. He is on pace to shatter the single season yardage record Drew Brees set in 2011 with 5,476 passing yards and Tom Brady's mark of 50 touchdown passes. Manning is also in a position to top Brees' single season completion percentage record of 71.2 percent, but must overtake Chargers quarterback Philip Rivers, who is completing 72.2 percent of his passes this season.
6,000 passing yards and 60 touchdowns may be out the question for Manning because the Broncos have four games remaining against teams ranked in the top-10 in passing defense.
NFC East mediocrity
Washington Redskins general manager Bruce Allen called the NFC East the "SEC of the NFL" before the season started. A comparison to a conference that isn't a football powerhouse seems more appropriate. The NFC East has an 8-15 record against non-divisional opponents this year.
The Dallas Cowboys lead the NFC East with a 5-4 record. They could be running away with the division, but have three losses by a field goal or less. The Cowboys have a tendency to play to the level of their competition. Late-game mistakes prevented Dallas from upsetting the Denver Broncos in a 51-48 shootout and the Cowboys needed a last-minute drive to beat the 2-7 Minnesota Vikings. The Philadelphia Eagles are a game out of first place with a 4-5 record, but Chip Kelly's up-tempo offense hasn't taken the NFL by storm like many thought it would. Although the Eagles rank fourth in total yards, they also rank 13th in scoring and are tied for 17th in turnovers.
The Redskins got off to an 0-3 start while Robert Griffin III shook off the rust from reconstructive knee surgery. The slow start won't faze Washington because they took the NFC East crown last year by winning seven games in a row after beginning the season with a 3-6 record. Repeating last year's finish will be more difficult because of remaining games against the Kansas City Chiefs and San Francisco 49ers.
Even the New York Giants, who began the season 0-6, can't be counted out despite a 2-6 record. It wouldn't be a surprise if the division winner makes the playoffs with an 8-8 regular season mark.
Can the Indianapolis Colts overcome the loss of Reggie Wayne?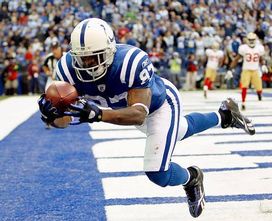 Can the Colts make it happen without Pro Bowl wide receiver Reggie Wayne?
The Indianapolis Colts put the rest of the NFL on notice with victories over the Denver Broncos, San Francisco 49ers and Seattle Seahawks, three preseason Super Bowl favorites. At the moment, the Colts have a two-game lead in the AFC South with a 6-2 record. The Denver win was costly because Reggie Wayne, Andrew Luck's favorite receiver, tore the ACL in his right knee. In 23 games together, Luck targeted Wayne 252 times, which was 103 more times than any other Colts player and resulted in 144 receptions for 1,858 receiving yards and seven touchdowns.
The Colts didn't make any moves before the October 29 trading deadline and expect their other wide receivers to step up in order to replace Wayne. T.Y. Hilton helped fill the void with seven catches for 121 yards and three touchdowns against the Houston Texans in Indianapolis' first game without Wayne. Even though Luck engineered a fourth quarter comeback against the Texans, he had his lowest completion percentage of the season at 45 percent. It may take more big games from Hilton to keep Indianapolis' two-game lead in the AFC South from evaporating.
Follow me on Twitter: @corryjoel
Joel Corry is a former sports agent who helped found Premier Sports & Entertainment, a sports management firm that represents professional athletes and coaches. Prior to his tenure at Premier, Joel worked for Management Plus Enterprises, which represen ted Shaquille O'Neal, Hakeem Olajuwon and Ronnie Lott. You can email Joel at jccorry@gmail.com.