July 11, 2014 -
Joel Corry
Andre Johnson's trade leverage
Andre Johnson has asked the Houston Texans to trade him according to NFL Media Insider Ian Rapoport. Although four teams have expressed interest in acquiring Johnson, the Texans have no interest in dealing him.
Johnson has already subjected himself to a $69,455 fine for skipping the Texans' mandatory minicamp and forfeited a $1 million first game of the regular season roster bonus by missing other team offseason activities. In order to earn the $1 million roster bonus, Johnson was required to complete 90 percent of the workouts in the Texans' offseason conditioning program, timely report to and fully participate in their entire organized team activities, mandatory minicamp and training camp. Johnson's contract expressly states that he can't earn the bonus if he fails to satisfy any one of the conditions.
It will be an extremely costly endeavor for Johnson if he tries to force a trade through a training camp holdout. The Texans can fine Johnson a maximum of $30,000 for each day of training camp he misses. They can also recoup a portion of his signing bonus, which is the bigger issue. Under the NFL Collective Bargaining Agreement (CBA), teams can recoup 15 percent of the prorated amount of a signing bonus on the sixth day of a training camp holdout. It's one percent for each additional missed day with a maximum of 25 percent of the prorated amount during training camp. An additional 25 percent can be recovered with the first missed regular season game. After four missed weeks, a team can recover one-seventeenth of the prorated amount for each additional week of the player's absence. The maximum a team can recover in a season is the entire prorated amount of the player's signing bonus in that contract year.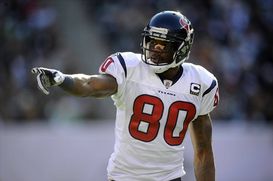 ICONJohnson's 11 years in Houston have resulted in 927 receptions for 12,661 yards and 61 touchdowns.
Johnson restructured his contract in 2011, 2012 and 2013 where he converted $18.5 million of base salary into a signing bonus to create salary cap room for the Texans. When a player does a simple contract restructure, like Johnson did, it is imperative that the signing bonus provision doesn't contain language allowing the team to recover the signing bonus or limit recovery to the particular year in which the restructure takes place so he doesn't give the team rights to money they wouldn't have otherwise. The CBA prevents teams from recovering base salary after it has been paid. Additionally, signing bonus language from a player's previous contract(s) with a team is typically incorporated into the contract covering the restructure.
Johnson didn't get either of these two things in any of his contract restructures. By contrast, when Matthew Stafford restructured his contract with the Detroit Lions in 2011 and 2012, the language allowing recovery of the $19.36 million of salary converted into a signing bonus was removed.
Johnson undercut any leverage he may have had to force a trade because the broad signing bonus recovery language is in his contract restructures. If Johnson hadn't restructured the contract he signed in 2010 or gotten the more favorable signing bonus language, the maximum amount of signing bonus the Texans would have been able to recoup from him with a holdout this year would have only been $469,583 (the prorated amount of signing bonus in 2014 from his 2010 deal). The broad language allows the Texans to recover a maximum of $4,444,583 from Johnson in 2014. Johnson should have been risking $70,437 of signing bonus with a six-day training camp holdout, but it's $666,687 instead. If Johnson misses the entire Texans' training camp and no more than four weeks of the regular season, they can recoup $2,222,291 from him when it would have been $234,791 with the better language. Johnson would also be giving up $588,235 of his $10 million base salary for each week of the regular season he missed.
The broad language also effectively removes retirement as an option for Johnson as Carson Palmer did in 2011 with the Cincinnati Bengals. Players aren't subject to the daily fines for missed training with retirement, but signing bonus recovery is more onerous on the player. A team can demand repayment of the signing bonus proration from the current contract year and the remaining years of the deal upon the retirement. If the player doesn't repay this money, the team can seek an award through arbitration. Johnson's contract runs through 2016. The Texans could demand $11,364,168 from Johnson if he retired when it should have only been $939,168. Palmer didn't have to worry about signing bonus recovery because the proration with his 2005 contract extension ended in 2010.
The Texans essentially hold all of the cards in the dispute with Johnson. It would be a surprise if Johnson's trade request was granted or he had a lengthy preseason holdout largely because of the financial ramifications with the broad signing bonus language from his three contract restructures.
Follow me on Twitter: @corryjoel
Joel Corry is a former sports agent who helped found Premier Sports & Entertainment, a sports management firm that represents professional athletes and coaches. Prior to his tenure at Premier, Joel worked for Management Plus Enterprises, which represented Shaquille O'Neal, Hakeem Olajuwon and Ronnie Lott. You can email Joel at jccorry@gmail.com.