January 03, 2012 -
Dion Caputi
Andy Reid is coming back
Few team's in the free agency era have added as much talent as the 2011 Philadelphia Eagles. From signing All-Pro cornerback Nnamdi Asomugha and impact defenders Jason Babin and Cullen Jenkins to acquiring defensive back Dominique Rodgers-Cromartie from the Arizona Cardinals, the Eagles quickly became a favorite to make considerable noise in the NFC this past season.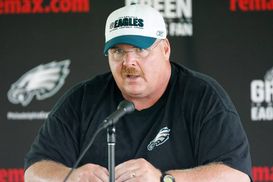 ICONAndy Reid will be back on the Philadelphia sidelines in 2012.
However, from the moment Vince Young--another 2011 offseason addition--uttered the words "dream team," Philadelphia's season was doomed.
A 1-4 start quickly dismissed a lot of the preseason optimism generated from the massive infusion of new talent. Despite winning the final four games of the season, Philadelphia was left with an 8-8 record and questions over head coach Andy Reid's job security after missing the playoffs.
Tuesday, Eagles owner Jeffrey Lurie announced in a press conference that Reid's job was safe, but not without making stern mention of how he felt about the team's lack of success this season.
"It's been a very, very unusual season," Lurie said. "This season was without question the most disappointing season since I've owned the team. This is not only unacceptable, it is very disappointing."
Lurie also used the words "dismal" and "unfathomable" to describe his team's lack of performance.
While the team, like any who witnessed significant turnover in one offseason, struggled to gel as a unit, they did come together down the stretch. Still, Lurie said that is not an acceptable excuse.
The Eagles face an offseason that could be filled with coaching staff and/or personnel changes, as Lurie noted that decisions regarding coaching staff members will fall on Andy Reid and the issue will be addressed later this week.
In addition to staff decisions, Philadelphia must decide how they will approach contract negotiations with impending free agent wide receiver DeSean Jackson as well as possible extensions for running back LeSean McCoy and wide receiver Jeremy Maclin. Also, cornerback Asante Samuel openly noted that he doesn't feel wanted within the organization and he may be subject to trade rumors moving forward.
As far as Reid goes, he still has two years remaining on his current contract at $4 million a season.
Follow me on Twitter: @NFLDraftUpdate