May 28, 2013 -
Jeff Fedotin
Are the Falcons the team to beat in the NFC?
The 49ers and Seahawks engaged in an offseason arms race, loading up two already stacked rosters with free agents and draft picks.
But could the Falcons be flying be under the radar and poised to represent the NFC in the Super Bowl?
"I still believe this team — the Atlanta Falcons — has a lot of talent on this roster," said free-agent acquisition, running back Steven Jackson. "They have the experience of now having been in the playoffs some years in a row. I believe falling short in the championship game will bring them back even hungrier."
The Falcons, who fell four points short in the NFC Championship Game after leading the 49ers 17-0, addressed their major offseason needs — a better pass rush and running game.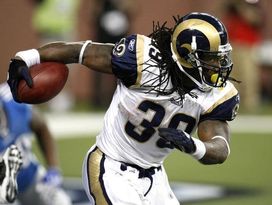 The addition of Jackson should provide an immediate boost to the league's 29th ranked rushing attack.
Despite going 13-3 to earn home-field advantage last season, Atlanta had a pass defense, which ranked just 23rd in the league. That statistic had much to do with a poor rush, which totaled 29 sacks (28th in the league).
The signing of defensive end Osi Umenyiora, who has 26.5 sacks in the last three years, a total which does not include his sack of Matt Ryan during the playoffs two seasons ago, should improve that area.
"This a team that I feel needs or could use a player like myself," Umenyiora said.
Umenyiora, who lives in Cleveland, Ga., should serve as an upgrade over John Abraham. Umenyiora (31) is four years younger than the unsigned Abraham — who while effective for the Falcons — played limited snaps to preserve his oft-injured body.
The Falcons could further bolster their defensive line by adding another local veteran. Rumors have swirled that they might sign defensive tackle Richard Seymour, who went to Georgia and is training in Atlanta. Falcons general manager Thomas Dimitroff has connections with the 33-year-old Seymour from their days together with the Patriots.
On offense the Falcons have improved a running game, which was in desperate need of it, by signing Jackson. Last year's rush game ranked just 29th in NFL with 87.3 yards per game. As a whole the unit averaged a measly 3.7 yards per carry.
Jackson, who will turn 30 during this summer, is not the player he once was. But with passing weapons like Roddy White, Julio Jones and Tony Gonzalez at Ryan's disposal, the Falcons don't need a bell cow back.
They just need someone who can prevent defenses from keying on the pass and who can grind out the clock to protect a fourth-quarter lead. The Falcons led the 49ers 24-14 at halftime and 24-21 going into the fourth quarter of the NFC Championship Game, but they only amassed 81 rushing yards (a 3.5 average) during the contest.
The running game stalled behind Michael Turner.
The former bruising back seems to have worn down after carrying the ball 1,189 times from 2008 to 2011. Known for his powerful legs, Turner looked as if he was running through mud last year and averaged just 3.6 yards a carry on his 800 rushing yards.
Jackson, a three-time Pro Bowler, may have slowed, too, but the bulldozing, 240-pounder has a lot more left in his tank than Turner. He averaged 79.8 yards a game during the last half of the 2012 season. Jackson ran for 1,041 yards in all, averaging 4.1 a carry.
"(I have) breakaway speed," Jackson said, "and a tenacity to never say, 'quit.'"
His rugged running style will serve as a nice complement to the shifty 5-6, 196-pound Jacquizz Rodgers. Jackson has been friends with his fellow Oregon State Beaver since 'Quizz was a teenager.
The Falcons' offensive arsenal also will have one of the best weapons in NFL history, Gonzalez, who had previously said he was "95 percent" sure he would retire after the 2012 season.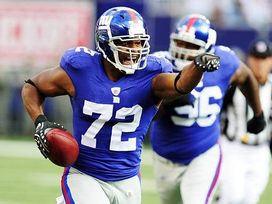 Umenyiora racked up 26.5 sacks with the Giants over the last three seasons.
The return of last year's 93-catch, 930-yard, eight-touchdown star further enticed Jackson to sign with the Falcons.
"It definitely made the decision a little easier," Jackson said.
Even with these additions, questions remain particularly in the Atlanta secondary, which was another reason for the NFL's 23rd-ranked pass defense.
Cornerback Dunta Robinson moved on to the Chiefs, and Brent Grimes, though an Achilles tendon injury limited the team's best cover corner to one game last season, signed with the Dolphins.
Rookie draft picks Desmond Trufant (first round, 22nd overall) and Robert Alford (second round, 60th overall) will have to make an immediate impact if Atlanta wants to make a deep postseason run.
By winning their first playoff game last year, Gonzalez, Ryan and coach Mike Smith have that monkey off their back.
Now they want the jewelry of Umenyiora, who earned two Super Bowl rings with the Giants. Despite playing on the 2011 and 2007champions, he made a bold statement about the 2013 Falcons.
"This team is the most talented team I've seen in my life probably," Umenyiora said.
Seahawks and 49ers, beware.
Follow me on Twitter: @JFedotin
Jeff Fedotin has written for Packers.com, Pro Football Weekly, ESPN The Magazine, the Lawrence (Kan.) Journal-World and Rivals.com. After graduating from Northwestern University, he interned for the Buffalo Bills. During his football playing days at Pembroke Hill (Mo.) School, Fedotin was known for his bad knees and even worse blocking.