September 16, 2014 -
Jeff Fedotin
Are the Texans this year's surprise team?
HOUSTON—Gritty defensive lineman J.J. Watt strode to NRG Stadium in a tight-fitting army T-shirt and camo hat.
Then, after the season-opening victory, Gucci-loving safety, D.J. Swearinger, nicknamed "Swag," kept a media horde waiting at his locker while he methodically fastened his flashy red belt.
The Texans players may have disparate styles, but they have perfectly meshed this season.
"One of the big things that Coach O'Brien always talks about is complementary football," Watt said. "There are three phases of the game, and we need to perform well in all three. When those three work together, that is when you really have success."
Spurred by a Watt-led defense, playmaking special teams — that has produced a blocked punt for a touchdown and a blocked extra point — and a run-first offense that limits mistakes, the Texans have begun the season 2-0.
With a favorable schedule — at Giants, vs. Bills, at Cowboys — the AFC South's first-place team could be 5-0, heading into a pivotal Thursday night contest against the Colts, the division's reigning champs.
"You're going to see us start to peak," running back Arian Foster told NFP. "And it's going to be fun."
The NFL's best defensive player
The anchor for Houston's team as it tries to rebound from last year's 2-14 campaign is Watt.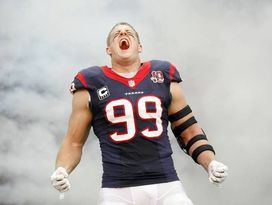 Through two games, Watt has proven to be worth every penny of his new contract.
The fourth-year veteran, who recently signed a six-year, $100 million extension — a record for a defensive player — put on a tour-de-force performance during a Week 1, 17-6 victory against the Redskins.
Because of his repeated knockdowns of RG III — even when they weren't sacks — the Redskins quarterback looked tentative and never got into a rhythm. With almost 10 minutes left in the game, Watt had six quarterback hits, a sack, a forced fumble, a four-yard tackle for loss and the blocked extra point.
For good measure, Watt, a tight end at Central Michigan before transferring to Wisconsin, even caught a TD pass in Week 2.
"He plays the game at a crazy level. He affects the game in so many ways — whether it's knocking down passes or sacking the quarterback or even just causing confusion on the play," wide receiver Andre Johnson said. "That's why he was rewarded the way he was. He deserves every penny of it."
Watt is also profiting from the return of linebacker Brian Cushing, who endured back-to-back season-ending knee injuries. (Heading into the 2014 season, when Cushing is in the lineup, Houston has given up the fewest yards in the NFL since 2011.)
The defense could become more potent if 2014's No. 1 overall draft pick, Jadeveon Clowney, can return in four to six weeks from a torn meniscus he suffered in the second quarter of Week 1.
Before going down with injury, Clowney most frequently lined up on the right side against the blind-side tackle. He displayed a nice burst and athleticism but still needed a lot of work on diagnosing plays. (For example, he was badly fooled on a play-action pass to Redskins tight end Jordan Reed.)
QB concerns?
With a plethora of defensive playmakers on the Houston roster, the fate of the Texans could hinge on the play of quarterback Ryan Fitzpatrick.
Foster raved about the intelligence, moxie and calming presence of his new signal-caller.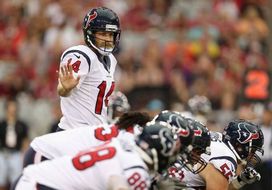 Through two games with the Texans, Fitzpatrick has yet to commit a turnover.
"He's a Harvard kid. He's got the smarts," Foster said. "He has this air about him that nothing really gets him. You like to see that from a quarterback."
Through the first two games, Fitzpatrick has completed 68.2 percent of his passes and has yet to make a turnover.
He has adeptly assumed the role of proficient game manager, allowing Houston to ride its weapons like Foster, DeAndre Hopkins and Johnson.
Fitzpatrick, however, has only averaged 172.5 passing yards. Despite opening Week 1 in a quarterback-friendly spread formation and having targets in Hopkins and Johnson, who combined for 2,209 yards last year, Fitzpatrick's accuracy looked spotty, and his arm strength pedestrian.
And Fitzpatrick's track record is more representative of a journeyman than someone who should be at the helm of a talented team.
Houston is Fitzpatrick's fifth NFL team. He has completed less than 60 percent of his career pass attempts and never had a QB rating greater than 83.3 in a season.
Going into the regular season, I expected quarterback Ryan Mallett, Tom Brady's New England understudy acquired on Aug. 31 from the Patriots, to be thrust into the starting role at some point.
But given Houston's positive outlook and Fitzpatrick's early play, the incumbent has a firm hold on the job and is a major reason why the Texans have gone from worst to first.
Though Mallet said he has quickly mastered the offense, he wisely emphasized that the Texans are Fitzpatrick's team and effusively praised him.
"He's a great player, a smart guy and he's a great teammate," Mallett said. "He's hilarious. He keeps the room fun."
The good times are definitely rolling in Houston.
Follow Jeff on Twitter: @JFedotin</p>
Jeff Fedotin has written for Packers.com, Pro Football Weekly, ESPN The Magazine, the Lawrence (Kan.) Journal-World and Rivals.com. After graduating from Northwestern University, he interned for the Buffalo Bills. During his football playing days at Pembroke Hill (Mo.) School, Fedotin was known for his bad knees and even worse blocking.