December 23, 2014 -
Jeff Fedotin
Are these not the same old Lions?
CHICAGO—To record an 11th win for the first time since 1991, the Lions faced a seemingly easy task: defeat a dysfunctional Chicago team that had just benched its starting quarterback.
Detroit, though, committed special teams gaffes, ill-timed penalties and three first-half turnovers.
The Lions looked more like the 2013 team, whose bone-headed errors caused them to lose six of their last seven and fall out of the playoff picture last season.
"This is a game that we lost last year," Lions running back Reggie Bush told NFP.
Instead the Lions prevailed 20-14 in Week 16 to remain in first place in the NFC North.
A major reason the 11-4 Lions sit atop the division is that quarterback Matthew Stafford has taken a more conservative approach. Instead of zinging the ball all over the field, the Lions have tried to win games on the strength of their stout defense.
Heading into the Week 16 contest on Dec. 21, Stafford had last thrown an interception in Week 12 on Nov. 23 against the Patriots.
Against the Bears, though, Stafford reverted back to the form he displayed while throwing 19 and 17 interceptions, respectively, the last two years.
He killed two second quarter red zone opportunities by forcing passes, which were intercepted by Brock Vereen and Ryan Mundy.
Because of those and other blunders, the Lions were tied with the five-win Bears after one half of play.
At halftime first-year Lions coach Jim Caldwell preached the same consistent message — play a clean half of football, and they would be okay — he had all year.
The 2014 Lions have taken their cues from their stoic coach who always remains on an even keel.
"It starts with Coach Caldwell. He's really come in and changed a lot about this team," Bush said. "It's true that one man can make a difference."
Last year under fiery Jim Schwartz — though also a smart defensive tactician — the Lions were 2-6 in games decided by four points or fewer. This year they are 4-1.
Better in tight contests, they are playoff bound for just the second time this millennium.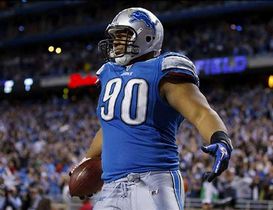 Suh anchors a unit that currently ranks second in the NFL in total defense.
Indeed, with Pro Bowl-caliber players at each defensive level, this may be the most dangerous Lions team in decades.
Ranked second in the league (entering Week 16), the defense is led by one of the best players in the game, defensive lineman Ndamukong Suh.
Safety Glover Quin, who sealed the victory against the Bears with his seventh interception of the season, patrols the back line.
"He's an integral part to our secondary," Suh said. "Glover Quin is a hell of a player."
DeAndre Levy, whose sideline-to-sideline mastery in pursuing running backs is matched by his deftness in pass coverage, keys the LB corps. He collected eight tackles Sunday, falling just short of his 11th double-digit tackle performance of the season.
On the offensive side — with Bush looking healthy after ankle injuries had limited him much of the season — the Lions averaged 5.3 rushing yards on 26 carries against the Bears.
"We've got to be able to run the ball well," Bush said, "in order for us to win this time of year."
A resurgent running game also prevents opponents from dropping all of their defenders in coverage to stop an explosive passing offense.
Calvin Johnson, the best receiver in the league, recorded his 44th career 100-yard game Sunday.
And Johnson has the best complementary receiver he has ever had in free-agent addition Golden Tate, who has a career-best 1,286 receiving yards this season.
"When people draw coverage away from him and more towards Calvin," Caldwell said, "he's certainly given us some very, very important plays."
But despite possessing this kind of offensive and defensive talent, Detroit will need to play much cleaner than it did against the Bears if it wants to advance in the playoffs or capture the NFC North.
In addition to Stafford's interceptions, the Lions — while trailing by four points in the fourth quarter — had a 37-yard field goal attempt blocked by Jeremiah Ratliff.
An even more significant special teams miscue occurred in the second quarter.
Jeremy Ross signaled for a fair catch on a punt. But the ball bounced off him, and Bears defensive back Sherrick McManis recovered on Detroit's 11-yard-line.
Chicago scored one play later to tie the game and gain momentum going into halftime.
Julian Sanford's roughing the kicker penalty extended the Bears' third-quarter drive in Detroit territory, and Chicago scored a touchdown three plays later.
Even after retaking the lead in the fourth quarter, the Lions committed a dumb penalty on the Bears' final drive.
Ezekiel Ansah delivered a helmet-to-helmet hit to Bears quarterback Jimmy Clausen. The 15-yard penalty gave Chicago the ball on its own 45-yard line with plenty of time (2:18) to go.
It was the final error of Detroit's mistake-plagued victory.
"We definitely want to clean that up," said center Dominic Raiola, a 14-year veteran. "We need to execute better. We need to be smarter."
The Lions will need a more crisp performance if they want to win the NFC North, something they can accomplish by defeating Green Bay next week.
Beating the Packers on the road would give Detroit its first division title since 1993.
"This is what we set out for. This was our main goal the beginning of the season," Bush said. "Now it's right here in front of us."
Follow Jeff on Twitter: @JFedotin
Jeff Fedotin has written for Packers.com, Pro Football Weekly, ESPN The Magazine, the Lawrence (Kan.) Journal-World and Rivals.com. After graduating from Northwestern University, he interned for the Buffalo Bills. During his football playing days at Pembroke Hill (Mo.) School, Fedotin was known for his bad knees and even worse blocking.