February 17, 2014 -
Jeff Fedotin
Bears building blocks
While perched near their lockers, a reporter asked Bears right guard Kyle Long and Bears right tackle Jordan Mills for their first impressions of each other.
"I thought he was a punk," Long said.
"I thought he was cocky as hell," Mills retorted.
The razzing between Long (a 2013 first-round pick, 20th overall) and Mills (a 2013 fifth-round pick, 163rd overall) plays out like brothers or best friends, and that's no surprise. Their bromance began during college All-Star Games and blossomed in the NFL.
When not lining up next to each other on the right side of the Bears offensive line, the rookies leaned on each other for support as they tried to handle the transition to the pros.
They would eat together and park their cars next to each other at the Bears practice facility. At the team hotel at home and on the road, they would room together with Mills serving as Long's gameday alarm clock.
"We try to do everything together," Long told NFP. "Every day presents us with an opportunity to learn as a cohesive pair."
The cohesiveness could be seen on the field. On a Bears team that set franchise records for total net yards (6,109) while also allowing the team's fewest sacks since 2008, both started all 16 games next to each other in 2013.
"To have two rookies come in and play at that caliber is absolutely incredible," left guard Matt Slauson said. "I have never seen anything like that."
The overhaul of a previously leaky unit included Slauson, the four-year veteran and mauling guard who signed a new, four-year deal over the 2014 offseason, along with Long and Mills. Free-agent acquisition Jermon Bushrod, a master technician, took over at left tackle to further bolster a line, which had struggled the past several years.
The improved group allowed just 30 sacks this past season, 14 less than in 2012.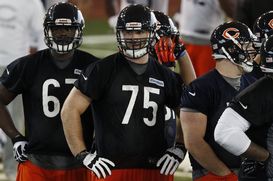 Mills (far left) and Long (center) share a friendship that dates back prior to each player landing in Chicago.
"In the past it seems like the O-line was one of the weak links," Slauson said. "I don't think you can say that anymore."
Coach Marc Trestman's emphasis on the short passing game helped but so did the drafting of Long and Mills as the Bears offense finished eighth in the league in total offense while tying for the fourth fewest sacks.
Long, according to Pro Football Focus, gave up just two sacks during 609 dropbacks and was penalized just three times during 1,079 snaps.
He also paved the way for running back Matt Forte, who established his career high of 1,339 rushing yards. The Bears ground game had its greatest success behind the son of Hall of Famer Howie Long, averaging 6.27 yards to his side.
As a result Kyle Long became the first Bears offensive lineman to reach the Pro Bowl since guard Ruben Brown and center Olin Kreutz were both chosen following the 2006 season. Long's 2014 Pro Bowl selection came as an injury replacement after 49ers guard Mike Iupati had to withdraw from the game with a broken left ankle.
Making the journey from raw rookie to Pro Bowl player, Long bounced back from a poor performance against Lions defensive lineman Ndamukong Suh in Week 4. Early in the season, Long's motor also could rev a little too high. (Quarterback Jay Cutler referred to him as the team's "energizer bunny").
Similarly, Mills could get overly anxious and aggressive. He went after Vikings defensive end Jared Allen after the whistle in Week 13, but both rookies learned to become more patient.
"We let the game to come us more," Mills said. "At first we used to want to kill everybody."
Though some metrics-based web sites graded Mills harshly, his transition from starting at a WAC school to starting in the NFC North was very impressive. An offseason in the weight room will help Mills' improvement — once he fully recovers from a broken metatarsal in his left foot suffered during the Week 17 loss to the Packers.
He had surgery in January.
It was during the previous January when Long and Mills first met at the 2013 Senior Bowl in Mobile, Alabama.
They were on opposite teams. (Louisiana Tech's Mills was on the South, and Oregon's Long was on the North.) But they saw each other in the hotel lobby. "You find yourself down there at late-night snacks with the other fat guys," Long said.
Contrary to Long's joking description of Mills as a punk, the tackle made a positive first impression, even though the setting was basically a contentious job interview.
"I just remember him being a great guy. In a room full of guys who are trying to act like tough guys, Jordan was one of the guys who put his hand out and introduced himself," Long said. "Everyone wants to be Billy Badass. Jordan's a professional."
The bond continued to develop at the 2013 NFL Combine, even though they went against each other in shadow drills, pass blocking in front of scouts.
Months after that — upon their first introduction as NFL teammates — the new Bears hugged it out while declaring, "Let's go to work."
And that young, hard working duo could anchor the Bears offensive line for the next decade.
"(The) sky's the limit for those two," Bushrod said.
Follow Jeff on Twitter: @JFedotin
Jeff Fedotin has written for Packers.com, Pro Football Weekly, ESPN The Magazine, the Lawrence (Kan.) Journal-World and Rivals.com. After graduating from Northwestern University, he interned for the Buffalo Bills. During his football playing days at Pembroke Hill (Mo.) School, Fedotin was known for his bad knees and even worse blocking.