October 10, 2013 -
Joel Corry
Big Blue: The good, the bad & the ugly
The New York Giants have been one of the NFL's biggest disappointments because they were expected to contend for the NFC East title and, instead, are 0-5 for the first time in a non-strike season since 1979. Their average margin of defeat is 20 points per game. Here's a look at what has gone wrong and what has gone right with the Giants this season.
GOOD
1. Victor Cruz: Cruz is living up to the six-year, $45.879 million contract he signed during the offseason. He is on track for a career year. Cruz has 31 receptions for 479 yards and four touchdowns through five games.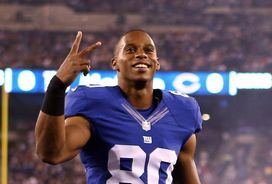 Cruz has played well, with a 31-473-4 stat line through five games.
2. Terrell Thomas: Thomas has joined Carolina Panthers linebacker Thomas Davis as the only other person to play in the NFL after three ACL reconstructions on the same knee. He initially tore the ACL in his right knee while in college at USC. Thomas' first ACL tear with the Giants occurred during the 2011 preseason. He tore his ACL again in training camp last year. Thomas has primarily seen action as a nickel cornerback this year.
3. Prince Amukamara: Despite a rough day against DeSean Jackson, Amukamara has been somewhat of a bright spot for the defense. The 2011 first round pick has emerged as the Giants' best cornerback.
BAD
1. Injuries: The Giants lack of quality depth has been exposed by a variety of injuries. The defense suffered a huge blow when strong safety Stevie Brown tore his ACL during the preseason. He tied for second in the NFL with eight interceptions last season. Starting middle linebacker Dan Connor was put on injured reserve after hurting his neck in the season opener against the Dallas Cowboys. Cornerback Corey Webster has only played in two games because of a groin injury. Injuries have decimated the backfield. Fullback Henry Hynoski is out for the season with a fractured shoulder. Andre Brown broke his leg in the preseason. He is eligible to return from short-term injured reserve for Week 10's contest against the Oakland Raiders. David Wilson is sidelined indefinitely because of a neck injury. Injuries have also plagued the offensive line. Right guard Chris Snee played three games before going on injured reserve with hip problems. Starting center David Baas has been limited to two games because of a neck injury. David Diehl missed the first three games recovering from thumb surgery.
2. Turnovers: The Giants lead the NFL in turnovers by a wide margin with 20 miscues. The New York Jets rank second with 12 turnovers. The Giants are the first team since the 1954 Chicago Cardinals to commit three or more turnovers in each of their first five games. They also have the NFL's worst turnover margin at minus 13.
3. William Beatty: The offensive line as a whole has underperformed. It can be partially attributed to a lack of cohesion due to injuries. William Beatty has been a disappointment. The Giants signed him to a five-year, $37.5 million contract (with $19 million in guarantees) during the offseason to anchor the offensive line after only allowing three sacks and 25 pressures in 2012. Beatty has already exceeded his 2012 season totals in just five games this year.
UGLY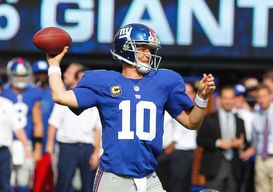 US PRESSWIREIn 2013, Eli is averaging an interception every 16.91 pass attempts.
1. Eli Manning: Manning hasn't had a stretch of games like the 2013 season since he was a rookie in 2004. The three-time Pro Bowler's completion percentage has steadily declined each game since the season opener when he connected on 64.3% of his passes. It plummeted to 46.2% against the Philadelphia Eagles on Sunday. Manning leads the NFL with 12 passes intercepted. He has led the NFL in interceptions twice during his career (2007 and 2010) but is on track for 38 interceptions, which would be the most by a quarterback in 25 years. His 53.7% completion percentage and 65.8 passer rating both rank 32nd in the NFL.
2. Rushing Attack: The Giants rank last in the NFL in rushing with 56.8 yards per game and are the NFL's only team without a run of at least 20 yards. David Wilson was expected to serve as the primary ball carrier once the Giants made Ahmad Bradshaw a salary cap casualty during the offseason. The 2012 first round pick hasn't followed up on his promising rookie campaign in which he rushed for 358 yards on 71 attempts. His yards per carry has dropped from 5.0 to 3.3 this season. Wilson, who is sidelined with a neck injury, has only gained 146 yards on ground. The rushing attack has also been hindered by the absence of Andre Brown. He is expected to return from a broken leg in November. 31-year-old Brandon Jacobs, who spent the 2005 through 2011 seasons with the Giants, was brought back after Wilson had fumbling issues and pass protection problems in the season opener.
3. Pass Rush: The Giants' pass rush has been anemic with five sacks in five games. Five NFL players have more sacks than the Giants' sack total. Jason Pierre-Paul is still rounding into form after offseason back surgery. The 2011 All-Pro has one sack this season. Mathias Kiwanuka leads the team with 1.5 sacks in his move back to defensive end from outside linebacker. Justin Tuck isn't living up to his promise of a bounce back season. He has 0.5 sacks.
Outlook
No NFL has started 0-5 and made the postseason since the NFL expanded the playoffs to 12 teams in 1990. Even though the Giants are only two games out of first place in the NFC East, it's unlikely that New York can fix enough of their problems to turn the season around. The Giants appear to be headed for their highest first-round pick since 2004 when they had the fourth overall selection in the NFL draft. With the Giants likely headed towards rebuilding in 2014, it wouldn't be a surprise if Tom Coughlin retired after the season. He doesn't have anything left to prove in his coaching career.
Follow me on Twitter: @corryjoel
Joel Corry is a former sports agent who helped found Premier Sports & Entertainment, a sports management firm that represents professional athletes and coaches. Prior to his tenure at Premier, Joel worked for Management Plus Enterprises, which represented Shaquille O'Neal, Hakeem Olajuwon and Ronnie Lott. You can email Joel at jccorry@gmail.com.