October 01, 2013 -
Jeff Fedotin
Big D's surprise starter
Cowboys training camp had already started, but George Selvie, a free agent, was still on the street — literally.
After returning from a late July workout at his gym in his hometown of Pensacola, Fla., Selvie was driving on the road when he returned a missed call from Deryk Gilmore, his agent.
Gilmore told the defensive end that the Cowboys wanted to bring him in. By the next afternoon, he signed a contract and was already on the Oxnard, Calif. field.
"I tried to make some plays, and that's what I did," Selvie told NFP. "The rest is history."
Indeed after recording 10 tackles, three sacks and four QB pressures during the preseason, he earned more than a roster spot. In place of LDE Anthony Spencer, who received the franchise tag this year but is out for the season following microfracture knee surgery, Selvie has started every game during the 2013 regular season and responded with 11 tackles, three sacks and a fumble recovery.
"Having a chance to start for the Cowboys is always a blessing," Selvie said. "It's a big role to fill."
Selvie has found a nice fit with the Cowboys, one of the rare NFL teams that still runs the Tampa Two, the same defense in which Selvie excelled at South Florida.
The Rams selected the two-time All-American in the seventh round of the 2010 NFL Draft, and Selvie played in all 16 games his rookie year. Though St. Louis ran a 4-3, it employed Selvie as a hybrid joker. Instead of concentrating on rushing the passer off the edge, he dropped in pass coverage, his hand often wasn't in the dirt and he played inside on third down.
The Rams released him, and he played for the Panthers for one year and the Jaguars for two. Jacksonville primarily used him on first and second down, robbing Selvie of his best asset, attacking the quarterback on third down, and Selvie only notched 1.5 sacks over two years.
"That was frustrating," Selvie said. "The Cowboys gave me an opportunity to rush the passer, and I'm grateful for that."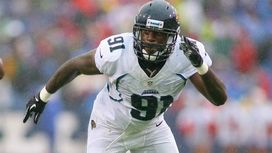 Selvie notched just one sack last season with the Jaguars, but has recorded three through four games with Dallas in 2013.
The Cowboys scheme is perfect for Selvie because the primary job of the front four is to generate pressure. Defensive ends can be smaller, explosive players who blow by the tackle to get to the quarterback while the linebackers and safeties often drop deep in coverage.
"(The key is) just get off the ball," Selvie said. "Just get to the quarterback."
In their first year in Dallas, defensive coordinator Monte Kiffin and defensive line coach Rod Marinelli employ the system they helped originate with the Buccaneers. Rather than preach versatility from their defensive ends, they emphasize turnovers and run ball-strip drills every practice.
Selvie always had the potential to make game-changing plays. A sophomore star at South Florida, he ranked first in the country with 31.5 tackles for loss and second in sacks with 14.5. But injuries slowed him during a disappointing senior season, and he only notched 3.5 sacks.
That drop in production and his lack of girth caused him to fall to the 226th pick, the 19th of the seventh round.
Once a 217-pound freshman, Selvie ingested a 6,000-plus daily caloric load during the college season, but the 6-4 pass rusher's weight often dropped below 230 pounds, and he never weighed more than 255. The Cowboys list him at 270, though that weight may be generous.
"Now I'm still a little light, but it's easier for me to maintain weight," Selvie said. "Being a little bit older, too, I got that old man weight…My metabolism's slowed down."
Another reason for his draft slide may have been that scouts seemed to forget about Selvie, turning their attention to a potential-laden player on the opposite side of him who joined South Florida during Selvie's senior year.
That player, Jason Pierre-Paul, would go 15th in the same 2010 draft to the New York Giants after recording 6.5 sacks in his lone year at South Florida. A two-time Pro Bowler, Pierre-Paul has become one of the NFL's best defensive players.
Though they are NFC East foes, Pierre-Paul and Selvie remain close and text each other weekly. Selvie's team got the best of his former teammate's in Week 1 as the Cowboys defeated the Giants 36-31.
More important bragging rights occurred in Week 3 when the Cowboys stomped the Rams, the team who drafted Selvie and then discarded him after a year, 31-7. Selvie had one of the Cowboys' six sacks.
The Rams, though, are just one of the teams to overlook Selvie — whether it was passing on him in the draft or as a free agent.
"I have a little bit of a chip on my shoulder," Selvie said. "I've been doubted."
Follow Jeff on Twitter: @JFedotin
Jeff Fedotin has written for Packers.com, Pro Football Weekly, ESPN The Magazine, the Lawrence (Kan.) Journal-World and Rivals.com. After graduating from Northwestern University, he interned for the Buffalo Bills. During his football playing days at Pembroke Hill (Mo.) School, Fedotin was known for his bad knees and even worse blocking.