February 05, 2013 -
Joel Corry
Blueprint for a new Darrelle Revis contract
Most of the recent Darrelle Revis trade speculation has focused on the teams that might be interested in the Pro Bowl cornerback and the draft choices or players the New York Jets could receive in return. How to deal with his contract has been largely ignored.
Revis' desire to become the NFL's highest paid defensive player while recovering from a torn left anterior cruciate ligament in a contract year when he can't be given a franchise tag is the biggest obstacle to a trade. There will be teams with the salary cap space to handle his $6 million 2013 salary that will be hesitant to make a trade knowing he could be a one-year acquisition because of his 2014 free agency. Interested teams will want Revis to sign a new contract but will be reluctant to meet his contract demands without knowing whether he is still a shutdown cornerback.
This dilemma can be solved provided that Revis agrees to a contract structure he wouldn't consider under ordinary circumstances. Revis could have control of the process similar to being a free agent by giving the Jets a few teams where he would be accommodating with his new contract in a trade. He would initially forego a huge signing bonus and other forms of guaranteed compensation while his new team wouldn't incur any significant 2013 cap consequences other than absorbing his 2013 salary.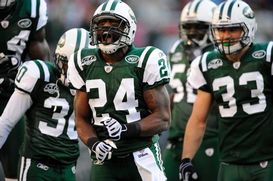 ICONHave we seen the last of Darrelle Revis in a Jets uniform?
Revis' 2013 salary would remain the same but incentives could be added to his 2013 contract year as an inducement for him to accept this kind of contract. Any 2013 incentives with higher thresholds than Revis' 2012 statistical achievements would be classified as not likely to be earned (NLTBE) and wouldn't count towards the 2013 cap. Since Revis played in just two games, intercepted one pass with one return yard and only had 8.53% playtime, his triggers for NLTBEs are extremely low. The actual thresholds in his NLTBEs would be much higher but realistically achievable with a successful recovery from his knee injury.
The 2014 contract year would contain an extremely large base salary that becomes fully guaranteed if Revis is on the acquiring team's roster shortly after next season's Super Bowl. The remaining contract years would have significant base salaries where some of these years would have the same guarantee date as in the 2014 contract year.
The 2014 contract year would also contain a clause that allows the team to convert a portion of his base salary into a signing bonus during a designated period prior to the end of the 2013 league year. This type of clause was frequently used in the contracts of high first-round picks (Matt Ryan, JaMarcus Russell, Ndamukong Suh, etc.) before the new Collective Bargaining Agreement implemented a rookie wage scale. Revis' rookie contract contained such a clause. He had a $5.7 million first day of the league year NLTBE roster bonus in 2009 where the Jets had conversion rights. Additionally, some lucrative veteran contracts, such as Albert Haynesworth's 2009 deal with the Washington Redskins, have had similar clauses.
To put this contract in better perspective, below is chart illustrating its structure.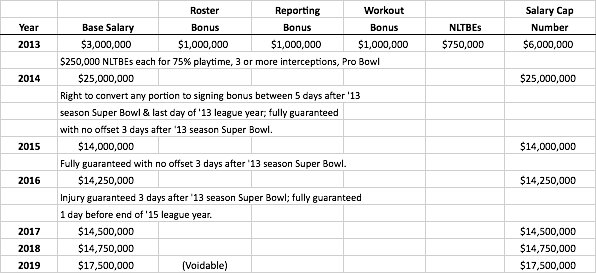 Revis wouldn't have anything to lose with this contract structure. From a practical standpoint, it's unlikely that he would get a similar deal on the open market if his new team released him because his performance probably wouldn't justify one. If released, the early guarantee date would give Revis a head start on free agency. It would put him in a better position than if he played out his current contract which would make him an unrestricted free agent at the start of the 2014 league year.
The conversion right would give the team cap management flexibility if they went forward with the deal because the signing bonus is prorated over the life of a contract for a maximum of five years. It's likely that the team would reduce Revis' 2014 cap number by converting some portion into a signing bonus since it would be difficult to carry a $25 million cap number for him. As a reference point, Tom Brady has the NFL's largest 2013 cap number at $21.8 million.
Revis would be required to sign a new contract, which is referred to as a "supersede contract," reflecting how much of his $25 million 2014 base salary was converted to a signing bonus. This supersede contract would also cover the remaining contract years and incorporate the material terms and conditions of Revis' initial contract with the new team.
The following chart breaks down his supersede contract with $20 million converted into a signing bonus.

Revis' five-year extension would be better than Mario Williams' six-year deal with the Buffalo Bills in key contract measures. His deal would contain $53.25 million in guarantees while Williams, who is the NFL's highest paid defensive player, has $50 million in guarantees. $39 million of Revis' contract would be fully guaranteed with the additional $14.25 million guaranteed for injury before the start of the 2014 league year. Williams had $24.9 million of his contract fully guaranteed at signing. The $53.25 million over the first three new years of Revis' deal would be $250,000 more than Williams' first three years of compensation. Revis' $16.5 million average per year would also eclipse Williams' $16 million average per year.
A voidable sixth year at $17.5 million could be added if it's important for Revis to characterize his deal as a $100 million contract. Michael Vick's 2011 contract with the Philadelphia Eagles contained a sixth year at $20 million for that purpose. It voided because Vick's 2011 playtime exceeded 35%.
This conceptual framework would also be applicable to the Jets if they decided to keep Revis long term. The cap numbers during the 2013 through 2016 contract years would be $3 million more than the cap numbers in the charts because of proration from the $18 million option bonus Revis received in his 2010 renegotiated contract.
Revis can't be traded until March 12th when the 2013 league year begins. If he is going to be dealt, it should happen pretty quickly because his contract contains a $1 million roster bonus payable on the fifth day of the league year (March 16th). After the circus atmosphere of the 2012 season, the Jets should want to avoid the Revis situation potentially becoming as big of a distraction as acquiring Tim Tebow caused.
Follow me on Twitter: @corryjoel
Joel Corry is a former sports agent who helped found Premier Sports & Entertainment, a sports management firm that represents professional athletes and coaches. Prior to his tenure at Premier, Joel worked for Management Plus Enterprises, which represented Shaquille O'Neal, Hakeem Olajuwon and Ronnie Lott. You can email Joel at jccorry@gmail.com