November 29, 2012 -
Joel Corry
Bowman's big payday
The San Francisco 49ers signed linebacker NaVorro Bowman, who was under contract through the 2013 season, to a five-year contract extension on Tuesday that will average $9.05 million per year.
The $45.25 million deal contains slightly more than $25 million in guarantees. $11.5 million is fully guaranteed. $7.5 million is a signing bonus and $4 million is an option bonus due on next April 1 with an equivalent non-exercise fee. The remainder of Bowman's $540,000 2012 base salary ($158,823.53), $630,000 2013 base salary, $4 million 2014 base salary, $4.7 million 2015 base salary and $4.17 million of his $5.85 million 2016 base salary are guaranteed for injury only.
Bowman's 2013 base salary becomes fully guaranteed if he is on San Francisco's roster come April 1. The other injury guarantees become fully guaranteed if he's on the roster come April 1 in each specific contract year (i.e.; 2015 salary becomes guaranteed on April 1, 2015).
The 2010 third-round pick has unguaranteed $6.75 million and $8.7 million base salaries in 2017 and 2018. There are also per game active roster bonuses totaling $750,000 ($46,875 per game) in each of the extension years (2014-2018).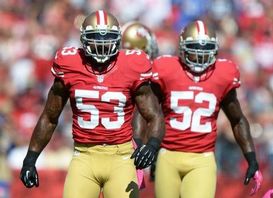 Bowman (left) and Willis make up the league's most devastating linebacker tandem.
Bowman's deal has a team-friendly structure. The former Penn State standout would have better contract security if all of his injury guarantees became fully guaranteed when his 2013 base salary did. The per game roster bonuses provide the 49ers some financial relief if Bowman is injured. For example, if he suffers a season-ending injury after playing eight games in 2014, he won't earn the remaining $375,000 of his 2014 roster bonus.
In all fairness, the structure of Bowman's contract is consistent with the most of the other lucrative contracts negotiated by San Francisco in recent years. The 49ers weren't going to abandon established contractual precedents with his new deal. Frank Gore's three-year contract extension signed in 2011 contains $2 million in per game active roster bonuses ($125,000 per game) in each year. Gore's injury guarantees don't contain a mechanism where they become fully guaranteed.
The same is true with the injury guarantees in Vernon Davis' 2010 five-year contract extension. His contract also contains $400,000 in per game active roster bonuses ($25,000 per game) annually. Additionally, Ahmad Brooks' per game active roster bonuses are identical to Bowman's in the last five years of the six-year deal he signed during the offseason.
The 2011 All-Pro's deal makes him the NFL's fifth-highest paid inside linebacker (by average yearly salary), but teammate Patrick Willis, who forms the NFL's best inside linebacker tandem with Bowman, received more overall compensation and guaranteed money in his deal. Willis signed a five-year, $50 million contract extension (with $29 million in guarantees) in 2010 after his third NFL season. This is noteworthy because Bowman is arguably the better player and Willis' deal is two and half years old.
Bowman should be one of the last draft picks with two years of service to sign a contract extension. The 2011 Collective Bargaining Agreement prevents players drafted after 2010 from signing new deals until the end of the third year of their rookie contracts.
Follow me on Twitter: @corryjoel
Joel Corry is a former sports agent who helped found Premier Sports & Entertainment, a sports management firm that represents professional athletes and coaches. Prior to his tenure at Premier, Joel worked for Management Plus Enterprises, which represented Shaquille O'Neal, Hakeem Olajuwon and Ronnie Lott. You can email Joel at jccorry@gmail.com