March 14, 2012 -
Joel Corry
Breaking down Megatron's mega millions
Calvin Johnson, who was scheduled to make $18.5 million in salary this year ($14 million base salary and $4.5 million second day of the league year roster bonus), became the highest paid non-quarterback in NFL history by signing a seven-year, $113.45 million contract extension with the Detroit Lions on Wednesday.
Johnson's extension averages $16,207,143, which is slightly above the $16,142,857 average of the seven-year contract extension Larry Fitzgerald signed last August. $53.25 million of Johnson's deal is fully guaranteed at its signing, which sets a new standard for guaranteed money in NFL contracts. The final two years of the contract, which contain a total of $35.25 million, are voidable, but the Lions can buy them back by guaranteeing an additional $3.5 million in each of those two years. If the contract voids without the buyback, Johnson's extension averages $15.64 million for five years.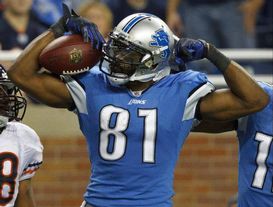 Meet the highest paid non-quarterback in the NFL: Calvin Johnson.
The deal gives the Lions $9.55 million in immediate salary cap relief by dropping Johnson's league-high $21,081,946 cap number to $11,531,946. This is significant because the Lions had $841,733 of room under the cap before the deal and were effectively locked out of the free agent market. Eric Wright, one of their starting cornerbacks, didn't waste any time in finding a new home by signing a five-year, $38 million deal ($15.5 million guaranteed) with the Tampa Bay Buccaneers. The Lions now have the flexibility to make an attempt at re-signing middle linebacker Stephen Tulloch. Fortunately for Detroit, the linebacker market has been much slower to develop than the wide receiver market.
Johnson is getting $51.75 million over the first three years of the deal while Fitzgerald is receiving $45.5 million in his first three years. At $11,531,946, $12.2 million and $12.2 million respectively, Johnson's cap numbers in the first three years are extremely manageable considering how lucrative his deal is.
By comparison, the cap numbers in the first three years of Fitzgerald's deal are $19.25 million, $14.5 million and $10.25 million, respectively. Johnson's cap number takes a big jump in 2015 to $19.7 million, but it should be offset by the anticipated significant increase in cap once the new television deals start in 2014.
Overall, this is a fair deal for both sides. Given the dynamics of the negotiations, the Lions are fortunate that Johnson didn't fully exploit his leverage to become the highest paid player in NFL history or insist upon playing out his contract and testing the waters in 2013 free agency.
Instead, Johnson recognized the value in taking a slight home team discount so the Lions could improve the overall talent level on their roster. Despite this, Johnson's deal makes him the third-highest paid player (by average year salary) right behind Eli Manning ($16.25 million per year) and Tom Brady ($18 million per year).
It's generally accepted that the top contracts in the NFL are negotiated to be surpassed, but Johnson's deal may stand up in the foreseeable future with non-quarterback offensive skill position players. The running back market is clearly defined and it's unlikely that any running back will join the Adrian Peterson/Chris Johnson neighborhood (approximately $14 million per year and $30-$35 million in guarantees), let alone approach Johnson's deal.
There also aren't any other wide receivers on the horizon who will be signing new deals that are accomplished enough to warrant this type of money. Andre Johnson—the other player in the NFL's best wide receiver discussion with Fitzgerald and Megatron—is under contract through 2016. He renegotiated his 2007 contract extension in 2010, so the Houston Texans may not be receptive to reworking his deal again.
Follow me on Twitter: @corryjoel
Joel Corry is a former sports agent who helped found Premier Sports & Entertainment, a sports management firm that represents professional athletes and coaches. Prior to his tenure at Premier, Joel worked for Management Plus Enterprises, which represented Shaquille O'Neal, Hakeem Olajuwon and Ronnie Lott. You can email Joel at jccorry@gmail.com