April 08, 2013 -
Joel Corry
Breaking down Revis' 2013 contract bonuses
As initially reported by ESPNNewYork.com's Rich Cimini, the New York Jets are insisting that Darrelle Revis report for voluntary offseason workouts when they begin on April 15 even though the star cornerback could be traded in the days leading up to the NFL Draft. Revis prefers returning to Arizona to temporarily continue rehabilitating his torn left anterior cruciate ligament after reporting to the Jets for an examination by their medical and training staff until there is a little more clarity with his situation.
The renegotiated contract Revis signed in 2010 after his 36-day holdout—his second holdout in three years—contains a $1 million fifth day of the league year (March 16) roster bonus, a $1 million training camp bonus and a $1 million offseason workout bonus.
It has been mischaracterized that Revis will forfeit $3 million in bonuses if he doesn't participate in the Jets' workout program. Only $1 million of Revis' bonuses are strictly tied to his workout participation. According to the language in Revis' 2010 contract, the requirements for each $1 million bonus are as follows:
$1 Million Fifth Day Of The League Year Roster Bonus
Revis must meet three conditions to be eligible for his $1 million roster bonus. In addition to being on the Jets' roster on the fifth day of the league year—which has already been satisfied—Revis must timely report to and fully participate in their entire offseason mini-camps and training camps. The contract expressly states that he can't earn the bonus if he fails to satisfy any one of these conditions.
Revis will receive payment of the bonus during the regular season concurrent with his $3 million base salary provided that he fulfills all of his obligations under this clause.
$1 Million Offseason Workout Bonus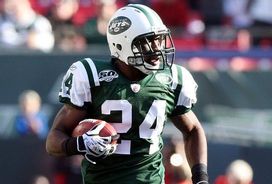 Revis appeared in just two games for the Jets last season before suffering a season-ending knee injury.
Revis must satisfactorily participate and complete 83% of the total scheduled workouts and participate in 85% of the Organized Team Activity days in the offseason workout program. The same mini-camp and training camp requirements for the roster bonus exist for the workout bonus.
A satisfactory workout consists of a strength session, conditioning session and skill session at a high level of intensity under the supervision of the Jets' strength coach. Revis' ACL injury isn't an issue with the workout bonus. Supervised rehabilitation of an injury with the Jets' trainer counts as satisfactory participation until Revis is able to resume full participation in the workout program.
Mini-camp participation does not count towards the workout program. This bonus is payable within five days of September 1 if all of the conditions are satisfied. The conditions to earn the bonus can be excused with written consent by head coach Rex Ryan or general manager John Idzik.
$1 Million Training Camp Bonus
Revis must report to training camp on the date indicated by the Jets in writing, and fully and satisfactorily participate in the entire camp. As with the workout bonus, supervised rehabilitation qualifies as participation until Revis is able to fully participate in training camp. Both conditions must be met for Revis to collect this bonus. It is payable within five days of September 15.
The respective positions of both sides have merit. It wouldn't hurt the Jets to excuse Revis' workout participation until after the draft so that he wouldn't jeopardize earning his $1 million bonus. The Jets could require Revis to adhere to the provisions of the workout bonus in order to collect it, which is generally how NFL teams operate, once the draft is over if he hasn't been traded. For example, John Abraham forfeited a $750,000 first regular season game roster bonus in 2012 because he didn't fulfill the requirements of the Atlanta Falcons' workout program. Revis' presence will create a distraction no matter when he shows up as long as he is on the trading block.
Complicating matters is the belief by NFL teams that their staff and facilities are best for player rehab regardless of the competency of the private trainer and the player's comfort with him. It may be a little arrogant on their part, but team's feel justified considering their training staff has the best knowledge of a player's injury history and the significant financial investment they make in players. However, the risk of player re-injury isn't any greater with the team's staff or with a competent private trainer.
If Revis is adamant about rehabbing his knee in Arizona, the only bonus he will forfeit is his workout bonus. His roster bonus and training camp bonus are not tied to offseason workouts. All three bonuses have a training camp participation component.
Follow me on Twitter: @corryjoel
Joel Corry is a former sports agent who helped found Premier Sports & Entertainment, a sports management firm that represents professional athletes and coaches. Prior to his tenure at Premier, Joel worked for Management Plus Enterprises, which represented Shaquille O'Neal, Hakeem Olajuwon and Ronnie Lott. You can email Joel at jccorry@gmail.com