November 22, 2011 -
Barry Dorey
Broncos waive Kyle Orton
Eleven weeks after opening the season as the team's starting quarterback, Kyle Orton has been waived by the Denver Broncos, according to ESPN's Adam Schefter.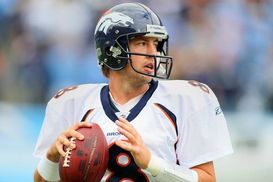 ICONKyle Orton's time in Denver has come to a close.
After a shoddy 1-4 start, former Heisman Trophy winner Tim Tebow replaced Orton as the Broncos starting quarterback, and the former fourth-round pick from Purdue has not played since.
With multiple teams perhaps looking for a veteran quarterback -- such as Houston, Kansas City and Chicago -- the Broncos are hoping someone will claim Orton and thus pay him the remaining $2.5 million on his contract.
In five games this season, Orton managed 979 yards through the air with eight touchdown passes and seven interceptions, while completing 58.7% of his passes.
The Broncos acquired Orton in the 2009 trade that sent Jay Cutler to the Bears.
Follow me on Twitter: @NFLDraftUpdate