January 17, 2012 -
Dion Caputi
Bryant not arrested after nightclub altercation
Dallas Cowboys wide receiver Dez Bryant has managed to stay relevant despite the fact his team is not in the playoffs. Unfortunately, it's not in the most ideal way possible.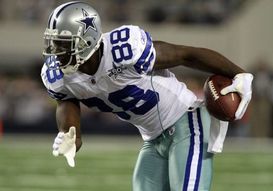 ICONCowboys wide receiver Dez Bryant has not been arrested following an altercation in a Miami nightclub.
The initial report by Ben Rogers of ESPN Radio in Dallas indicated that Bryant, 23, was detained following a physical altercation in a Miami night club with no further details.
According to Blacksportsonline.com, the altercation took place when a heckler took aim at Bryant over his unpaid debts and lack of on-field success.
"Bryant who we were told had a few drinks in his system attempted to let it go, but eventually had enough and the altercation ensued," according to the report. "Wasn't anything too serious as security and Bryant's entourage quickly broke it up."
While Bryant has avoided further consequences, it goes without saying that he must be smarter than to put himself in a situation where such issues can happen.
Follow me on Twitter: @NFLDraftUpdate