January 03, 2012 -
Dion Caputi
Bucs to interview Mike Sherman
Before Texas A&M was enticed enough to offer Mike Sherman their head coaching job in 2008, his last stint in the NFL was in 2007 as an offensive assistant with the Houston Texans. Fast forward four years and after a pedestrian 25-25 record with the Aggies, Sherman now finds himself without a job.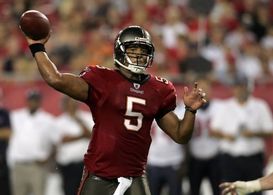 IconCould quarterback Josh Freeman benefit from the tutelage of Mike Sherman?
Despite his struggles within the collegiate ranks, it appears as though the NFL still has very real interest in Mike Sherman.
According to John Clayton of ESPN, the Tampa Bay Buccaneers have contacted the former Green Bay Packers head coach about interviewing for their newly vacant head coaching position.
Sherman posted a 57-39 record in six seasons with the Packers, including three consecutive NFC North titles from 2002-2004.
The belief is that the Bucs are seeking an experienced coach with an offensive background to help quarterback Josh Freeman take the next step after regressing this season.
"Don't minimize Mike Sherman's chances of getting head coaching job. He'll interview in Tampa Bay but could be a candidate for other Florida head jobs," said Clayton via his Twitter account, implying the Miami Dolphins and Jacksonville Jaguars may also have an interest.
Black Monday has come and gone and we'll now see a lot of candidates come to the forefront regarding interviews for possible head coaching vacancies.
Stay tuned.
Follow me on Twitter: @NFLDraftUpdate