September 03, 2013 -
Jeff Fedotin
Can A.J. resurrect his career in K.C.?
After practice at the Chiefs facility on September 2, A.J. Jenkins planned on driving home for the first time without using his car's GPS system.
The recently acquired Chiefs wide receiver is getting acclimated to his new Kansas City environs, but the question remains whether he has found a more comfortable situation with his new NFL team.
The 49ers' 2012 first-round pick (30th overall), Jenkins was inactive for 11 regular-season games for San Francisco and did not catch a pass. The All-Big Ten star at the University of Illinois was widely panned as a rookie bust.
Why didn't it work out with the 49ers?
"I don't know, man. It's something you'll have to ask them," Jenkins told NFP. "I guess we were just on two different pages … I'm glad to be here."
Jenkins' new setting came about a few days after he and his then-49ers teammates played the Chiefs in their second preseason game on Aug. 16. The Chiefs subsequently traded WR Jonathan Baldwin for Jenkins.
While studying college prospects during his tenure with the Eagles, Chiefs head coach Andy Reid was impressed with Jenkins' smarts, hands and speed. The 6-0, 200-pounder ran the 40 in 4.39 seconds at the 2012 NFL Combine.
Former Eagles WR coach David Culley, who now holds the same position with the Chiefs, worked Jenkins out before the 2012 Draft and also liked his skills.
During the past week of practice, Culley enthusiastically instructed Jenkins, who saw plenty of reps. Though Jenkins said he has not yet mastered the entire voluminous Chiefs playbook, he is concentrating on learning the specific packages on which Culley and the coaches told him to focus.
Jenkins also said there is some "carryover" from the West Coast principles he ran while in San Francisco.
Early in Jenkins' career there, 49ers coach Jim Harbaugh declared that the receiver, who amassed 1,276 yards and eight touchdowns as a senior, "is going to be an outstanding football player." But after making no impact as a rookie, some close to the team expressed issues with his work ethic and professionalism.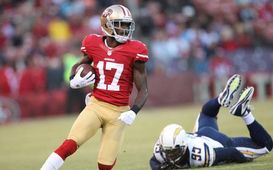 Jenkins appeared in just three games as a rookie with the 49ers in 2012.
Making matters worse, any 49ers wide receiver drafted in the first round plays in the long shadow cast by Jerry Rice, the 49ers legend widely considered to be the greatest wide receiver of all time.
Famous for his work ethic, Rice used to prepare for the season by running up "the Hill" at Edgewood Park and Natural Preserve in Redwood City, California. Shortly after the 49ers drafted Jenkins, Rice offered to train with him, tweeting, "I'm getting in top shape to get you up that Hill."
Though Jenkins said he tweeted Rice back several times, he never ran the Hill with Rice, something that was spun as a black mark against Jenkins.
"People were making it look like it was all my fault, but it's cool," Jenkins said while being careful to praise Rice. "I don't really get into all of that stuff."
The flat plains of Kansas City could present a much better home. The Chiefs have a major need at wide receiver with a lack of proven options behind their No. 1 receiver, Dwayne Bowe.
Quarterback Alex Smith's other primary targets are Donnie Avery, signed as a free agent from the Colts during the offseason, and Dexter McCluster, who has yet to find his niche with the Chiefs.
The Chiefs lack receiving options at tight end aside from starter Anthony Fasano. They released Tony Moeaki, and rookie tight end Travis Kelce has battled knee injuries throughout the preseason.
Kansas City also presents a good situation for Jenkins because of the presence of two former Illinois teammates, including starting left guard Jeff Allen, with whom Jenkins lives.
As soon as Allen found about the trade, he texted Jenkins, "Congrats" and "Welcome to the fam." Jon Asamoah, the Chiefs' starting right guard, talked to Jenkins on the phone when he arrived in Kansas City.
"I already felt kind of accepted," Jenkins said.
With his new team, Jenkins is also reunited with Smith and he lauded his comfort level with his former 49ers quarterback. Before the Chiefs traded for Jenkins, Reid picked Smith's brain regarding Jenkins and whether he would be a good fit in Kansas City.
"Alex was very positive about it," Reid said.
Jenkins called it "weird" how he ended up back with his former passer who was also cast aside by the 49ers, but the Chiefs-49ers trade of wide receivers was very logical. The teams swapped disappointing first-round picks drafted in back-to-back years (2011 and 2012).
"Jon will fit right into that (49ers) program," Reid said. "With what we're looking for right here, I think A.J. will fit in, and I think it will give both of them a fresh start."
It's something Jenkins — as well as Baldwin — could use.
Baldwin, the 26th pick in the 2011 Draft, has excellent size at 6-4, 228 pounds and yards-after-the-catch potential but totaled just 41 receptions, 579 yards and two touchdowns during his two years with the Chiefs. His 2013 preseason was marked by struggles catching passes.
Well before that, his career got off to an inauspicious start when he hurt his hand during a locker room fight with RB Thomas Jones, a guy with whom no rookie should scuffle.
One of the toughest guys on that 2011 Chiefs team, Jones used to lift weights with the offensive linemen during his days with the Bears, and both his parents worked as coal miners in Big Stone Gap, Virginia.
Jenkins will return to his hometown of Jacksonville, Florida, for the Week 1 game against the Jaguars. But after a disappointing stay in San Francisco, the second-year player hopes he has found a new residence where he can flourish.
"I'm not looking back. I'm not dwelling on the past," Jenkins said. "Kansas City is my new home."
Follow Jeff on Twitter: @JFedotin
Jeff Fedotin has written for Packers.com, Pro Football Weekly, ESPN The Magazine, the Lawrence (Kan.) Journal-World and Rivals.com. After graduating from Northwestern University, he interned for the Buffalo Bills. During his football playing days at Pembroke Hill (Mo.) School, Fedotin was known for his bad knees and even worse blocking.