June 08, 2013 -
Joel Corry
Can Jay-Z succeed where other entertainers have failed?
Jay-Z's decision to start a sports management firm, Roc Nation Sports, sent shockwaves through the sports agent community. His entrance into the sports representation industry has other agents concerned about losing clients after New York Yankees second baseman Robinson Cano and New York Giants wide receiver Victor Cruz fired their agents to become Roc Nation's first clients through a partnership with Creative Artists Agency Sports (CAA).
These fears are being confirmed this week. Philadelphia Eagles wide receiver DeSean Jackson is reportedly interested in Roc Nation after dismissing prominent agent Drew Rosenhaus. According to the Sports Business Journal's Liz Mullen, NBA superstar Kevin Durant has left Rob Pelinka and is expected to become a Roc Nation client.
The CAA partnership suggested that Roc Nation would only handle off the field opportunities for its clients while leaving player contract negotiations to CAA. Despite the relationship with CAA, Roc Nation hired an inexperienced and unknown NFLPA certified agent named Kimberly Miale, who will be handling New York Jets second round pick Geno Smith's contract negotiations.
Jay-Z isn't the first entertainer to attempt athlete representation. Sean "P. Diddy" Combs' alliance with Lamont Smith (represented Eddie George, Barry Sanders and Jerome Bettis) and O.J. Simpson attorney Johnnie Cochran was given serious consideration by 1997 Heisman Trophy winner Charles Woodson when he was selecting an agent for the start of his NFL career. Grammy Award winning musician and songwriter Kenneth "Babyface" Edmonds formed the Edmonds Sports Group in the early 2000s with the intention of representing NFL players. Babyface's venture never really got off the ground.
Percy "Master P" Miller had the most famous attempt at athlete representation through his No Limit Sports. He made a big splash by signing 1998 Heisman Trophy winner Ricky Williams as No Limit's first NFL client. No Limit was considered as a force to be reckoned until managing director Leland Hardy negotiated for Williams the worst rookie contract in NFL history. Williams signed an eight-year deal worth a maximum of $68.4 million where most of the incentives and escalators were nearly impossible to reach. It was remarkable that Hardy, who had never negotiated an NFL contract, agreed to such a deal considering he had tremendous leverage due to the New Orleans Saints trading their entire draft to the Washington Redskins in order to select Williams with the fifth overall pick. The Williams deal sealed No Limit's fate in the industry. No Limit lost Williams as a client slightly over a year after signing him. Their other clients soon followed Williams' lead.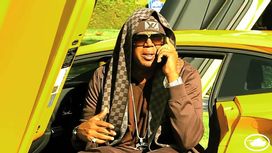 Master P's 'No Limit Sports' was a complete bust.
Record producer-rapper Jermaine Dupri has had the most successful venture. Dupri started So So Def Sports Management in a partnership with established agent Hadley Engelhard in the late 90s. Some of the clients the venture attracted during the few years it was in existence were two-time Pro Bowl linebacker Takeo Spikes and 2002 sixth overall pick Ryan Sims. So So Def Sports didn't turn into an industry heavyweight on par with the leading football agents at that time, Tom Condon and Leigh Steinberg. Engelhard has remained in the business with over 20 NFL clients, including Robert Mathis, Dannell Ellerbe and 2013 first round pick DeAndre Hopkins.
Nike even tried its hand at representing athletes in the early 90s through Nike Sports Management. Nike handled every aspect of an athlete's career besides player contract negotiations. It was accused of being more concerned about controlling its brand than marketing its clients. Some of the high profile athletes Nike represented were Bo Jackson, Ken Griffey, Jr., Deion Sanders, Scottie Pippen and Alonzo Mourning.
Nike received a lot of criticism for enticing athletes with huge marketing guarantees. Mourning received $16 million and Harold Miner received $4 million. Nike discovered that most of the guarantees were losing propositions financially.
Representing athletes caused problems for Nike's core business. Some agents started steering their clients to rival shoe companies because Nike was viewed as a competitor. The NCAA's increasing reluctance to treat the sports management arm differently from the rest of the company potentially could have jeopardized Nike's ability to sign colleges to shoe and apparel deals. Nike dissolved its sports management division after less than five years in the business.
Roc Nation signing Smith prompted the NFLPA to investigate whether its agent regulations were violated during his recruitment. In 2012, the NFLPA adopted a rule that restricts the recruiting of prospective clients to its certified agents. Jay-Z's involvement with recruiting Smith or any other football player would subject Miale to discipline since Jay-Z isn't certified.
Jay-Z reportedly plans to seek NFLPA certification but may have difficulty meeting the requirements. The NFLPA requires a postgraduate degree but allows for limited exceptions. The degree requirement can be waived with an undergraduate degree and proof of at least seven years of negotiating experience.
It isn't crucial for Jay-Z to get certified. Even if Jay-Z won't be able to participate in recruiting football players, Roc Nation shouldn't have too many problems getting an audience with a majority of the players it wants to represent since Jay-Z is an entertainment icon that some prospective clients might idolize, particularly draft eligible players in their early 20s.
Fortunately for Roc Nation, the collective bargaining agreement's implementation of a rookie wage scale has made negotiating rookie contracts "idiot proof." As a result, Roc Nation will not suffer the same fate as No Limit Sports because of negotiating a bad NFL rookie contract. Each pick has a salary floor and ceiling based on draft position with very few negotiable items.
It remains to be seen whether the relationship with CAA's football practice is only just for Cruz or a short-term arrangement where Roc Nation will eventually handle all player contract negotiations for its football clients. If the latter is the case, Roc Nation should hire another NFLPA certified agent with veteran player contract experience to help combat the negative recruiting it will face from other agents over Miale's lack of experience.
Roc Nation will seemingly become a major player in sports management. Jay-Z's entrepreneurial success and status as a music mogul could put Roc Nation in the enviable position where its services are sought by players even though he won't be handling the day-to-day affairs of Roc Nation clients. Top athletes looking to turn themselves into a brand or with entertainment aspirations will likely explore representation by Roc Nation. Whether Roc Nation has staying power should hinge on the skills of the people it hires and their ability to deliver the goods to clients in those areas a majority of traditional agents aren't as equipped to handle. It will be interesting to see how Roc Nation's representation of its WNBA client Skylar Diggins unfolds. If Roc Nation transforms Diggins into one of the most marketable female athletes, it will be a good start in succeeding where other entertai ners have failed.
Follow me on Twitter: @corryjoel
Joel Corry is a former sports agent who helped found Premier Sports & Entertainment, a sports management firm that represents professional athletes and coaches. Prior to his tenure at Premier, Joel worked for Management Plus Enterprises, which represented Shaquille O'Neal, Hakeem Olajuwon and Ronnie Lott. You can email Joel at jccorry@gmail.com.