June 09, 2014 -
Jeff Fedotin
Canada's Chief export
During the Chiefs' offseason practices, rookie offensive lineman Laurent Duvernay-Tardif showed flashes of promise but also that he had plenty to learn.
His difficulty in adjusting to the NFL game makes sense, considering the Chiefs selected Duvernay-Tardif in the sixth round (200th overall) of the 2014 NFL Draft after he played just two years of offensive line for McGill University in Montreal, Quebec.
"We understood that this was going to be a jump for him," said head coach Andy Reid during the Chiefs' rookie minicamp. "A lot of this was new for Larry."
A player from the Canadian college ranks is relatively new for the NFL, too.
If Duvernay-Tardif's technique catches up to his athleticism and tenacity, he could become one of the most accomplished players from Canada's football system.
Bears defensive lineman Israel Idonije moved from Nigeria to Canada at the age of four and played collegiately at the University of the Manitoba. Considered by many as the best product from a Canadian college, Idonije has started 50 games and recorded 29 sacks and 40 tackles-for-loss during his 10 years in the NFL.
Saints defensive tackle Akiem Hicks, who had 4.5 sacks in his second NFL year in 2013, went to high school in California but spent two years at the University of Regina in Saskatchewan.
Browns receiver Nate Burleson was born in Calgary, Alberta before moving to the U.S.; Jamaican-born Broncos lineman Orlando Franklin was raised in Toronto, Ontario before attending Miami [Fla.] and Seahawks tight end Luke Willson and Steelers kicker Shaun Suisham went to high school in Ontario before attending Rice and Bowling Green, respectively.
Duvernay-Tardif, who speaks French as his first language and learned English four years ago, also could become the third player from McGill to play in the NFL. Jacksonville selected defensive tackle Randy Chevrier in the seventh round of the 2001 NFL Draft. Long snapper J.P. Darche played for the Seahawks and Chiefs.
To join that group, Duvernay-Tardif must make the transition from Canadian college football to American professional football.
"It's quite different than what I'm used to," Duvernay-Tardif said. "I'm smart enough. I think I'm going to be able to learn."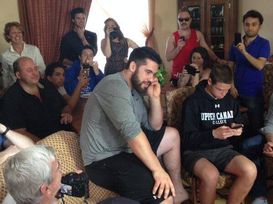 Duvernay-Tardif was selected by Kansas City with the 24th pick of the sixth round.
Indeed he is a quick study. The lineman had a 3.9 GPA at McGill — one of Canada's most esteemed institutions — and the third-year medical student likely will become a doctor one day.
The McGill coaching staff was flexible, accommodating his rigorous academic course load, which included full-time rotations at a hospital.
Now the focus is on football, where the 6-5 Duvernay-Tardif must adapt to American rules. Canadians, for example, play with 12 men on each side.
A mauling run blocker at McGill, Duvernay-Tardif displayed an aggressive demeanor after moving from the defensive to offensive line. He also has good athleticism. At his pro day, he ran the 40-yard dash in 4.94 seconds and reached 31.5 inches on the vertical jump.
"Those are things you like to work with on the offensive line," Reid said. "Physically we liked the things we saw."
After cutting weight for the NFL Combine, Duvernay-Tardif said he was about 305 pounds, but he expects to add bulk and strength. That shouldn't be a problem as he went from a 250-pound three-technique defensive tackle as a freshman to a 315-pound tackle as an upperclassman.
His biggest improvement, however, must involve his fundamentals. At times he took poor angles, lunged too aggressively and lost his position as a result.
"I have a lot to learn on the technique side, and my learning curve is fairly big," he said. "But I think I'm athletic and I go after it when I play."
Duvernay-Tardif played at right tackle and left guard during the rookie minicamp, and the 23 year old said he's most comfortable on the interior and the left side at this point.
The Chiefs could use the help from their new addition.
They have holes on the offensive line, having lost left tackle Branden Albert, a 2013 Pro Bowler, and right guard Jon Asamoah — who started a combined 21 games last year — along with versatile backup, Geoff Schwartz, who started seven games at right and left guard.
If an NFL career, though, doesn't pan out, Duvernay-Tardif has a wonderful backup profession.
"Football and medicine," he said, "those are my two real passions."
During the spring he did a rotation in the neonatal intensive care unit. On the second day of the NFL Draft, he was called to the hospital to help with an emergency C-section of twins.
So, if an NFL team had drafted him earlier than expected, he would have been a little too preoccupied to answer the phone.
"Yeah, that would be really funny," he said.
The Chiefs, though, view their new offensive lineman as a rookie with serious potential.
"It's going to take some time, but he's very intelligent. He's a hard worker. It looks like he's a real tough kid," Reid said. "That's a position you can develop."
Follow Jeff on Twitter: @JFedotin
Jeff Fedotin has written for Packers.com, Pro Football Weekly, ESPN The Magazine, the Lawrence (Kan.) Journal-World and Rivals.com. After graduating from Northwestern University, he interned for the Buffalo Bills. During his football playing days at Pembroke Hill (Mo.) School, Fedotin was known for his bad knees and even worse blocking.