April 26, 2013 -
Erik Oehler
Character Guys Profile: Nik Embernate
I was fortunate enough to spend some time speaking with San Diego State RG Nik Embernate. At 6'3, 304 lbs, he certainly looks the part. And his highlights are impressive. He's ferocious off the line of scrimmage and you get a sense every he's out to knock the rushing defender out of the stadium every play.
You can see some of his highlights in the clip below, along with excerpts from my interview with him. If he goes undrafted, any team would be wise to bring him into camp.
You grew up in Yucaipa, California? What was it like? Did you grow up a Chargers fan? Raiders fan?
Actually I grew up not even watching football. I played baseball until like 10th grade. It was my true love before football, and then I kinda lost interest in it and decided to give football a try and now I love the game.
Were you considering playing baseball in college?
I was to a point, but it began to not be fun for me anymore. And I felt like once that happened, it was time to give it up. Around 10th grade, high school, I started to pick up the game (football) a little more and watch more college and pro games on TV and I just kinda liked it a little bit more than baseball.
How did you actually get into football? Did someone give you a push?
We'd just gotten a new coach at our high school, and he saw me around campus and asked me if I would like to try. I wasn't playing baseball anymore, and my mom made a rule that you're playing sports or getting a job.
Did they put you right at guard or did they shift you around?
No I played tackle in high school. I played left tackle my sophomore year on JV, and then right tackle my junior year and senior year on the varsity team.
What was the first moment you thought you could do it at the college level?
Right after my junior year when I had some colleges showing a little interest. It kinda gave me a little more motivation that maybe I could do this.
How did you end up getting to SD State? What other schools were looking at you?
I only had 2 offers. San Diego State and Nevada. So I went to a SD State football camp, and they offered me right away. I committed very early before my senior year. I was just really drawn to San Diego. I love it down here. They don't call it America's finest city for no reason. I love the campus, and I love San Diego. I really liked the coaching staff that was here, but they all got fired. That's when Brady Hoke came in. He actually had a vision of what was going to happen, and we were able to turn around the program and resurrect it.
So when did you think you could play in the NFL?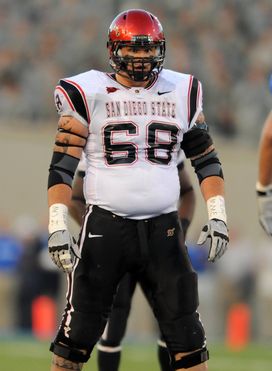 USPRESSWIRESan Diego State's Nik Embernate

My junior year. We played Michigan that year. And I had a few D-linemen come up to me and say, "Good job, keep working, and you'll be going on to the next level." Just having other people on other teams tell me that was kinda a big deal, you know? So I think that kinda gave me a boost of confidence.
Is there one coach in particular that has had the biggest influence on you?
Brady Hoke was here my first two years. I loved him as a coach. He was a players coach. He told it how it was. I mean, after that, Mike Long is pretty much the same kinda guy. He doesn't sugar coat things, so if you do something wrong, he's gonna tell you. And so I kinda respect that about him.
Outside of football, what's been the biggest experience that's shaped you into the man you've become?
I would say actually getting my college degree. I was the first one in my family to graduate from college. When I first started school, I didn't do so well. I got put on academic probation and a lot of people wrote me off and said I'd be out of school, so I got to prove some people wrong and prove I can do it.
How did you turn it around? What was your wake up call?
I just had to change everything. Study habits, everything. I couldn't do what I did in high school to get by. I had to work 10 times harder. Normal people at school would kinda slack off and get B's. I had to work 10 times harder to get C's.
What's the biggest thing motivating you now?
I think the competition aspect. I've always wanted to prove people wrong. Same thing at school. People were saying you're not good enough, you're not big enough, you're not strong enough, you're not fast enough. So my main thing is I like to prove people wrong. I've kinda been doing that since high school when I didn' t get a lot of offers out of high school. But I did it, got through San Diego state, and now this is just another way to prove people wrong.
I'm sure they all stick out, but do any of those doubters stick out in particular?
No, none of them stick out. I try to look past them and work as hard as I can.
A lot of your family is in law enforcement. Was there any pressure to get into that instead of football?
No not at all, no pressure. But yes, my dad was a former LA county sherrif, and my step mother was an LA county sherrif. I have a grandfather who was in the San Diego police department, and then a grandfather who was in the Hawaii police department. My dad was also in the Miltary Police. And that was always my plan, to join law enforcement. Once I knew I could play at the next level in football, that kinda took a back seat. Everybody is excited about me playing football.
What's your biggest strength as a player right now?
I think just how aggressive I play. I mean, if people just watch my tape, they can see it. I play aggressive, and try to get after people. That's the way I've been playing since high school. I basically just try to knock someone out every play.
Is there anything you need to work on as a player?
Oh, there's always things I need to work on. I know I need better knee bend and better posture to sustain blocks here and there. So there's always things I could work on. But the physical part and the intensity, I feel like that's something that can't be coached, and I feel like I've got that down you know?
Is there anything you need to work on off the field?
No, not so much. The one thing is actually learning football. The thing I struggled with in college is that I had a learning disability, so I had to utilize our disability services for test taking, note taking, stuff like that. It takes me a little longer to learn stuff. I'm a visual learner. I need to set things up and walk through things. So that's something I have to work on.
So do you like watching tape, or do you have to process it a different way?
I love watching film. I think it gives you a certain aspect of preparation for the opponent, but at the same time, I pick stuff up 10 times faster than tape if I set it up and walk through the play.
Nik can be found on twitter @NEmbernate