June 26, 2013 -
Erik Oehler
Chip Kelly accepts share of Oregon blame
Naturally, it was to be expected that certain questions would be asked over Chip Kelly's primary motive when he jumped to the NFL at the expense of his Oregon football program – which was the focus of an NCAA investigation at the time.
The NCAA concluded that Kelly and the university failed to monitor the program, levying its punishment Wednesday.
Among the most notable sanctions includes three years probation, three total lost scholarships between 2013-2015 and the loss of 19 paid recruiting visits in each of the next three years.
Kelly,now head coach of the Philadelphia Eagles and seemingly out of the NCAA's reach, offered both an apology and his portion of accountability of the situation.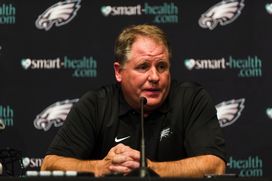 Kelly departed Eugene for Philadelphia this past winter.
"I want to apologize to the University of Oregon, all of its current and former players and their fans," Kelly said in a statement. "I accept my share of responsibility for the actions that led to the penalties."
Additionally, Kelly reaffirmed that his decision to leave Eugene was unrelated to possible (and likely) penalties.
"As I have stated before, the NCAA investigation and subsequent ruling had no impact on my decision to leave Oregon for Philadelphia," he said. "I have also maintained throughout that I had every intention to cooperate with the NCAA's investigation, which I did."
Although he is highly unlikely to face the consequences of it, the NCAA also handed Kelly an 18-month show-cause penalty, which would require any school(s) interested in hiring him to appear before the Committee on Infractions – who would then determine whether the program could be subject to further procedure.
ESPN Insider Chris Mortensen assured that any disciplinary act on the part of the NFL is not likely.
"Don't expect NFL discipline for Chip Kelly; T. Pryor was suspended for manipulating NFL eligibility rules. Tressel was Colts-imposed ban," he tweeted.
And as for any self-imposed penalty from Philadelphia?
"The Eagles are not about to ban Chip Kelly from coaching their team for any stretch," Mortensen added.
There you have it.
Oregon will now move forward with Mark Helfrich at the helm, while Chip Kelly will begin his NFL coaching career with this situation in the rearview.
Follow me on Twitter: @NFLDraftUpdate