March 20, 2012 -
Dion Caputi
CJ2K's 2012 salary become guaranteed
If there was any legitimate doubt over the future of running back Chris Johnson with the Tennessee Titans, it has now been put to rest -- at least for the 2012 season.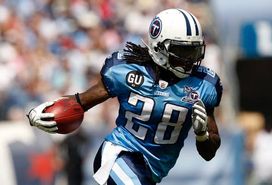 The Titans are hoping Chris Johnson can get back to his 2010 ways.
According to Jim Wyatt of the Tennessean, the former 2,000 yard rusher's $8 million salary for this upcoming season has become fully guaranteed.
The questions surrounding the former first-round draft pick from East Carolina are the cause of a tremendously disappointing 2011 season in which Johnson rushed for a mere 1,047 yards, four touchdowns, and a career low 4.0 yards per carry. There has been some speculation as to whether or not the Titans organization would relieve itself from future payment of the heavy $53.5 million extension Johnson agreed to last September, but it appears those rumblings have been quashed following Tuesday's decision.
Wyatt also writes that Johnson's $9 million salary for the 2013 season becomes fully guaranteed on the fifth day of the league year next offseason.
Clearly, the organization is hoping to see All-Pro Chris Johnson again and avoid having this issue resurface a year from now.
Follow me on Twitter: @NFLDraftUpdate