September 30, 2014 -
Joel Corry
Contract year disappointments & surprises
While there is still plenty of time for fortunes to change, here are the players in contract years that have been disappointments and surprises at the NFL season's quarter mark.
Disappointments
Demaryius Thomas (WR)-Denver Broncos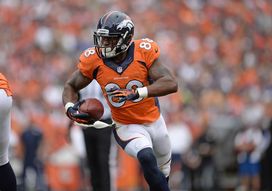 Thomas has taken a back seat to free agent acquisition Emmanuel Sanders.
Thomas has started the season with his worst three-game stretch since Peyton Manning became Denver's quarterback in 2012. He has 13 receptions for 141 yards and only one touchdown. Thomas, who has averaged 93 receptions, 1,432 receiving yards and 12 touchdown catches over the past two seasons, is also tied for second in the NFL with four dropped passes.
Darrelle Revis (CB)-New England Patriots
Revis has a two-year, $32 million deal on paper. In reality, it's a one-year contract for $12 million. 2015 is an option year that the Patriots must exercise before the end of the 2014 league year (around March 10). If the option isn't exercised, the Patriots are prohibited from designating Revis as their franchise or transition player in 2015. Revis' $20 million 2015 salary on a $25 million cap number practically ensures that the option year won't be picked up.
Wide receivers are no longer getting stranded on Revis Island. Mike Wallace got the best of Revis in the season opener. Surprisingly, rookie quarterback Derek Carr targeted Revis six times for five completions when the Oakland Raiders played the Patriots. Alex Smith didn't shy away from Revis either in the Kansas City Chiefs' blowout victory over the Patriots on Monday night.
Torrey Smith (WR)-Baltimore Ravens
Smith led the Ravens with 65 receptions and 1,128 receiving yards in 2013. Joe Flacco quickly developing chemistry with free agent pickup Steve Smith has relegated the 2011 second-round pick to a secondary receiving option. He's been targeted just 22 times this season while the former Carolina Panther has 25 receptions (on 41 targets). With only eight catches for 138 yards and one touchdown, Smith is on pace for just under half the receptions and yardage he produced last season.
Surprises
DeMarco Murray (RB)-Dallas Cowboys
Murray is the sixth running back since 2000 on pace for 2,000 rushing yards after his team's first four games. His 534 rushing yards and five touchdowns have gotten the Cowboys off to an unexpected 3-1 start and made him a leading candidate for MVP. It would be a surprise if Murray made a run at Eric Dickerson's single season rushing record of 2,105 yards given his injury history. Murray has missed eleven games in his three previous NFL seasons because of ankle, foot and knee injuries. Running backs with such a hot start since the turn of the century also haven't been able to sustain their pace of production. The good news for Murray is that these five other running backs finished the season with an average of 355 carries for 1,701 rushing yards and 13 rushing touchdowns. Jamal Lewis was the only back to top the 2,000-yard mark. He rushed for 2,066 yards in 2003.
Nick Fairley (DT)-Detroit Lions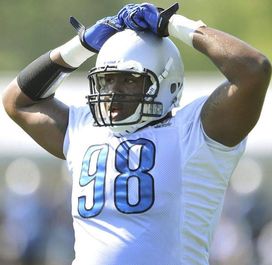 Fairley has come on strong since being demoted during the preseason.
Fairley has raised his level of play to form arguably the NFL's best defensive tackle duo with perennial All-Pro Ndamukong Suh after a brief demotion during the preseason. The Lions are first in total defense and fourth in points allowed. Fairley may make the Lions regret their decision to pass on a fifth-year option with him for next year at $5.477 million, especially if the reports of Suh looking to sign elsewhere in 2015 free agency are true.
Brandon Flowers (CB)-San Diego Chargers
Flowers was released by the Kansas City Chiefs in June because he didn't fit the team's preference for tall, press coverage cornerbacks at 5'9". He quickly signed a one-year, $3 million deal (worth a maximum of $5 million through incentives) with the Chargers. Flowers has brought stability to a secondary that was regularly victimized through the air in 2013. The Chargers have jumped from 29th in pass defense last season to 11th this season. Flowers is the NFL's top ranked cornerback in 2014 according to Pro Football Focus' ratings.
Follow me on Twitter: @corryjoel
Joel Corry is a former sports agent who helped found Premier Sports & Entertainment, a sports management firm that represents professional athletes and coaches. Prior to his tenure at Premier, Joel worked for Management Plus Enterprises, which represented Shaquille O'Neal, Hakeem Olajuwon and Ronnie Lott. You can email Joel at jccorry@gmail.com.