January 28, 2013 -
Erik Oehler
Cost per snap: A new approach for the NFL draft?
Friday, Tony Villioti broke down games started by draft round. In a typical NFL draft, selections in the first two rounds are players expected to become starters fairly quickly. Rounds three through five, teams start to address backups and special teams. By the sixth and seventh rounds, even the teams with the best scouting departments are just hoping the picks can make the team. Every one of these players that signs is getting paid whether they ever see the field or not. Between training camp, OTAs, and the season, what teams are actually paying for, is eventually getting these players on the field. So just how much did this year's class see the field? Here are the snap counts from the 2012 draft class, their cap cost, and how much each one of those snaps cost. For the sake of the math, I treated 0 snaps as 1.
Breaking this down by Round, here are the average costs per player snap (CPPS):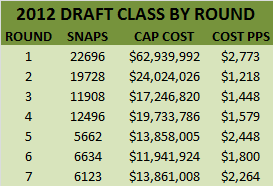 A similar trend of CPPS value in the 2nd-4th rounds exists in the 2011 Draft class: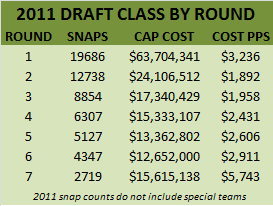 I'm certainly not advocating teams abandon the 1st round. That number is as high as it is because there are only so many snaps in a game, and they make much more money than the rounds that follow. But let's take a look at the 5th round and beyond. While some exceptions like Tom Brady and Stevie Johnson pan out, teams are drafting for depth, special teams, and practice squad guys in these rounds. Rather than taking chances on late round picks, why not trade for player with a decent CPPS? Snap count is obviously not the top indicator of skill, but generally, the better players see more snaps. It could be a much better method of identifying durable, veteran NFL talent for your bench rather than hoping your late round pick can handle the big stage when you've got no other choices.
Take for example Panthers safety, Colin Jones. His 2011 rookie year with the 49ers, he saw 204 plays, mostly on special teams, at a cap cost of $399,724 for a CPPS of $1959. Carolina traded a 7th rd pick for him. This year, they used him on 271 plays, again, primarily on special teams, at a cap cost of $465,000 for a CPPS of $1716. If you could get a solid special teams player (Jones has never been thought of as a liability) with every 7th round pick, what GM wouldn't sign on for that?
I'll target the best snap count bargains in the league next week. If you'd like to see the breakdown of CPPS by team and by college conference, check out page 2!
Erik Oehler is the web developer at National Football Post, and is always looking for suggestions for future stat-related articles or general improvements for the site. He can be reached at erik.oehler@nationalfootballpost.com or on twitter @erikoehler