January 17, 2012 -
Dion Caputi
Could Hue Jackson join Jeff Fisher in St. Louis?
After being fired a week ago, former Oakland Raiders head coach Hue Jackson remains one of the more highly regarded assistant coaches available and an interesting opportunity has opened up for him.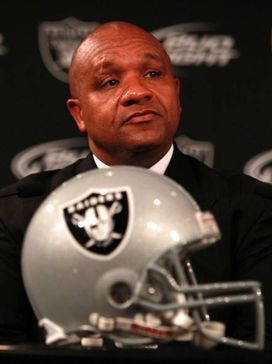 Is Hue Jackson headed for St. Louis?
Sources informed ESPN's Chris Mortensen that Jackson will interview for the St. Louis Rams' vacant offensive coordinator position on Wednesday.
Jackson had a hand in developing Joe Flacco as the Baltimore Ravens' quarterbacks coach from 2008-2009 before accepting the offensive coordinator job in Oakland.
Although there have been sweeping suspicions that former New York Jets offensive coordinator Brian Schottenheimer will eventually land the job, there's no telling how fortunes can change with one good interview.
Both candidates are regarded as the top choices for the job.
Stay tuned Wednesday for an update.
Follow me on Twitter: @NFLDraftUpdate