March 04, 2014 -
Jeff Fedotin
Could Jonathan Martin end up in Indy?
As reporters grilled Joe Philbin about the future of offensive tackle Jonathan Martin while the Dolphins head coach spoke at the NFL Scouting Combine in Indianapolis, the setting was noteworthy.
The Colts, the NFL team located in that city, may serve as the best fit for the Dolphins tackle.
The assembled media horde pressed Philbin on Martin's status for the 2014 season, a topic the coach delicately danced around.
"Our owner, Steve Ross, has reached out to Jonathan," Philbin said. "I believe at some point in the near future they plan on getting together, so for me to make any comments prior to that meeting, I think would be inappropriate."
Though Ross also has told reporters he wants a meeting to take place soon, NFP has learned that one has not been scheduled.
Whether or not that happens — as several rumors regarding those meetings have floated around the Internet — the lineman wants to play again.
And given that Martin was the target in a scandal that ravaged Dolphins team chemistry, releasing or trading him would seem the pragmatic approach.
If that scenario does take place, Indianapolis would serve as a natural setting largely because of its deep connections to Stanford, the place where Martin enjoyed great success.
Four Colts players hail from Stanford — or 5 percent of the roster — a figure that is tied with UConn for the school that has produced the highest number of current Colts players.
Colts tight end Coby Fleener, safety Delano Howell, wide receiver Griff Whalen and, of course, quarterback Andrew Luck all were part of Stanford's 2012 draft class, along with Martin.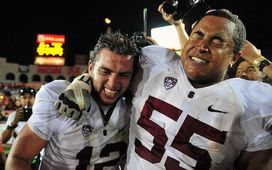 Luck and Martin already have a good rapport dating back to their time together at Stanford.
The Stanford roots extend to the coaching staff, where Colts offensive coordinator Pep Hamilton served as the offensive coordinator/QB coach from 2011-12.
Luck described his closeness to his former blind-side tackle while also publicly supporting him after Martin left the Dolphins in the wake of the bullying scandal.
"We get along very, very well," Luck told ESPN. "We had a lot of fun — a lot of good times — together at Stanford. It's obviously an incredibly unfortunate situation. But out of respect for him and what's going on, I'd rather not talk about it."
The Stanford ties run deep in Indianapolis. Whalen lived with Luck — along with David DeCastro, who lined up at right guard while Martin was at left tackle — for three years in Palo Alto, California.
In addition to the Cardinal bonds, the Colts are known league-wide for having a strong locker room, one likely that would not have tolerated what transpired in Miami.
The Colts' cohesiveness was evidenced by how they embraced the CHUCKSTRONG movement when leukemia forced head coach Chuck Pagano to leave the team and how the squad rallied during the 2014 playoffs from a 38-10, third-quarter deficit for the second biggest comeback in NFL postseason history.
Moreover, Indianapolis has offensive line issues, though the edges of the unit are better than the interior. At offensive tackle the Colts boast two former first-round draft picks — left tackle Anthony Castonzo and right tackle Gosder Cherilus, but one of them could be moved inside.
At the very least, Martin, who has started at both right and left tackle in the NFL, could serve as a versatile swing tackle behind both starters, and NFL teams can never have enough pass-protection options.
Indianapolis certainly has room to sign Martin. Prior to any offseason signings, the Colts were slated to have the fourth most salary cap space in the NFL — about $40 million worth.
And entering the third year of his rookie deal, Martin has a very manageable contract — it reportedly accounts for just $1.3 million against the cap in 2014 and $1.5 million in 2015 — should the Dolphins either trade him or hold on to him.
Whatever happens to Martin, he is a much more desirable commodity than Richie Incognito.
Sure, Martin may have to overcome negative labels that he is too "soft" or "ratted" on his teammates, but the former second-round draft pick plays left tackle, one of the most valuable positions in the NFL, and is just 24.
In contrast the 30-year-old Incognito, who reportedly is going through rehab, is on the downside of his career, having already worn out his welcome as a guard with the Dolphins, Rams and Bills. Behavior issues caused the end of his tenure with the two former teams.
That negative behavior, of course, gained its greatest notoriety with his role in harassing Martin, who walked away from the Dolphins in Week 9 of the 2013 season.
Incognito and Martin, the duo who lined up next to each other on the left side — quarterback Ryan Tannehill's blind side — of the Dolphins' line had an odd and often adversarial relationship.
Prior to that, Martin protected Luck's blind side in college for three years. Now Luck's pro team may provide the perfect situation to insulate Martin as he resumes his NFL career.
Follow Jeff on Twitter: @JFedotin
Jeff Fedotin has written for Packers.com, Pro Football Weekly, ESPN The Magazine, the Lawrence (Kan.) Journal-World and Rivals.com. After graduating from Northwestern University, he interned for the Buffalo Bills. During his football playing days at Pembroke Hill (Mo.) School, Fedotin was known for his bad knees and even worse blocking.