November 15, 2012 -
Joel Corry
Dead money disasters
Dead money is a salary cap charge for a player that is no longer on a team's roster. It is a by-product of the various salary components of an NFL contract being accounted for differently under the salary cap. Base salaries and most roster bonuses count against the cap in the year that they are earned while signing bonuses are prorated or spread out evenly over the life of a contract for a maximum of five years. Option bonuses and roster bonuses fully guaranteed at signing are the other most common salary components that are also treated like signing bonuses.
When a player is released or traded, the remaining proration of the salary components that are treated like a signing bonus immediately accelerate into his team's current salary cap. For example, if a player signs a five-year contract with a $5 million signing bonus, $1 million of his signing bonus counts towards the salary cap for each year of his five-year contract. If he is released after the second year of his contract, the $2 million of signing bonus proration from the last two years of the contract automatically accelerates into the club's current cap, creating $3 million of dead money.</p>
There are two major exceptions to this general rule. With players released or traded after June 1, only the current year's proration counts towards the cap while the proration from the remaining contract years doesn't accelerate until the next year. A team can also release two players each year prior to June 1st that will be treated under the cap as if they were released after June 1. This is commonly referred to as a post-June 1 designation.
Excessive dead money can inhibit a team's ability to improve its roster because there may not be enough cap room to be active in free agency or give contract extensions to players on the team. However, the ability to carryover unused cap room from one year to the next year can help limit the effect of dead money. Although the NFL sets the salary cap annually, each team's adjusted salary cap can be different depending upon the amount of unused cap room that is carried over from the previous year.
There are three NFL teams with more than $25 million in dead money this year. Here's a look at how each of the team got there.
Indianapolis Colts ($38,790,072-Dead Money; $128,807,705-Adjusted Cap)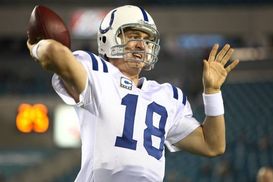 ICONPeyton Manning may no longer be in a Colts uniform, but his previous contract is still being felt in Indianapolis.
It is remarkable that the Colts are a playoff contender considering that 30.1% of their adjusted cap is devoted to dead money. In essence, they are operating with a $90 million salary cap because of the dead money. Most of the Colts' dead money is related to releasing Peyton Manning instead of paying the $28 million option bonus in the five-year, $90 million contract he signed in 2011, which included a $20 million signing bonus. The remaining $16 million of Manning's signing bonus proration accelerated into this year's cap. However, the Colts are receiving a $5.6 million cap credit since Manning's $28 million option bonus was also prorated over the five years of his contract. Manning, who had a $6.4 million 2011 base salary, made $26.4 million last year.
The decision to part ways with Manning put the Colts in a rebuilding mode where Joseph Addai ($3.72 million), Dallas Clark ($5,306,668), Melvin Bullitt ($2.67 million) and Gary Brackett ($2.4 million) were also released. Brackett was a post-June 1 designation who will count $4.8 million towards next year's cap. These four players along with Manning account for slightly more than $30 million of the Colts' dead money. Kelvin Hayden's contract is responsible for $5.4 million in dead money because his signing bonus proration was spread out over two years when he was released after the lockout.
Dallas Cowboys ($30,378,408-Dead Money; $134,232,826-Adjusted Cap)
The Cowboys are paying for contract mistakes made several years ago. Most notably are the contracts that were signed by Roy Williams and Marion Barber.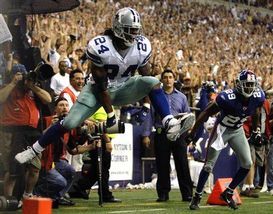 At least Marion Barber (above) produced while he was with the Cowboys. That's more than you can say about Roy Williams.
Williams signed a six-year, $54 million contract extension (with $19.5 million guaranteed) in 2008 after being acquired from the Detroit Lions for 2009 first, third and sixth round picks. Williams never came close to duplicating his 2006 Pro Bowl season with Detroit (82 catches, 1,310 receiving yards) while with the Cowboys. In fact, Williams only had 12 more receptions and 10 more receiving yards than his 2006 season during his almost three seasons in Dallas.
Barber received a seven-year, $45 million contract (with $16 million guaranteed) in 2008 as a restricted free agent without having a 1,000-yard rushing season or being an every-down running back. Even though Williams and Barber haven't played for the Cowboys since the 2010 season, they are currently counting $8.75 million and $4 million, respectively, towards Dallas' cap. The same holds true for Leonard Davis ($4,166,670) and Marc Colombo ($4.05 million), who was also part of the 2011 roster purge once the lockout ended.
The Cowboys were still able to be a major player in the first wave of free agency despite 22.6% of their adjusted cap being devoted to dead money and their penalty for violating the spirit of unwritten spending rules during the uncapped 2010 season. Brandon Carr received a five-year, $50.1 million deal (including $26.5 million in guarantees). His $3.2 million first year cap number is low for such a lucrative deal. Carr's cap number jumps to $16.3 million next year which makes him a prime candidate to restructure his contract since the Cowboys will have a $6.5 million cap deficit because of those penalties and approximately $134 million committed towards next year's cap with only 43 players under contract.
Oakland Raiders ($28,114,475-Dead Money; $124,105,427-Adjusted Cap)
Reggie McKenzie, who was hired as general manager in January, inherited a mess because of the previous regime's penchant for signing bad player-friendly contracts. The Raiders began the offseason with $145 million committed towards this season's cap, which is $120.6 million, when they only had approximately $3 million of cap room to carryover from the 2011 season. In order to reduce their cap obligations by approximately $22 million to comply with cap rules, McKenzie restructured (Carson Palmer, Richard Seymour, etc.) and terminated contracts.
Addressing the three-year, $31.5 million contract (with $20 million in guarantees) Stanford Routt received in 2011 before the lockout, which made him the NFL's third highest paid cornerback (by average yearly salary), was at the top of McKenzie's list. Oakland compounded their problem after the lockout by restructuring Routt's contract to create cap room in which two voidable years were added at $11.5 million each to help with the proration. With Routt's 2012 base salary becoming fully guaranteed on February 10th, McKenzie released him despite his contract containing a $5 million fully guaranteed fifth day of the league year 2012 roster bonus without an offset.
Most NFL contract guarantees contain language which allows a club to reduce the amount they owe a released player by the amount of his new deal with another club (an "offset"). Since Routt's contract doesn't have this language, he has been getting paid this year from both the Raiders and the Chiefs. Routt counts $10,785,334 in dead money on Oakland's cap. Without the restructuring, his dead money would only be $3,333,334. Routt made $15 million for the one season he played under this deal.
Kamerion Wimbley is the other major dead money charge for the Raiders at $9.9 million. McKenzie attempted to renegotiate the five-year, $48.5 million contract Wimbley received last year, but didn't have much leverage because $6.5 million of his 2012 base salary was fully guaranteed without an offset at signing. He released Wimbley on March 16th, a day before the remaining $4.5 million of his $11 million 2012 base salary, his $11 million 2013 base salary and $2 million of his 2014 base salary became fully guaranteed. Kevin Boss and John Henderson, who were also released, are receiving $2 million and $1.5 million payments, respectively, from the Raiders this year because of salary guarantees without offsets.
There are also 12 players with more than $5 million in dead money this year. They are included in the following chart.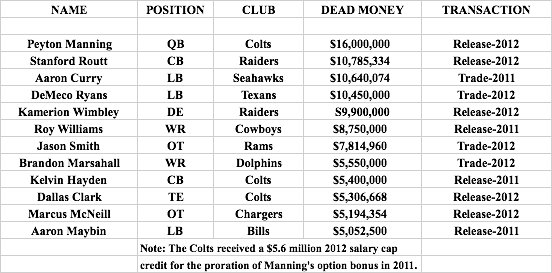 Follow me on Twitter: @corryjoel
Joel Corry is a former sports agent who helped found Premier Sports & Entertainment, a sports management firm that represents professional athletes and coaches. Prior to his tenure at Premier, Joel worked for Management Plus Enterprises, which represented Shaquille O'Neal, Hakeem Olajuwon and Ronnie Lott. You can email Joel at jccorry@gmail.com