December 06, 2013 -
Joel Corry
Dead money leaders
Dead money is a salary cap charge for a player that is no longer on a team's roster. It exists because of how salary cap accounting rules work.
Signing bonuses, option bonuses and certain roster bonuses are prorated or spread out evenly over the life of a contract (for a maximum of five years). The remaining amounts of proration in a contract accelerate into a team's current salary cap when a player is released or traded, except with transactions occurring after June 1.
Only the current year's proration counts toward the cap with players released or traded after June 1. A team can also release two players each year prior to June 1 (known as a Post-June 1 designation) that will be treated under the cap as if they were released after June 1. With a post-June 1 designation, a team is required to carry the player's full cap number until June 2 even though he is no longer a part of the roster. The player's salary comes off the books at that time unless it is guaranteed.
Excessive dead money can hinder a team's ability to improve its roster because there may not be enough cap room to be active in free agency or give contract extensions to core players. The ability to carryover unused cap room from one year to the next year can help limit the effect of dead money. The NFL sets the salary cap annually, but each team's adjusted salary cap can be different depending upon the amount of unused cap room that is carried over from the previous year.
There are three NFL teams with more than $20 million in dead money this year. Rounding out the top five are the Arizona Cardinals ($18,652,564) and the Kansas City Chiefs ($17,515,375). Here's a look at how each of the three teams got there.
Oakland Raiders ($55,465,877-Dead Money; $127,187,041-Adjusted Cap)
Reggie McKenzie inherited a salary cap mess when he was hired as Oakland's general manager in January 2012 due to the previous regime's habit of overpaying players. Oakland's massive amount of dead money results from McKenzie completing a two-year process of cleaning up the cap through a roster purge where Oakland's five highest paid players (by average yearly salary) in 2012 were let go by the team.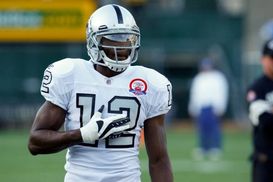 ICONDHB was one of several mistakes made by Oakland's former regime.
It is amazing that the Raiders haven't sewn up the first pick in the 2014 NFL draft considering that 43.6 percent of their adjusted cap is devoted to dead money. The Raiders are essentially operating with a $71.7 million salary cap because of dead money.
Four former Raiders are in the top-10 in dead money this year. Richard Seymour ($13.714 million), Carson Palmer ($9.34 million), Rolando McClain ($7.26 million) and Tommy Kelly ($6.324 million) rank first, third, fifth and eighth, respectively.
Three Al Davis first-round picks (Darrius Heyward-Bey, Michael Huff and McClain) were among the players released. Heyward-Bey and Huff are taking up $5.26 million and $3,288,750 of cap space. Huff was a Post-June 1 designation who will count $6,208,750 million towards next year's cap.
The bright side of the roster purge is that the Raiders should have the NFL's most cap room in 2014. The Raiders currently have $54,135,620 of 2014 cap obligations with 32 players under contract, while the top-51 cap numbers count towards the cap. If the 2014 salary cap is set at $125 million, the Raiders should have slightly over $61 million in cap space.
Jacksonville Jaguars ($34,104,489-Dead Money; $145,563,116-Adjusted Cap)
New general manager David Caldwell released several veteran players early in the offseason as he embarked on a rebuilding project. Most notable were Dawan Landry ($3.9 million), Laurent Robinson ($8.4 million) and Aaron Ross ($666,667).
The Jaguars are responsible for two of the ten largest individual amounts of dead money this year. Robinson's $8.4 million ranks fourth, while Eugene Monroe is seventh at $6,598,236. The Jaguars converted all of Monroe's $3.8 million base salary except for his $715,000 league minimum salary into a signing bonus in order to facilitate his trade to the Baltimore Ravens during the fifth week of the season. This maneuver was necessary because of Baltimore's tight salary cap and the NFL's prohibition against including cash or cap room in trades. Monroe's 2014 contract year, which was scheduled to void after this season, was also deleted with the salary conversion. The deletion accelerated Monroe's $1,397,500 2014 cap charge into Jacksonville's 2013 cap.
Jacksonville will be in great shape with the salary cap in 2014. The 46 players under contract next year are taking up $88,175,974 of cap space and the Jaguars can carryover slightly more than $20 million of unused cap room. With a $125 million salary cap, the Jaguars should have in excess of $50 million in cap room when the 2014 league year starts on March 11.
New York Jets ($20,348,980-Dead Money; $127,032,737-Adjusted Cap)
A majority of the Jets' dead money is related to trading cornerback Darrelle Revis to the Tampa Bay Buccaneers shortly before the NFL draft. The Jets have a $13 million cap charge for Revis primarily because $9 million in option bonus proration from the 2014-2016 voidable years of his 2010 renegotiated contract accelerated to this year with the trade. Revis has the second-largest dead money amount in the NFL this year.
The Jets have significant dead money from three other players (Sione Pouha, Bart Scott and Tim Tebow). Pouha, Tebow and Scott are counting $2,333,334, $1,533,275 and $1.5 million on the Jets' cap.
Follow me on Twitter: @corryjoel
Joel Corry is a former sports agent who helped found Premier Sports & Entertainment, a sports management firm that represents professional athletes and coaches. Prior to his tenure at Premier, Joel worked for Management Plus Enterprises, which represented Shaquille O'Neal, Hakeem Olajuwon and Ronnie Lott. You can email Joel at jccorry@gmail.com.