December 13, 2011 -
Barry Dorey
DeMarco Murray done for the year
Cowboys rookie running back DeMarco Murray has been turning heads since a stellar 253 yard performance against the St. Louis Rams in Week 7.
Tuesday, his impressive rookie season came to an end.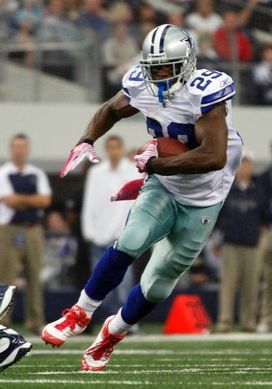 DeMarco Murray's stellar rookie season came to an abrupt end this week.
According to Josh Ellis of DallasCowboys.com, the team has placed Murray on injured reserve with a fractured right ankle. Murray also suffered a high ankle sprain on the same play.
The injury, which occurred during the the team's December 11th loss to the New York Giants, will require surgery. Still, the third-round draft choice out of Oklahoma is expected to make a full recovery and projects as the team's starting running back for the 2012 season opener. Murray rushed for 897 yards and two touchdowns, averaging 5.5 yards per carry while displaying a nice combination of power and speed.
Dallas, already short handed at the position after waiving Tashard Choice earlier this season and recently placing rookie Phillip Tanner on injured reserve, signed eleven-year NFL veteran runner Sammy Morris. Most recently a member of the New England Patriots, Morris has been a free agent all season.
Also, the Cowboys placed second-year safety Barry Church on injured reserve, after the former undrafted free agent from Toledo dislocated his shoulder twice during the same game in which Murray fractured his ankle. Church will require surgery to stabilize the joint.
Signed to replace Church was undrafted rookie free agent Mana Silva of Hawai'i. Silva has spent time on both the Buffalo Bills and Baltimore Ravens practice squads this season.
Follow me on Twitter: @NFLDraftUpdate