April 12, 2012 -
Dion Caputi
Demaryius Thomas not sad Tebow's gone
If you thought the feelings regarding Tim Tebow's status as the savior of the Denver Broncos in the media's eye were exactly how it was in the team's locker room, it'd be difficult for anyone to truly argue otherwise. However, wide receiver Demaryius Thomas -- the other half of the 80-yard overtime touchdown pass against the Steelers in the playoffs -- indicated that the internal feelings on the team's former quarterback may not have been what they were believed to be.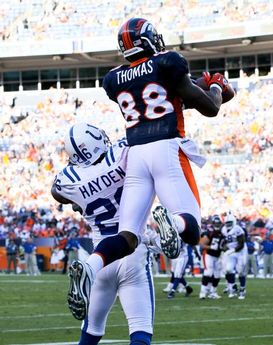 ICONIt's safe to say Thomas didn't shed any tears over the departure of Tim Tebow.
Appearing on 790 The Zone in Atlanta with The 2 Live Stews, Thomas opened up about his old quarterback and the organization's decision to trade him.
"It's a business decision. I ain't going to say I was sad (about Tim leaving) because the only thing they remember is that pass. You gotta go back and look at the rest of the games. I wasn't getting no balls. You had to make some of these plays where some players were open and he is not making the throws, but I don't want to talk bad about Tim, but hey I am happy we got Peyton."
Regarding the attitude in the locker room, Thomas noted there were some mixed reviews.
"There wasn't much talk about him, but you know everything on ESPN was all about Tim. That bothered some players too because they would say "Tim Tebow Time.' I felt like it was a team thing. If it wasn't for the defense most of the time there wouldn't be no supposed 'Tim Tebow Time.'"
Finally, Thomas shared his thoughts of the Tim Tebow trade as it relates to the New York Jets.
"I ain't going to say it was a good move, but I really don't know. I feel like Tim can get better, but it is going to take some time because he's got to read the defenses and throwing patterns."
While Thomas wasn't completely slamming the unconventional passer, he certainly wasn't raining compliments on him either. If Thomas' comments are any type of extension of the internal feelings of the Denver Bronco players, the team may not be as distraught about the former Heisman Trophy winner's departure as some believe.
Follow me on Twitter: @NFLDraftUpdate