April 29, 2014 -
Jerry Angelo
Developing the quarterback position
There was an interesting piece of information given to me by a friend recently. He asked, "Who were the last two Super Bowl-winning quarterbacks drafted in the first round?" I guessed Joe Flacco, who was selected in 2008. The other he had to tell me was Aaron Rodgers, whom Green Bay landed in 2005.
It's pretty amazing that there were only two quarterbacks drafting during the first round over the last nine years who went on to win the Super Bowl. When you take into consideration the fact that 24 signal-callers were selected during that time, it's even more shocking.
This got me thinking: Why is it so hard for the top drafted quarterbacks to win, let alone win a Super Bowl? It's a team game, but the Manning brothers, Tom Brady, Drew Brees and Aaron Rodgers have proven that the evolved and carefully developed quarterbacks can carry a team.
I have several reasons as to why developing a quarterback to his pinnacle is almost an unachievable task:
PATIENCE
Quarterbacks are given little time to watch and learn their trade. They are asked to play almost immediately and several have demonstrated they cannot handle all that comes with playing the position at the professional level.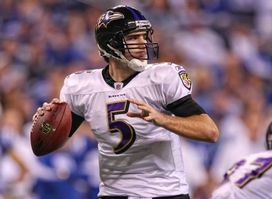 ICONJoe Flacco is one of just two Super Bowl-winning quarterbacks drafted in the first round over the last nine years.
In days past, regardless if you drafted a quarterback in the first round, it was a given that he was going to sit for close to two years. All young quarterbacks who came into the league during that era had to serve as an apprentice. That's how they learned; by seeing, not doing.
So why did teams drift away from this philosophy? The answer is free agency. Before free agency, teams selected players with the knowledge that they would possess the player's rights for his entire career, should they choose to see it through. There really wasn't any rush to draft players before the coaches knew that they were ready. And by 'ready,' I mean the player knows the system and the players around him while the coaching staff and players know their quarterback.
Nothing is hard when it makes sense. Playing players before they are ready makes no sense. But once free agency became the law and inflated player salaries, a sound philosophy morphed into a flawed philosophy.
Years ago, quarterbacks weren't getting paid ludicrous money for being the first overall selection. As the salaries increased, so too did the expectations, as owners and fans wanted to see what they were paying for. 20 years ago, the tenure of a head coach used to be 4-5 years, not 2-3 years like it is now. So the pressure for coaches to play their top picks has become greater, as the first question always asked is, "If we don't play him early, why did we draft him?"
All of these aforementioned factors contributed to the elimination of the extra time for the development and growth of young quarterbacks.
The two quarterbacks who come to mind in regards to benefitting from sitting and watching were the late Steve McNair—who watched Chris Chandler for two years—and Aaron Rodgers, who did the same for three years behind the legendary Brett Favre. Both players also had the luxury of being coached in the same system with bosses who they became very familiar with over their careers. That's the formula for success, but it is seldom followed because of the new dynamic fabricated by free agency.
When I was with Tampa, we drafted Vinny Testaverde (or as my wife would call him, "Vinny Test your Nervies") with first overall pick in the 1987 draft. Prior to drafting Vinny, the Buccaneers traded Steve Young, who they said would never play quarterback in the NFL, to the San Francisco 49ers in exchange for a second and fourth round pick in the 1987 draft. We also selected Trent Dilfer with the sixth pick in the first round of the 1994 draft.
All three signal-callers turned about to be busts for the Bucs. While that certainly wasn't the case for any of their careers, all three played much better after they left Tampa for other teams. Tampa proved to be their training grounds, where each quarterback learned all the "don'ts" of playing the position.
Looking closely at the situation for each Testaverde, Young and Dilfer, I came away with certain criteria that had to be in place in order to give young quarterbacks their best chance for success. Quarterbacks need to be trained and developed in the same system. But given the rate of attrition of head coaches that goes on around the league, this makes it highly improbable that a quarterback gets into the right situation.
COACHING STABILITY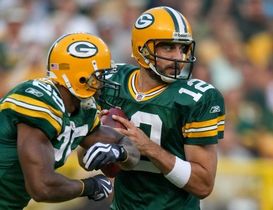 ICONRodgers benefited greatly from sitting behind future Hall of Famer Brett Favre.
With every top quarterback you also saw a top coordinator and/or head coach, and in some cases, you saw both. They knew how to manage the quarterback's development and groom him for prominence. They went hand-in-hand. You could almost say that the quarterbacks and coaches/coordinators made each other. Unfortunately, coaches who know how to do this are about as rare as the elite signal callers themselves.
Quarterbacks need to be trained and developed in the same system. This is a somewhat rare occurrence due to the high turnover rate which accompanies coaching positions in the NFL. While unfortunate, it is somewhat unlikely for young quarterbacks to be groomed in stable situations. Just take a look at 2011 first round draft pick Blaine Gabbert, who has played under three different coaching regimes in three seasons.
SURROUNDING ENVIRONMENT
Most first-round quarterbacks are landing with teams that, simply put, are flat-out bad. Yes, it's generally a given that bad teams need to select a quarterback in the first round because they are losing with their current signal-caller. Living up to the expectations that come with the position are hard enough, but when you throw in a poor supporting cast, there is little room for error before it all comes crashing down.
INTANGIBLES
A successful quarterback must possess elite intangibles. He can't be "one of the guys." Once the quarterback departs the facility, that's fine. But as the team's leader, it's more than just being liked. It's about commanding respect and convincing your peers that you are "all in."
The other players need to see the quarterback's character, work ethic and commitment to being great. It has nothing to do with talent or the hype of playing the marquee position and everything to do with paying the price. That's where leadership starts.
Becoming a winning NFL quarterback is a difficult task. The quarterback can't evolve all on his own. He needs help. As the statistics will bear out, very few make it. No position brings stability and realistic optimism to an organization other than the guy who touches the ball on every snap. If you had to grade an organization on just one thing, it would be how they managed the quarterback position…for better or worse.
Follow Jerry on Twitter: @RealJerryAngelo
Jerry Angelo was the General Manager of the Chicago Bears from 2001 to 2012. Prior to joining the Bears, Angelo spent 14 years overseeing the Tampa Bay Buccaneers' scoutin g department as their Director of Player Personnel. Angelo graduated from Miami University in 1971.