June 10, 2013 -
Jeff Fedotin
Do the Chiefs have an offensive trick up their sleeve?
Last month the Chiefs hired legendary coach Chris Ault as a consultant.
On the surface it was a move that seemed more appropriate for quarterback Alex Smith's former team, the 49ers.
After all, Ault, the brains behind the creation of the pistol alignment, coached quarterback Colin Kaepernick at Nevada, and San Francisco ran elements of that scheme last season.
But although he does not possess Kaepernick's transcendent abilities, Smith is a good athlete. He thrived in the same spread-option scheme at Utah under Urban Meyer that Tim Tebow did at Florida.
Whether or not Smith runs some of the plays from his college days remains up in the air. The Chiefs have been covert about revealing Ault's exact role.
Head coach Andy Reid compared his position to that of Tommy Brasher, now the Chiefs defensive line coach, when Brasher consulted for the Eagles from 2006 to 2011. He also said that Ault will continue to live in Reno, Nevada during the season instead of in Kansas City.
"(Ault)'s actually been here once and visited with the defense and spent some time there," Reid said. "I'm doing with him what I did with Tommy Brasher for the last six years, and that was I would give him projects to do, and between him and Brad (Childress, a Chiefs assistant,) they'll do that and work together on some things for us."
The Packers, Ravens and Vikings also reportedly expressed interest in adding the 66-year-old Ault, who won 233 games during his 28 years as Nevada head coach before retiring after the 2012 season.
Breaking down the pistol
While most shotgun formations put their quarterback five or six yards behind the center, the pistol places the quarterback only four yards back. (Because of the shorter distance, Ault cleverly called it a "pistol" rather than a "shotgun.") Instead of lining up beside the quarterback as in the shotgun, the running back is behind the quarterback in the pistol.
This formation allows great flexibility as the offense can run the zone-read option and other gadget plays that Meyer did as well as more traditional I-formation rushes to either side of the quarterback.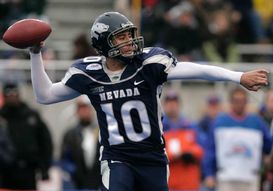 ICONColin Kaepernick tore it up in the pistol offense during his four years under Ault at Nevada.
Ault started using the pistol in 2005 and went to four straight bowl games. Kaepernick ran it adroitly, totaling 10,098 passing yards and 82 passing touchdowns and 4,112 rushing yards and 59 rushing touchdowns during his four years.
Just days after the Chiefs announced Ault's hiring, Kansas City ran a handful of plays from the pistol formation during a Thursday, May 16 practice.
"Well, it is an option, literally," Reid said. "We're not featuring that. But we mess around with a little bit of everything."
Reid and offensive coordinator Doug Pederson are using running back Jamaal Charles in a multitude of a ways as well. During offseason practices they have lined him up as a tailback, as the deep back in the pistol, and as a wide receiver in myriad offensive sets.
The Chiefs have not only been creative in their use of Charles, but they also have been wise in proactively attacking the latest NFL trends. Childress, the Eagles offensive coordinator or quarterback coach under Reid from 1999 to 2005, was hired as the spread game analyst/special projects.
The Chiefs have not indicated to what degree Childress and Ault will be incorporating schemes into the Kansas City offense — or trying to solve the latest tricks of the opposition.
But if Kansas City does extensively use the pistol, it will not represent the first time a modern Chiefs offense has done so.
The Chiefs' previous pistol experience
After the first and second-string quarterbacks — Brodie Croyle and Damon Huard — went down with injury in 2008, offensive coordinator Chan Gailey adopted the pistol to help quarterback Tyler Thigpen, a mobile but raw seventh-round pick in the 2007 Draft, better adjust to NFL action.
Though running back Larry Johnson struggled with it and the offensive overhaul did not translate into wins for the 2-14 Chiefs, it definitely provided an offensive spark.
Thigpen went from completing 42.2 percent of his passes and having trouble connecting on the shortest of pass routes during his first six games to completing 58.1 percent during his last 10 games. He finished the year with 2,608 passing yards, 18 touchdowns, 12 interceptions and 386 rushing yards.
Regarding the possible current incarnation of the pistol, Smith does not mind being helped by the mentor of Kaepernick — the player whose talent ultimately forced him out of San Francisco.
In fact he expressed excitement about the opportunity to learn from a visionary offensive coach.
"It's great to have him here," Smith said. "A guy with that kind of knowledge is great to have around the building. I'm making the most of it."
Follow Jeff on Twitter: @JFedotin
Jeff Fedotin has written for Packers.com, Pro Football Weekly, ESPN The Magazine, the Lawrence (Kan.) Journal-World and Rivals.com. After graduating from Northwestern University, he interned for the Buffalo Bills. During his football playing days at Pembroke Hill (Mo.) School, Fedotin was known for his bad knees and even worse blocking.