November 25, 2014 -
Jeff Fedotin
Does Mike Evans deserve Rookie of the Year?
It took him four games to score a touchdown and seven to record his first 100-yard game, but Buccaneers wide receiver Mike Evans now leads all rookies in receiving yards and is tied for the lead in touchdowns.
"(I was) just finding my way around this league," Evans told NFP. "Now I'm playing fast."
With 505 yards in his last four contests, including touchdowns in each of his last four, he clearly has found his groove.
It just took Evans time to adjust from Texas A&M's air raid spread offense with quarterback Johnny Manziel to a more complicated pro scheme. While serving as Manziel's primary read, Evans lined up exclusively on the right side at A&M.
With Tampa Bay, the seventh overall pick in the 2014 NFL Draft now moves all over the formation — on the outside, in the slot, in motion and on the right and left sides.
"Every receiver's position that you can play," Evans said, "I play."
And he plays it adeptly. The 6-5, 231-pounder has caught 49 balls for 841 yards and eight touchdowns by using his large frame, physical style and ability to adjust to the quarterback's pass.
"He knows how to control his body to position himself," quarterback Mike Glennon said. "There have been times where you feel like the ball didn't come out perfect, and it'll end up being exactly where you wanted it."
Hoopster overcomes team's adversity
Glennon, who started Weeks 4-9, is part of Tampa Bay's quarterback carousel. Veteran Josh McCown started Weeks 1-3 and 10-12 and struggled with his accuracy in the latter game while completing about half his passes and turning the ball over three times.
Evans has also been without the offensive coordinator brought in to guide the offense, Jeff Tedford, the offensive guru who coached Aaron Rodgers at Cal. A heart ailment forced Tedford to leave the team in September.
No matter who has been throwing passes or designing the scheme, Evans has been a go-to target for the Bucs — particularly on fade routes.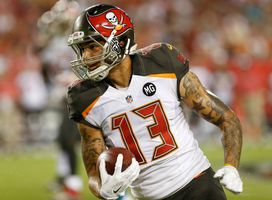 Through ten games, Evans has already hauled in 49 passes for 841 yards and eight touchdowns on 82 targets.
"Mike's ability to go and get the ball really kind of separates him," Glennon said. "His basketball instincts kind of kick in."
Evans has the same kind of basketball skills that Tony Gonzalez, Antonio Gates, Jimmy Graham, Julius Thomas and other roundball players-turned-NFL targets have used to their advantage on the gridiron.
At Ball High in Galveston, Texas Evans averaged 18.3 points, 8.4 rebounds and 5.2 assists as a senior. The biggest guy on the team, he played in the post, but Texas, Texas Tech, Houston, Ole Miss and Colorado State offered him scholarships to play shooting guard/small forward, a testament to Evans' athletic ability.
Though he didn't go the basketball route, Evans' best friend, Ball teammate Terran Petteway, did and earned first-team, All-Big Ten honors as a sophomore at Nebraska last season. He led all Big Ten players, scoring 18.1 points.
Evans is on pace to score 13 times this season after adding to his total in Week 12.
Even though it wasn't his best game, he made several highlight reel plays against the Bears.
In the two-minute offense, he ran a comeback route against another outstanding rookie, Kyle Fuller, who was playing off him. He caught the ball against Fuller and then eluded the cornerback for the first first down on a series which would lead to a field goal.
Earlier in the game — with 13:31 left in the second quarter — Fuller tried a different tactic. He pressed Evans, but the receiver disengaged from him to catch the 19-yard touchdown pass.
"I knocked his hands down and headed to the end zone," Evans said. "And Josh threw a great ball."
Evans, though, responded by taunting Fuller, drawing a 15-yard penalty and showing that the 21-year-old still has room to grow.
"(It was) just a little friendly smack talk, but I hurt my team there," Evans said.
Great classmates
The still-maturing rookie has some exemplary colleagues. The only wide receiver drafted ahead of him, Buffalo's Sammy Watkins, has 649 yards in just 11 games.
Saints wide receiver Brandin Cooks (20th overall) was leading all rookies with 53 catches before being placed on injured reserve with a thumb injury last week. Kelvin Benjamin of the Panthers (28th overall) has 768 yards.
The Jaguars have a pair of promising rookie receivers (Marqise Lee, 16 catches and 193 yards and Allen Robinson, 48 catches and 548 yards) drafted in the second round. Eagles second-round draft pick Jordan Matthews has 50 receptions for 635 yards, while his teammate, Josh Huff, returned the opening kickoff for a 107-yard score during Week 12.
Two teammates on LSU last year, rookies Odell Beckham Jr. and Jarvis Landry, look like the best receiving targets and returners on their respective teams, the Giants and Dolphins.
John Brown (third round) has become the primary deep threat in the Cardinals' vertical offense, and Steelers receiver Martavis Bryant (fourth round) has six touchdowns.
Evans does not closely follow his rookie brethren's stats, but he does come across them while perusing Instagram and Twitter.
"It gives me a little extra motivation," he said. "We have a good rookie receiving class."
That 2014 wide receiver class even has drawn comparisons to the great 1996 group, which featured nine players, including Marvin Harrison, Keyshawn Johnson and Terrell Owens, who surpassed 500 career catches and 8,000 yards.
Evans could be headed down that path.
"He's already one of the top receivers in the league as a rookie," Glennon said. "He can be really, really good."
Follow Jeff on Twitter: @JFedotin
Jeff Fedotin has written for Packers.com, Pro Football Weekly, ESPN The Magazine, the Lawrence (Kan.) Journal-World and Rivals.com. After graduating from Northwestern University, he interned for the Buffalo Bills. During his football playing days at Pembroke Hill (Mo.) School, Fedotin was known for his bad knees and even worse blocking.