January 18, 2011 -
National Football Post
Don't forget about the injuries
Jim Leonhard doesn't play with the flare of Ed Reed or the reckless abandon of Troy Polamalu or the youthful energy of LaRon Landry. Leonhard, the Jets' safety who's on IR with a broken right shin, would probably be the first to admit that.
Perhaps that why this playoff's much-forgotten fact is that New York has been missing Leonhard — and another key defensive contributor, defensive tackle Kris Jenkins — during its defiant run to the AFC Championship game. Every team endures injuries. Telling me that would be as futile as calling Aaron Rodgers "good."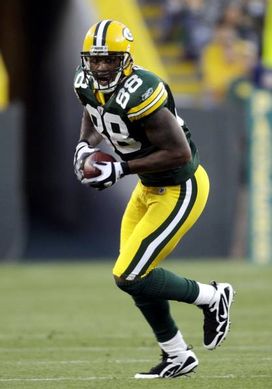 ICONJermichael Finley is one of several key contributors the Packers have been without this postseason.
And maybe that's the real problem here: Injuries are such commonplace in the NFL that a team's ability to overcome even the most significant losses becomes undervalued. But I find it unbelievable that the Packers — who have lost what seems like is half of their original starting lineup — are now the favorites to win the Super Bowl.
Likewise, what the Jets' defense is doing without Leonhard patrolling the back end and Jenkins clogging up the middle is astonishing. It helps, of course, to have players such as Bart Scott and Darrelle Revis — and a defensive mastermind like Rex Ryan.
Still, two weeks ago, few believed Ryan's "We're plan on winning the Super Bowl" bravado, mostly because New York's defense would have to go through Peyton Manning and Tom Brady — both as the road team, no less. This wasn't exactly the ideal recipe for a return trip to the AFC Championship game.
But that's exactly where the Jets find themselves. And how they got there is really no mystery. They've done it by not asking Mark Sanchez to do too much, by drawing up conservative and effective gameplans, and by making two of the game's best quarterback's feel uncomfortable in the pocket.
When Ryan said last week, "This is about Rex Ryan versus Bill Belichick," he was simply trying to take all the pressure off his players. But he wasn't entirely lying. The Jets' surprising upset over the Patriots can be attributed to Ryan adjusting his scheme without Leonhard.
Tom Brady would've taken advantage of Leonhard's absence and shredded New York's usual no-holds-barred defensive approach — much like he did in the now-infamous 42-point drubbing in Week 13, which was, not coincidentally, the Jets' first game without the injured Leonhard.
Ryan knew his secondary couldn't withstand the Patriots' strain — not without throwing Brady off his game. So Ryan abandoned his blitzing ways, and rushed four or five most of the time.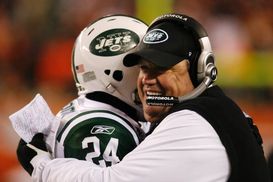 ICONRex Ryan and Darrelle Revis have helped the Jets play two flawless postseason games.
But this wasn't a vanilla, rush-four-defensive-linemen-and-drop-seven-into-coverage scheme. Ryan brought people from all over. As safety James Ihedigbo said, "[Brady] had no idea where the pressure was coming from, whether we were blitzing or whether we were dropping [into coverage]."
Against this scheme, Manning and Brady still put up decent numbers, completing 47-of-71 passes (66 percent) for 524 yards and only one interception. The problem was that neither quarterback did much scoring.
So what's the lesson here? Injuries certainly matter. Jim Leonard, Kris Jenkins, and the entire Packers' gaggle on IR are evidence of that. But the coaches tasked with negating that injury are far more important to the big picture.
And that, perhaps more than any other reason, is why Rex Ryan has the Jets in another AFC Championship game.
Scott Miller is a senior at The University of Iowa and a contributor to the National Football Post. Follow him on Twitter: @stmillr.
Want to work in the NFL? Click here to sign up for the NFP's Chalk Talk session at the Combine in Indianapolis on February 25th.