April 02, 2011 -
National Football Post
Don't overlook Stanzi
Ryan Mallett has the headline-grabbing arm strength. Cam Newton has the Heisman and the envied athleticism. Blaine Gabbert and Jake Locker have just enough upside to not be overlooked.
Every one of them worthy of the praise and hype and stardom. Every one of them deserving of a high pick. Every one of them talented enough to make a mark in the league. And this, to the average fan, is where the 2011 draft's quarterback class begins and ends.
Former Iowa quarterback Ricky Stanzi is not among this group. He likely will not be selected in the first two rounds of the draft — and he shouldn't be. Those spots are reserved for quarterbacks who have the capacity to come in and start from Day 1. Stanzi is not that guy, and he would be the first to admit that. He's not the guy a fan base is going to salivate over when he's selected, which is a shame because he's exactly the guy you want on your team.
I was apart of the media horde that covered Stanzi's every step in his three years as a starter in Iowa City. His interceptions — all 15 of them, four of which were returned for touchdowns — in 2009 are what everyone remembers. And, believe me, those interceptions haunted Stanzi everywhere he went that offseason — despite Iowa's 9-0 start, 11-2 overall record, and Orange Bowl victory.
He studied tape of his mistakes and vowed to show off an improved product when the Hawkeyes much-hyped 2010 season began. Stanzi held up his end of the promise, throwing only two interceptions in the first eight games and spending much of the season ranked in the top-five of the passing efficiency category.
These stats, this improvement is all well and good. It bodes well for Stanzi's NFL future, even if that's only as a backup. But perhaps what's most important to Stanzi's pro-potential is his inherent work ethic. The ongoing joke amongst his Iowa teammates: Stanzi's moped was a permanent fixture of the parking lot outside the Hayden Fry Football Complex. As head coach Kirk Ferentz said during the season, "He's always around. He has got a parking spot out there. I'm joking — that's an NCAA violation."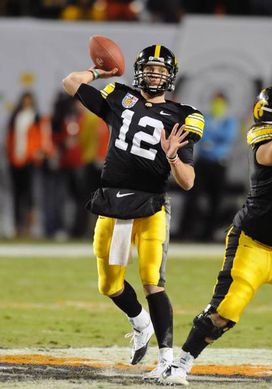 ICONRicky Stanzi's pro potential should not be overlooked by scouts or fans.
Stanzi always said that was because his academic schedule — which he described as "nothing too strenuous" — permitted the long hours in the film room.
There are few certainties amongst this year's draftable quarterbacks, but one of them is that Stanzi won't have to worry about going to class anymore. Football will be a full-time job. And that's a scary thought. Last season, his teammates would say that Stanzi's knowledge of opposing defenses stretched so far that he would regularly move scout-team defenders into the correct position during practice. I don't care if it's as a starter or a third-stringer that's a guy you want on your side.
So often, fans and scouts alike get wowed by the obvious with quarterbacks — the arm strength, the athleticism, the ability to improvise. And so often, those traits fail to materialize in the pros. There are lots of reasons why — among them, the fact that 22-year-old males aren't always motivated to work and improve and study film when they're given millions of dollars.
As much as this year's quarterback class is defined by the big names, there are no sure things, no can't-miss prospects. Sure, a team will take a flyer on Cam Newton; a team will take a chance on Ryan Mallett — and they'll hope that talent translates to the football field on Sundays.
All the while, Stanzi — and many similar quarterback prospects such as Christian Ponder, Colin Kaepernick, and Andy Dalton — will be waiting on a phone call, ready to make the most of an opportunity.
Scott Miller is a senior at The University of Iowa and a contributor to the National Football Post. Follow him on Twitter: @stmillr.