April 15, 2014 -
Jerry Angelo
Drafting the best vs. drafting for need
As we continue to get closer to the 2014 NFL draft, I'd like to share a few thoughts. If I were giving advice to someone about drafting, I would start with this concept: Draft as if you're an expansion team, not a sinking ship. History has shown that you can find starters, pro bowlers and, in some cases, Hall of Famers in the later rounds and as college free agents. But the focus has to be on acquiring the best players.
Having said that, you need to approach the draft with an open mind and without the pressure of filling needs. The "filling needs approach" is not only unsound, but you also find yourself embellishing lesser players who then end up filling those holes you have on your roster in lieu of better players.
Filling needs should have been addressed during the free agent period, regardless of the quality of the veterans you had sign to do it. They should be able to be plugged in at least for a year to take care of those voids. We called those players "stop gap guys." Players that can "hold the fort," as Bill Parcells would say, until the infantry arrives.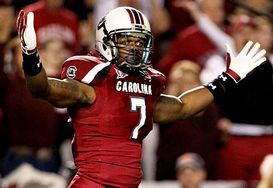 Will pass rusher Jadeveon Clowney hear his name called with the first overall pick?
Again you want to eliminate any potential bias on draft day. This is the only way to ensure you draft the best players available. I can say this without question: The best picks we made were the ones we didn't "need."
In this year's draft, I want to give you my first five picks in order of how I'd take them. Their positions are irrelevant, as these are the best of the best and guys I would trade up to acquire. You can't minimize "special" and these are the players who have the capabilities to be special at the next level.
On Sundays during the fall, games are won by special players. Look at it this way: Most teams have approximately the same amount of special players (8-10), regardless of both their positions and which side of the ball they play on. There are a few instances of teams with a couple more "special" players and, of course, some with less. But, by in large, the majority of teams possess 8-10. That was essentially the purpose of free agency, to create parity. Parity is the distribution of those special players. These players also consume a significant portion of a team's salary cap dollars.
Getting back to this year's draft, here's an interesting note: Four of my top-five players are underclassmen. Another intriguing note: Both Clemson wide receiver Sammy Watkins and Buffalo linebacker Khalil Mack are from the state of Florida. How did they get out of the state?
I'm going to reference two words: "Ceiling" and "Floor." Let me define both:
Ceiling: The best the player can be, his fullest potential.
Floor: The worst a player can be in the event he doesn't reach his potential.
Let's use South Carolina pass rusher Jadeveon Clowney as an example. Clowney has everything you look for as a pass rusher. He's a great athlete who has dominated throughout his career. Simply put, Clowney is a great talent with the production to match and is virtually unblockable when he's going all-out. So his ceiling is obviously very high. In fact, in my opinion, it's the highest of any player on the draft board.
The downside, however, is that Clowney had a poor 2013 season. He has been labeled as inconsistent and a sometimes difficult player to coach. This can easily affect his ability to reach his ceiling and if so, the question becomes what's the worst he can be? Given that Clowney is a pure pass rusher and just mediocre as a run stopper, if he fails to develop against the run, what's his floor? Most likely, it would be the lowest of my top-five players.
Different criticisms abound regarding Texas A&M quarterback Johnny Manziel. That's why I have Clowney and Manziel ranked fourth and fifth, respectively, simply because it's tough to determine what their floors truly are.
Most players who end up busting out of the league have low floors. It's very hard for players to dominate in the NFL. Most players are role players and are solid, but not special starters. The league is predominately made up of those types. For a player to be special at the NFL level is a rare feat. At the college level, a great athlete can be flawed but still play to 70-80 percent of his abilities and dominate because there is such a disparity in talent between the top athletes and the next level down. This isn't the case in the NFL.
While there still is a disparity between the top athletes at the professional ranks, the disparity isn't nearly as great as it is in college football. These players get hit with the labels like "underachiever," "can't play with pain" and "soft." All of these terms define the flaw the player had in college, but you really didn't notice it until he got to the next level.
MY TOP FIVE
1. Greg Robinson, OT, Auburn: Robinson is the safest, most talented player in this year's draft. Gifted tackles like him have a good history of playing well and for a long time in the NFL. Somebody recently compared Robinson to San Francisco's Anthony Davis, but that's talking apples and oranges. Robinson is the next Walter Jones, with a rare combination of power and athleticism.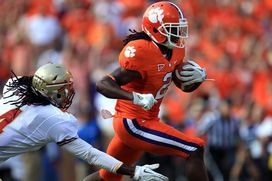 Clemson's Sammy Watkins is the best receiver available in this year's draft class.
2. Sammy Watkins, WR, Clemson: No receiver has been this electrifying since Calvin Johnson came out of Georgia Tech. He is big, fast and explosive. Watkins' after-the-catch yards are unreal. He is competitive and explosive. He has a rare ability and rare skill set in that he can be lethal as both a vertical receiver and in the short game. He's Sterling Sharp with top-end speed. Watkins saved his best game for last in Clemson's bowl game win over Ohio State. However, he's young and will have to be handled the right way. Watkins is sensitive and naive, but he wants to be great and with the right coach and quarterback, he will be.
3. Khalil Mack, LB, Buffalo: Not an elite athlete, though his workout numbers would differ, but has an elite package. A combination of size, speed, strength and toughness with top production, as well as durability. People talk about Mack's marginal coverage skills, but who cares? Linebackers don't go into the Hall of Fame because of their coverage ability. Remember, Lawrence Taylor didn't know when to drop or where to drop. The old saying comes to mind when I think about Mack: "Don't look a gift horse in the mouth." He can rush the passer in a variety of ways, has a big motor and is stout versus the run.
4. Jadeveon Clowney, DE, South Carolina: Has it all. When his motor is running, he can't be blocked by one player. He can win the one-on-one battles with his speed and his moves. He's scary, in that you don't know how to play him, so offensives will wind up assigning two players to defend him. That means Clowney is a player that offensive coordinators are going to have to account for and that, in turn, messes with their game plans. But the big question is can you trust him? He won't play hard 100 per cent of the time for 16 games because it's simply not in his DNA. He's never had to work for anything and he's going to be rewarded by being the first or second overall pick, so why should he change his behavior now? You've rewarded it! That's his biggest knock in my book. The key to Clowney is figuring out if he has a pride factor. If so, he'll set new standards at the position.
5. Johnny Manziel, QB, Texas A&M: You got to love him, but I wouldn't touch him unless I knew there was a rock solid plan in place that tailors to his style. It's not how he measures, it's how are you are going to play him. Right now, the only coach I would trust to handle Manziel correctly would be Sean Payton and maybe offensive coordinator Gary Kubiak and 49ers head coach Jim Harbaugh. All three played the quarterback position and know how to both develop signal-callers and develop schemes with the non-conventional types. Manziel is not Drew Brees. Brees made his living in the pocket as a colligate player, Manziel didn't. Durability will be an issue. He's not a natural leader, but his teammates respond to him and that's what counts. Manziel will do more to elevate the overall play of a team right now than any other player on the board.
THE NEXT FIVE
This next level I look at a bit differently. This level features the players who have the highest floors and are the best bet to play to their ceilings. This is not to say the following five guys won't be outstanding players, because they very well can be. The likes of Cris Carter, Michael Irvin, Emmitt Smith and Mike Singletary are some players who probably would have fallen into this category, but not solely because of athletic prowess.
6. Mike Evans, WR, Texas A&M
7. Taylor Lewan OT, Michigan
8. Blake Bortles, QB, Central Florida
9. Aaron Donald, DT, Pittsburg
10. Jake Matthews, OT, Texas A & M
Follow Jerry on Twitter: @RealJerryAngelo
Jerry Angelo was the General Manager of the Chicago Bears from 2001 to 2012. Prior to joining the Bears, Angelo spent 14 years overseeing the Tampa Bay Buccaneers' scouting department as their Director of Player Personnel. Angelo graduated from Miami University in 1971.