June 17, 2013 -
Jeff Fedotin
Elvis has left the building, but Von's ready to play
Broncos linebacker Von Miller has recorded an impressive 30 sacks in his two years. But to post those kinds of numbers again, he will have to do so without the help of his former pass rushing partner.
After a much-publicized fax machine snafu in March, Denver had to release its defensive end, Elvis Dumervil, to avoid having to pay him $12 million for the upcoming season.
The Ravens then snatched up Dumervil, who had 11 sacks last year and 63.5 during his seven years with the Broncos, by signing him to a deal reportedly valued at $35 million with $11 million in guaranteed money.
"It was tough, but it's part of the business," Miller told the National Football Post. "He took advantage of a great opportunity, and I'm happy for him."
Miller also said the Broncos have defensive linemen and pass rushers who can help replace Dumervil, including Robert Ayers, free-agent acquisition Shaun Phillips and Derek Wolfe.
"Elvis leaving gives those guys a chance to show what they can do," Miller said.
Miller raved in particular about the offseason performance of Wolfe, who had six sacks as a rookie last season, comparing him to Texans defensive lineman J.J. Watt. Although Wolfe plays defensive end like Dumervil, the second-year player is much bigger at 6-5, 300 pounds and stout against the run.
Even without the 5-11, 260-pound Dumervil, the defensive cupboard is hardly bare. In addition to signing Phillips — who had 9.5 of his 69.5 career sacks last year — Denver brought in defensive tackle Terrance Knighton, linebacker Stewart Bradley, cornerback Dominique Rodgers-Cromartie, and cornerback Quentin Jammer in an effort to improve on last year's 13-3 team.
The Broncos' 2012 season ended in agonizing fashion at the hands of the Super Bowl-champion Ravens, who would go on to sign Dumervil. Denver led the divisional playoff game by seven points with 31 seconds left before a coverage breakdown allowed a game-tying 70-yard touchdown to wide receiver Jacoby Jones on 3rd-and-3.
The tantalizing rematch between the teams on Thursday, Sept. 5 in Denver kicks off the 2013 season. But Miller said the playoff loss does not provide extra motivation for the contest or the Broncos' 2013 season.
"That game was definitely disappointing," Miller said. "It's part of the NFL. It's a great league. It takes a lot more than just being a good team. There's a lot more stuff that has to fall in place for you to go all the way. We witnessed that."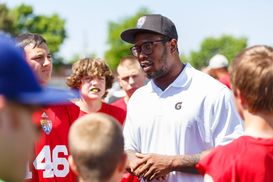 Gatorade/Trevor BrownBroncos linebacker Von Miller delivers a heat safety talk to campers at Football University Denver on behalf of Gatorade's Beat the Heat program.
The two-time Pro Bowler spoke on June 15 just after concluding his Gatorade Beat the Heat campaign where he advised young campers on the importance of heat safety when competing during athletic activity.
"It was great," Miller said. "It was definitely important for me to let everybody know about staying on top of hydration."
The cause is meaningful to Miller because he grew up playing football in sweltering conditions in Dallas and then in college at Texas A&M.
"We've always been taught nutrition and eating right and putting the right stuff in your body," said Miller, who like Peyton Manning is endorsed by Gatorade.
The Beat the Heat campaign was part of Miller's interesting and philanthropic offseason. As part of an effort to launch his own chicken business, the linebacker, who majored in poultry science at Texas A&M, bought 38 chickens for his eight-acre Dallas estate. Miller also was one of several players, including Watt and Broncos teammate Champ Bailey, to visits troops in Afghanistan on a USO tour in March.
The player, who had 18.5 sacks last year, called the American soldiers the "real superheroes of our country."
"I've always been patriotic,'" he said. "It was definitely life-changing for me, and something I'll always remember."
Miller was on the USO tour when the Broncos released Dumervil — a move necessitated after the team did not receive the fax of his renegotiated deal by the March deadline, which would have guaranteed him $12 million.
Dumervil was not the only notable former Bronco to join a new team. The Patriots signed quarterback Tim Tebow last week.
Miller publically supported Tebow throughout the 2011 season, but he has not texted or called Tebow yet, saying he wanted to allow him to get acclimated to his new surroundings.
"He'll be alright over there with the Patriots," Miller said. "He's in a great situation where he can come in and learn and just start to (pick up) some of the stuff that he does great and that he's doesn't do so well."
Part of a Broncos schedule full of marquee opponents, Denver faces Tebow — and the Patriots — for the first time on Sunday, Nov. 24, in a primetime contest on NBC.
Is Miller looking forward to hitting Tebow?
The third-year linebacker wouldn't bite on the reporter's question, simply saying: "Playing the Patriots is always tough."
As is life in the NFL. It's a cold business where dollar amounts — not loyalty — dictate transactions. Dumervil was a notable example of that. But it was a move with which Miller has come to grips.
"Sometimes it's better for the player; sometimes it's better for the organization," Miller said. "For Elvis it was better for him."
Follow Jeff on Twitter: @JFedotin
Jeff Fedotin has written for Packers.com, Pro Football Weekly, ESPN The Magazine, the Lawrence (Kan.) Journal-World and Rivals.com. After graduating from Northwestern University, he interned for the Buffalo Bills. During his football playing days at Pembroke Hill (Mo.) School, Fedotin was known for his bad knees and even worse blocking.