April 13, 2012 -
Joel Corry
Extra protection
There is an obscure provision of the NFL collective bargaining agreement (Article 21, Section 9) which allows players who received a tender but haven't signed an NFL contract, and unrestricted free agents whose contracts expired to participate in offseason workouts and minicamps with their previous team while retaining their free agency rights.
The NFL and NFLPA recently came up with standard language to cover such players (Appendix Q to the collective bargaining agreement). This new Appendix Q protects players in case they are injured while participating in team activities during the offseason. In the case of an injury, a player will receive as a one-year salary the greater of his required tender, his applicable minimum salary or the amount negotiated by the player and the team. Participation by a player is voluntarily under this provision so he can withdraw at any time with impunity.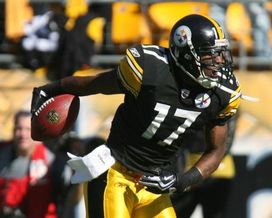 Wallace is free to work out with the Steelers, but that doesn't guarantee he'll be playing in Pittsburgh next season.
From a practical standpoint, players who are franchised, such as Drew Brees and Matt Forte, and restricted free agents, like Mike Wallace, can choose to participate in team activities without signing an NFL player contract. In Forte's case, his 2012 salary would be $7.742 million with an injury, his franchise tender, since it's unlikely that the Chicago Bears would agree to a greater amount in order to get him to take part in the offseason workouts.
A main benefit to signing a participation agreement instead of an NFL contract is that a player will preserve his option of holding out without subjecting himself to penalties. For example, if Wallace boycotted a mandatory three day minicamp because of a lack of progress on a long-term deal after signing his restricted free agent tender, the Pittsburgh Steelers would have the right to fine him $10,500 for the first day he missed minicamp, $21,000 for a second missed day and $31,500 if he missed a third day ($63,000 total for missing minicamp). If Wallace continued his boycott into training camp, the Steelers could fine him $30,000 for each day he missed.
But, these fines can't occur when players are operating under participation agreements and they can only partake in training camp if they have signed an NFL contract.
It will be interesting to see if any of the tendered players utilize this provision to participate with their teammates. The Bears shouldn't expect to see Forte unless he has signed a long-term deal. He contemplated holding out last year but decided against it. Instead, Forte handled himself in a professional manner and didn't let his dissatisfaction with his contract affect his play. Since Forte wasn't rewarded with a new contract for doing things "the right way," the Bears should be prepared for the worst case scenario with him this time around.
It won't be a surprise if Brees participates in workouts with the New Orleans Saints on such an agreement as a gesture of good faith for his negotiations because he was the leader of their workouts during last year's lockout and Sean Payton's suspension has compromised their season. Brees doing so would be great for the Saints' stability, but could undercut his negotiating position. It might send a signal to the Saints that he doesn't have resolve and will soften his stance as the July 16th deadline for franchised players to sign a long-term deal approaches.
Given the bounty sanctions, Brees has a tremendous amount of leverage with the Saints. If he is willing to exert it and play hardball, Brees should eventually get what he wants on a long-term deal.
Follow me on twitter: @corryjoel
Joel Corry is a former sports agent who helped found Premier Sports & Entertainment, a sports management firm that represents professional athletes and coaches. Prior to his tenure at Premier, Joel worked for Management Plus Enterprises, which represented Shaquille O'Neal, Hakeem Olajuwon and Ronnie Lott. You can email Joel at jccorry@gmail.com