February 10, 2011 -
National Football Post
Finding franchise QB a crapshoot
When Aaron Rodgers uncorked an exquisite 21-yard touchdown pass to Greg Jennings in the second quarter of the Super Bowl Sunday, a certain frustration came over me. It had nothing to do with the game or the score, the players or the teams.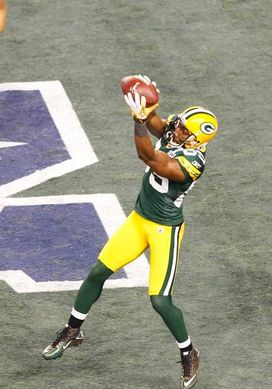 ICONGreg Jennings and Aaron Rodgers connected on two touchdown catches in Super Bowl XLV.
But, man, that throw. Where does that come from? Rodgers' pass gunned over James Farrior's head, whizzed past Ryan Clark's hand, and beat Troy Polamalu to its target. Check out the tape and read Matt Bowen's breakdown of the Xs and Os.
It's a throw I've seen Rodgers make countless times this season — and he has done it all with relative ease.
So why the frustration? Why the angst? Why would such a beautiful play, such picturesque throw make me think of … Matt Cassel?
I'm a lowly Chiefs fan — one that has seen three playoff wins in my 22-year-old lifetime (none of which I remember), and a 17-season postseason winless streak, third-longest in the NFL. Trust me, I know I'm not alone. Those in Detroit, Buffalo, Cincinnati, et al. don't need to be reminded of their teams' inability to win in the playoffs.
I live with two Packers' fans, and seeing Green Bay go on a four-wins-in-five-weeks playoff run was both exhilarating and depressing for me. I was happy for my friends, but it was hard to shake the jealousy of what they were experiencing, how they were feeling.
Even worse, my thoughts turned to the Chiefs' future — When will it be our turn? Or, perhaps more accurately: Will it ever be our turn?
And that's when I kept coming back to that throw. My god, it was perfect, so preposterously perfect. There are only six quarterbacks in the NFL who can consistently make that throw — Rodgers, Ben Roethlisberger, Peyton Manning, Drew Brees, Tom Brady, and Philip Rivers.
Five of these six were in the playoffs this year (Rivers was the exception, but to no fault of his play), and those same five are Super Bowl champions.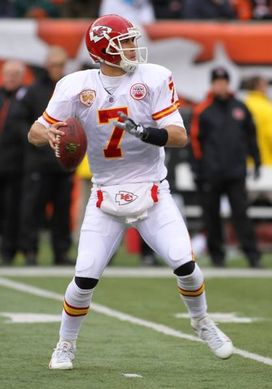 ICONCould the Chiefs win a Super Bowl with Matt Cassel at the helm?
This is the elite class of quarterbacks in the NFL. No one else belongs — at least not yet. Eight of the last 10 Super Bowls have been won by this group. My question: Can you win at the highest level with a wannabe franchise quarterback (Cassel, Matt Schaub, Eli Manning) or a young up-and-comer (Matt Ryan, Joe Flacco, Mark Sanchez, Sam Bradford)?
Certainly, it's possible. Everyone starts somewhere, I guess. Tom Brady was a pretty forgettable sixth-rounder until he replaced Drew Bledsoe and won a Super Bowl. So, yes, it can happen. But luck, more so than anything, has to be on your side.
The San Diego Chargers and New York Giants passed over Roethlisberger for Eli Manning and Philip Rivers, handing the Steelers what would become a two-time Super Bowl champion. Same with the Packers: Rodgers was passed over by the 49ers at No. 1 and dropped all the way to pick No. 24.
Brees was about to sign with the Miami Dolphins in 2006 as a free agent. But he was coming off a major shoulder injury, and Miami passed up on Brees after putting him through a six-hour physical. He signed with New Orleans just hours later.
Yes, having a franchise quarterback is important — maybe the most important aspect of a Super Bowl run.
But the process through which the Packers, for example, acquired and developed Rodgers into the quarterback who could riffle that throw into triple coverage in the Super Bowl is nothing more than a crapshoot.
And what's more frustrating than that?
Scott Miller is a senior at The University of Iowa and a contributor to the National Football Post. Follow him on Twitter: @stmillr.
Want to work in the NFL? Click here to sign up for the NFP's Chalk Talk session at the Combine in Indianapolis on February 25th.