September 06, 2013 -
Joel Corry
Five burning questions
With the Baltimore Ravens and Denver Broncos commencing NFL Kickoff Weekend on Thursday, here are five of the NFL's biggest questions heading into the season:
Can the San Francisco 49ers avoid the Super Bowl hangover?
History doesn't favor the 49ers in their Super Bowl quest. A team hasn't won the Super Bowl after losing it the year before since the 1972 Miami Dolphins. The 1993 Buffalo Bills are the last losing team to return to the Super Bowl after playing in the game during the previous season. The last four Super Bowl losers have made the playoffs the following season, but the 2012 New England Patriots are only the team to go back to the conference championship game following a Super Bowl loss since the 1993 Bills. The 49ers open the season with a tough schedule. Four of the first five games are against playoff teams (Green Bay Packers, Seattle Seahawks, Indianapolis Colts and Houston Texans) that had a combined 45-19 record in 2012.
No team has lost the Super Bowl and made it back the following year since the 1993 Buffalo Bills.
San Francisco's passing game suffered a big blow when Michael Crabtree, Colin Kaepernick's favorite receiver, tore his Achilles during organized team activities in May. He is expected back towards the end of the season. Anquan Boldin, who was acquired in a trade with the Baltimore Ravens, is San Francisco's only proven healthy wide receiver. The 49ers have been experimenting with tight end Vernon Davis by lining him up at wide receiver.
San Francisco had the NFL's fourth ranked pass defense in 2012 but it was exploited by opponents late last season. The secondary has some holes to fill. First round pick Eric Reid takes over at free safety for All-Pro Dashon Goldson, who signed with the Tampa Bay Buccaneers during free agency. Nickel back Chris Culliver is out for season with a torn ACL. Nnamdi Asomugha, who has taken Culliver's place as the third cornerback, is looking to bounce back from two disappointing season with the Philadelphia Eagles.
The 49ers' two-year reign as the top team in the NFC West could come to an end with San Francisco expected to battle division rival Seattle for NFC supremacy. The NFC West should be improved because of the St. Louis Rams' additions through free agency and the NFL draft, and the Arizona Cardinals having a competent quarterback, Carson Palmer, who can get the ball to Larry Fitzgerald.
Are the Baltimore Ravens reloading or rebuilding?
The Baltimore Ravens lost eight starters, including six on defense, from their Super Bowl XLVII championship team. Most notably, Ray Lewis retired after a 17-year Hall of Fame career and eight–time All-Pro safety Ed Reed went to the Houston Texans during free agency. Outside linebacker Paul Kruger capitalized on a career-high nine regular season sacks and an additional 4.5 sacks during the playoffs by signing a lucrative contract with the Cleveland Browns. Re-signing linebacker Dannell Ellerbe was a priority, but the Ravens couldn't compete with the Miami Dolphins' offer.
The Ravens filled most of their defensive needs by being judicious in free agency because of salary cap constraints. Defensive lineman Chris Canty (three years, $8 million), safety Michael Huff (three years, $6 million) and linebacker Daryl Smith (one year, $1.125 million) signed modest deals. Elvis Dumervil was the most expensive free agent defensive acquisition. He signed a five-year, $26 million deal (includes $11 million in guarantees and worth up to $35 million through escalators and incentives) after he became available because of a paperwork snafu on his renegotiated contract with the Denver Broncos. The Ravens used their first and second round picks on safety Matt Elam and inside linebacker Arthur Brown. Lardarius Webb also returns from a season-ending ACL injury that sidelined him last October.
The newcomers should help improve a unit that ranked 17th in total defense last year, which was the first time the Ravens weren't in the top ten since 2002. Dumervil should be an upgrade over Kruger. Smith could be Baltimore's most important addition. He had an outstanding preseason spearheading the Ravens' defense. The Ravens caught a break when Rolando McClain abruptly retired a month after signing. Smith is probably playing elsewhere if McClain is still in Baltimore, since he took McClain's roster spot.
The offense has some obstacles to overcome. Anquan Boldin, the team's leading receiver, was traded to the San Francisco 49ers for a sixth-round pick after he refused to take a paycut. Tight end Dennis Pitta was expected to have an increased role in the passing game to help offset the loss of Boldin before sustaining a serious hip injury in training camp. Pitta has been placed on injured reserve with a designation to return, but is probably out of the year. Aging veterans Dallas Clark and Brandon Stokely were signed in the aftermath of Pitta's injury. Joe Flacco must put his inconsistencies behind him and play like the quarterback that earned a six-year, $120.6 million contract (with $52 million guaranteed) during the regular season.
Will NFL teams solve the read option?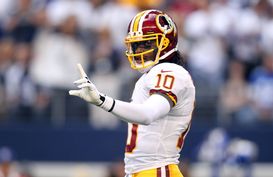 Will RG3 have as much success in 2013 as he did as a rookie in 2012?
The read option or "zone-read" caught NFL teams by surprise last year with young, athletic quarterback having success running it. The scheme helped Robert Griffin III become the NFL's Offensive Rookie of Year while setting NFL rookie records for passing rating (102.4) and quarterback rushing yards (815). Russell Wilson's effectiveness improved dramatically and the Seattle Seahawks became an offensive juggernaut after relying on the read option during the second half of the season. The Seahawks averaged 34 points per game in their final eight regular season games. Colin Kaepernick was unstoppable in the San Francisco 49ers' divisional playoff victory over the Green Bay Packers with 181 rushing yards and 263 passing yards.
Defenses should be more prepared against the read option after an offseason spent studying the scheme. Some NFL teams consulted with college coaches on ways to stop it. The Packers sent their coaching staff to Texas A&M for advice. One strategy teams will employ is aggressively attacking quarterbacks, especially as a ball carrier and when executing fakes, to see if they can withstand the punishment from the additional hits.
Which receivers will step up for the New England Patriots?
The New England Patriots have made wholesale changes to their receiving corps. There wasn't much of an effort to re-sign Wes Welker despite him averaging 112 catches and 1,243 receiving yards per year since joining the Patriots in 2007. Since Welker wanted to play for a Super Bowl contender, he turned down more money from another team to sign with the Denver Broncos. Deion Branch also wasn't re-signed. Brandon Lloyd was let go in March even though he caught 74 passes for 911 yards in 2012 because he was a headache in the locker room. It will also be difficult for the Pa triots to continue effectively utilizing two tight end sets with Aaron Hernandez's release following murder charges and Rob Gronkowski's injuries. Gronkowski should return to action from forearm and back surgeries sometime early in the season.
The Patriots have replaced Welker with Danny Amendola. He's younger and faster than Welker, but injury prone. Amendola has missed 20 games over the last two seasons, but should thrive in Welker's role if he can stay on the field. Although Aaron Dodson and Josh Boyce were selected in the second and fourth rounds of the NFL Draft, undrafted free agent Kenbrell Thompkins has been more impressive. Thompkins was New England's leading receiver during the preseason. Undrafted free agent tight end Zach Sudfeld has also been a surprise at tight end. He is taking over Hernandez's role in the offense. The rookie could test Tom Brady's patience since they don't have the same understanding of the offense that Welker, Branch and Hernandez possessed.
New England's offense was expected to struggle without Randy Moss' presence as a deep threat when he was traded after the 2010 season started. It reinvented itself and finished eighth in total offense and led the NFL in scoring that season. It wouldn't be a surprise if New England had similar results this year despite the wholesale changes at receiver.
Do the Dallas Cowboys have the secret sauce?
Dallas Cowboys executive vice-president Stephen Jones recently proclaimed that the team has the "secret sauce" to make a Super Bowl run. The Cowboys haven't been Super Bowl contenders since their glory days of the 1990s. Their only playoff victory since 1996 is a 2009 win over the Philadelphia Eagles.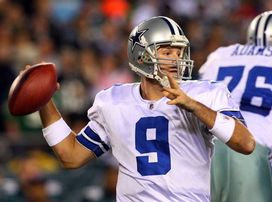 As always, it all comes down to quarterback Tony Romo.
The Cowboys have revamped their defense by switching from a 3-4 defense to a 4-3 scheme under new defensive coordinator Monte Kiffin, the architect of the Tampa-2 defense. Head coach Jason Garrett reluctantly relinquished play-calling duties to offensive coordinator Bill Callahan. The expectations for Tony Romo have been raised with his six-year, $108 million contract extension (including $55 million in guarantees), which is one of the richest contracts in NFL history. He is also being given more input into the offense. Running back DeMarco Murray has missed nine games in his two NFL seasons. He should easily top the 1,000 rushing yard mark for the first time in his career and help the Cowboys become more balanced offensively if he stays healthy. Romo ranked third in the NFL last year with 648 pass attempts.
The NFC East has had a different winner in each of the last three years. If the trend continues, Dallas will give Romo the opportunity to improve upon his 1-6 record in elimination games and a 1-3 record in the playoffs as division champions.
Follow me on Twitter: @corryjoel
Joel Corry is a former sports agent who helped found Premier Sports & Entertainment, a sports management firm that represents professional athletes and coaches. Prior to his tenure at Premier, Joel worked for Management Plus Enterprises, which represented Shaquille O'Neal, Hakeem Olajuwon and Ronnie Lott. You can email Joel at jccorry@gmail.com.