December 06, 2012 -
Joel Corry
For better or worse, the Jets are stuck with Sanchez
When the New York Jets gave Mark Sanchez a three-year, $40.475 million contract extension in March after a brief flirtation with Peyton Manning, they essentially guaranteed him a roster spot through the 2013 season.
Sanchez's contract extension raised eyebrows because he was coming off of a disappointing 2011 campaign. He has regressed this season. Sanchez has the NFL's second-lowest completion percentage (55%) and the third-lowest quarterback rating (71.4). He's also thrown more interceptions (13) than touchdowns (12). That's something he hasn't done since his rookie year in 2009. For the first time in his four-year career, Sanchez's starting job is in jeopardy after getting benched last Sunday in favor of Greg McElroy. Head coach Rex Ryan has declared that Sanchez is on a short leash and won't hesitate to bench him again if his play warrants it.
As a part of the extension, Sanchez received a fully guaranteed $8.25 million 2013 base salary without an offset. This means Sanchez will receive his full salary from the Jets if they release him after the season regardless of what he makes in 2013 from another team.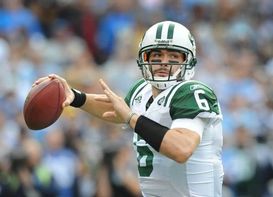 ICONSanchez was sent to the bench in Week 13 in favor of Greg McElroy.
The Jets are facing a challenging salary cap situation next season. They have approximately $142 million in salary committed to the 2013 cap with only 39 players under contract (the top 51 cap numbers count in the offseason) and can carry over their $3.936 million of unused cap room to next year. With the cap expected to increase slightly from $120.6 million, the Jets must reduce their 2013 cap obligations by approximately $17 million, assuming full carry over, to comply with cap rules at the start of the 2013 League Year.
This makes it more likely that the Jets will approach Sanchez about converting some portion of his guaranteed base salary into a signing bonus to help them with the cap than they will release him. Thanks to the guarantee, Sanchez will count $17,153,125 on the cap, which is a $4.3 million more than his $12,853,125 cap number, if released.
The Jets also have the option of releasing Sanchez by designating him as a post-June 1 cut. Teams can release two players each year prior to June 1 that will be treated under the cap as if they were released after June 1, so the proration from the remaining contract years doesn't accelerate until the next year. In Sanchez's case, he would have a $12,353,125 cap charge next year, which would provide the Jets with only $500,000 of cap relief. The $4.8 million of signing bonus proration from the 2014-2016 years in his contract extension wouldn't count against the cap until 2014.
Without the 2013 guarantee, the Jets would have a lot more flexibility with Sanchez. They would have the leverage to negotiate a paycut. Releasing Sanchez would become a more realistic possibility because the Jets would free up $3.95 million in cap space with such a move. There would be $8,903,125 in dead money on the cap because of his release. The Jets could lessen the obligation to $4,103,125 with $4.8 million counting on 2014's cap by designating Sanchez as a post-June 1 release instead. Trading him would also become a more viable option since it would be easier to rework his contract.
It may be difficult for the Jets to trade Sanchez. They probably won't have a lot of interest from other teams looking to acquire him to be their starting quarterback considering his poor play. It would be surprising if any team gave up much more for Sanchez than the 2013 seventh-round pick the Seattle Seahawks reportedly received from the Buffalo Bills in the Tarvaris Jackson trade. It's also hard to envision a trade scenario where Sanchez will reduce his 2013 salary or waive the guarantee.
Because of the way Sanchez's contract is structured, he might open the 2013 season as the Jets starting quarterback regardless of how he performs for the remainder of this year. The Jets' cap situation may prevent them from finding an alternative in free agency. At worse, he will likely be given an opportunity to compete for the starting job in training camp.
Although the Jets have a 5-7 record, they still haven't been eliminated from playoff contention. Once they are, it would be smart for them to determine where Greg McElroy and Tim Tebow fit into the quarterback equation by giving them extensive playing time.
The Mark Sanchez era will finally come to an end unless he consistently performs as an above average quarterback in 2013 because the Jets will release him before his $2 million 15th day of League Year 2014 roster bonus is payable.
Follow me on Twitter: @corryjoel
Joel Corry is a former sports agent who helped found Premier Sports & Entertainment, a sports management firm that represents professional athletes and coaches. Prior to his tenure at Premier, Joel worked for Management Plus Enterprises, which represented Shaquille O'Neal, Hakeem Olajuwon and Ronnie Lott. You can email Joel at jccorry@gmail.com